Food & Drink
Eat Your Lunch Outdoors
Suggestions for Eating Your Lunch Under the Sun in Santa Barbara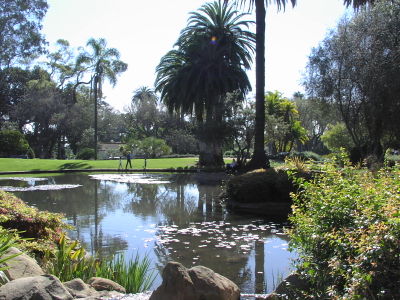 Now that summer is here and the sun breaks through the June (actually, July) gloom by noon, it's time to start taking advantage of our lunch breaks. Give your work a rest, grab a bite, and enjoy the beautiful outdoors. Whether it's a homemade sandwich at Alice Keck Park Memorial Gardens (on the corner of Santa Barbara and Arrellaga Streets), or a salad from Pierre Lafond (in Montecito at the corner of San Ysidro and East Valley Roads) eaten in the adjacent park, a little sustenance and sun makes up a perfect mini-vacation in beautiful Santa Barbara. Here are a couple of suggestions for great ways to spend your lunch break holidays:
1. Enjoy the sea breezes at Stearn's Wharf on the upstairs patio of Longboard's Grill (where you might have to protect your lunch from the seagulls and pigeons) or grab some fish and chips from Char West and take a stroll, and appreciate the Channel Islands while eating your lunch.
2. Order to-go from Elements' lunch menu of gourmet soups, salads, sandwiches, and burgers located at 129 East Anapamu, and eat across the street at the Courthouse's grassy Sunken Gardens.
3. For those of us less enthusiastic about sitting on grass and using plastic cutlery and paper napkins, the Arts and Letters Cafe (7 East Anapamu) has a beautiful outdoor patio where one can enjoy the fresh air with the comfort of seats and umbrellas. With a gourmet lunch menu and quaint art gallery, this lovely cafe is sure to please those with a more manicured idea of nature.
4. Grab an affordable sandwich from the tried and true Italian Grocery at 415 East De La Guerra or the Village Wine & Cheese Shop in Montecito at 1485 East Valley Road and head up to the beautiful grounds and rose garden of the Santa Barbara Mission at 2201 Laguna Street.
5. Head to the Padaro Beach Grill on Santa Claus Lane for anything from a burger to a salad and eat in the outdoor grassy patio with picnic benches or take a short hike across the railroad tracks and enjoy your lunch on Santa Claus Beach.