Living
S.B. Volleyball Club Posts Strong National Finish
Four Teams Qualify, Two Are Medalists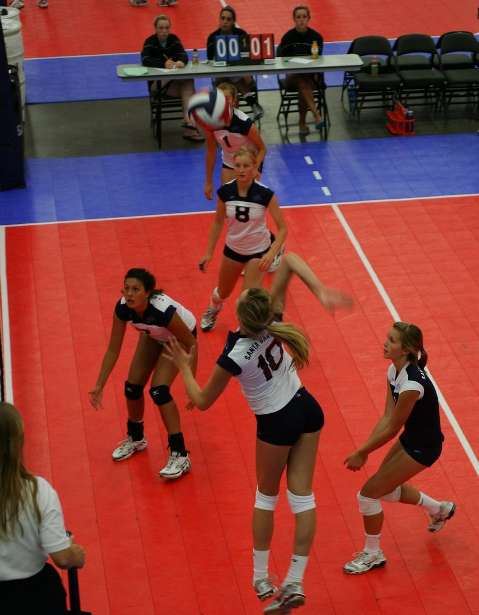 Four teams from the Santa Barbara Volleyball Club competed in the USA Volleyball Junior Olympics in Dallas, Texas, last week and two teams returned as medal winners.
Team 15-Elite earned a bronze medal in the Open Division, (placing them third out of the 28 top teams in the nation in the under 15 age division).
Coached by Jake Hong and assisted by Jared Godinez, the U15 team went into the semi-final match with only one prior loss, and came from behind to defeat Mizuno Long Beach 15M, (23-25, 25-20, 15-13). The team fell in a tight quarter-final battle to Laguna Beach 15 Wizard, (22-25, 27-29).
Named to the All-Tournament Team were setter Paige Craine and hitter Samantha Wopat (both varsity players for Dos Pueblos High School).
Coach Hong said, "Coach Jared and I are so proud of the girls for being able to play their very best during the four days of competition. Every single player stepped up throughout the entire tournament and made it possible for us to get third in the Open Division. It was a complete team effort and the reason why we were able to achieve so much."
Also medaling in the competition was the club's 16-Elite team who brought home a silver finish in the American Division.
The 16-E team entered the finals against TAV 16 Molten (Texas) with a 10-1 tournament record and went down in the final match 19-25, 18-25.
Named to the All-Tournament Team for the 16s American Division were hitters Mimi Cuttrell and Emi Rottman (both varsity players from Santa Barbara High School) and setter Sammie Brown ( Dos Pueblos High).
Team 18-Elite, coached by Liz Towne-Gilbert, had an exciting finish of fifth place out of 48 teams in the National Division. After going 8-0 over three days, the team finished fifth overall with a heartbreak loss against Tampa United-18s (25-19, 21-25, 15-13). The team was assisted by coaches John Haroun and Ed Gover.
Named to the 18s National Division All-Tournament Team were Jane Hinkle and Kristen Dealy both former varsity players from Santa Barbara High School.
Team 14-1 placed 15th out of 28 in the 14s Open Division of the top teams nationally. After falling short of the top 12 with a 1-5 record in the first two days, the team regrouped and battled its way to the 15th spot by winning the next three matches. The team is coached by KC Collins and assisted by Steve Zelko and Greg Novak.
Club administrator KC Collins said, "This has been a great year for our smaller club and sending four teams to Junior Olympics is a great success for us."
The club was recently honored by the County Board of Supervisors with a Commendation Resolution acknowledging 15 years of outstanding nonprofit service to young female athletes in Santa Barbara County and surrounding communities.