Living
Santa Barbara Pride Peeps
All Is Full of Love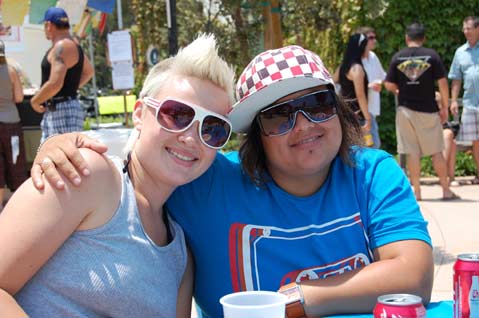 Almost two months to the day after the California Supreme Court overruled the state's ban on same-sex marriage, Santa Barbara's Pacific Pride Foundation hunkered down in Chase Palm Park for a daylong celebration of love and acceptance in honor of Santa Barbara Pride Week. But that's not to say that Saturday's Pride Festival was all chanting and chatting about Sacramento goings-on-oh no. Getting off to a slow but steady start, the festival was just one item on the nearly weeklong agenda of events that the nonprofit had in store for S.B.'s annual Pride Week.
Between Thursday night's GirlParty at Q's, Friday's deejay-tastic outing at Epiphany, and Saturday's post-fest, SKYY-sponsored after party at Stateside Restaurant & Lounge (not to mention RedRoom's extra-special Sunglasses at Night party at Wildcat on Sunday), we lowly nine-to-fivers had a tough time just trying to keep up-not to say that some didn't try. Yet in between all the ¼ber-successful nighttime events-and the eclectic offering of daytime activities-Saturday's party in the park still reigned supreme.
Throughout the warm but breezy afternoon, the Pride stage was filled with entertainers ranging from the traditional (Pride's now-annual drag review) to the hysterical (the rock-meets-comedy duo That's What She Said) to the synth-heavy and dance-worthy (namely L.A.'s Shitting Glitter and onetime American Idol contestant Frenchie Davis). Between sets there was plenty else to look at-including the largest smattering of smiling puppies and kids I've seen commingling in a long time.
So while some of you posit that this year's Pride Fest wasn't as packed with vendors-or even as overflowing with visitors-as last year's showing, I say that it only took one short-but-sweet scan of last Saturday's crowd to realize that PPF's efforts were a success. Because while we may not have the population power of San Fran's Pride Parade, we most definitely have a strong, loving, and thriving community of supporters, both straight and gay. And it looks to me that they almost all turned out in full force this past weekend to enjoy, educate, and simply rock out in celebration of both the LBGT community and the progress we as a people are slowly making toward true equal rights.