Visual Arts
The Human Landscape
At East/West Gallery. Shows through August 1.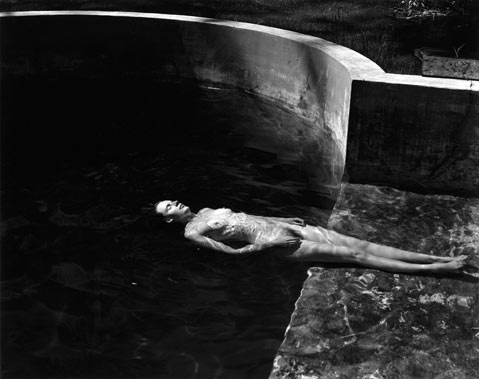 Not that the East/West Gallery needed to reaffirm its standing as one of the leading conveyors of classic fine art photography here in town, but its latest exhibition, The Human Landscape, effortlessly does just that. For as long as photographers have been touting cameras, they have been filling their medium with alluring images of the human form. And, in wandering this enchantingly intimate gallery space, one is seduced not only by the charm of the practice, but also enlightened as to the inspirations behind the photographic contemplation of the human body.
The exhibition reads like a who's who of photographic luminaries who have explored the nude. But it also offers a unique coupling of classic imagery with more contemporary undertakings. The former set boasts names like Edward Weston, Imogen Cunningham, Horst, and Herb Ritts, the latter encompassing works by Mona Kuhn, guest curator Greg Gorman, and local practitioners Sky Bergman and Barbara Parmet. The collection of old and new combines and gives rise to an offering highlighted by elegantly considered sculptures, fractured stolen moments, and whimsical portraits.
With form and perspective providing obviously strong vantage points, context also plays a seminal role within the exhibition. Both Weston and Cunningham display their subjects as being thoroughly enveloped by their surroundings. In Weston's "Nude Floating, 1939," we see the photographer's longtime muse and partner, Charis Wilson, floating hauntingly in a concrete pool. In Cunningham's "Nude on Mt. Rainier, 1915" we meet her partner, Roy, in a mystical romp around the edge of a mountain lake. Not only do these two images serve as fitting tributes to two masters of the human form, they also offer an insight into the intimacy that drove their photographic pursuits throughout their respective careers.
Another photographer who captures her subjects in their environment is Mona Kuhn. Kuhn photographs within various nudist communities, capturing her images within a shallow field of focus and veil of acceptance. Residing at the other end of the spectrum are the studies of Herb Ritts and his contemporary, Greg Gorman. Tensed bodies stand in front of blank backdrops and offer statuesque forms of rippling muscles and tightened skin.
The Human Landscape is a brave undertaking for East/West Gallery. Not only has the nude been seen as an iconic part of the evolution of the photographic medium, it has also increasingly begun to attract the scrutiny of conservative lobbyists. And, given the recent seizing of Bill Henson's work from numerous Australian institutions, this is both an admirable and timely exhibition.