Living
Pasadena Man Convicted for Sizzler Robbery
Jury Finds Him Guilty of Taking $7,000 From Goleta Restaurant Last Year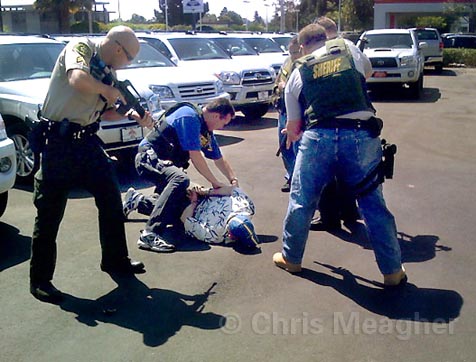 (Above photo: Police arresting Bahram Jabaroghli in a car lot near the scene of the robbed Goleta Sizzler.)
A Santa Barbara jury found a 42-year-old Pasadena man guilty of three counts – robbery of an individual, burglary and false imprisonment – on Friday, July 25. Bahram Jabaroghli, who was arrested Aug. 20, 2007, in a car dealership parking lot across the street from a Sizzler restaurant in Goleta, is facing between 12 and 15 years in state prison, according to senior deputy district attorney Ron Zonen, who prosecuted the case. There was also a special allegation of committing the crimes with a gun.
The jury needed less than two hours to deliberate, after less than five days in the courtroom. Though he never admitted to the crime, Jabaroghli, a former manager at a Ventura Sizzler restaurant, had the cards stacked against him. His DNA was recovered from a face mask and two gloves recovered in a trash can in the Toyota car dealership across the street. In addition, thousands of dollars – though only roughly half of the more than $7,000 stolen – were recovered in the bathroom. The GPS (global positioning system) in Jabaroghli's vehicle also had the address for the Sizzler, located at Hollister and Kellogg avenues, plugged into it.
Sizzler employees were opening up the restaurant that Monday morning when a man in a ski mask came in and demanded money. Authorities, after receiving phone calls of the heist, blocked off a wide area surrounding Sizzler the day of the robbery, believing the perpetrator could've still been inside. He wasn't. But authorities, acting on tips by car lot employees who noticed a suspicious man walking in and out of the dealership's bathroom, later found a handgun, the money and a ski mask in the bathroom garbage. After several hours, a suspicious man – Jabaroghli – was arrested walking in the Toyota parking lot.
Jaaroghli will be sentenced September 12 by Judge Rick Brown.