Living
Police Attend to Possible Macy's Robbery
Store Employees, Investigators Yet to Determine What Had Been Snagged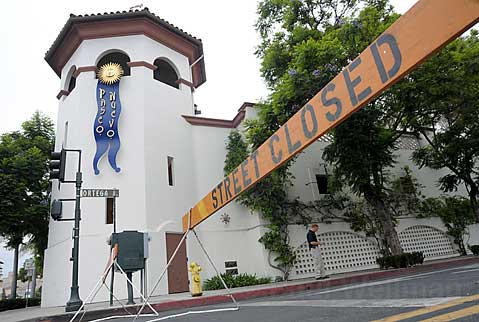 Santa Barbara police responded to an early morning alarm at State Street-located Macy's on Monday, but after a comprehensive SWAT team search of the store, no one was found. It did appear, however, that "things were moved around," according to a police spokesman. An inventory count at the store was being done to determine if any items were stolen.
Ortega Street between Chapala and State streets was closed off for nearly three hours while police investigated an apparent break-in. They first got a call just after 6 a.m. from a Paseo Nuevo security guard who noticed a door appeared to have been forced open. Authorities believe they know the way the would-be thieves gained entrance into the building, and also the way they left. The would-be robbers only stuck around for about two minutes, a store manager indicated. Surveillance video shows "approximately three" intruders in the store. No other information about possible subjects is available.
While officers manned the perimeter and potential exits to the store, Macy's employees waited on street corners of both State and Chapala streets, and were finally told by their manager around 10 a.m.-the usual opening time for the store-that they could enter and begin their daily duties. The employees were expected to receive pay for their time waiting.
After a search of the store, police, along with managers, were surveying the "fine jewelry" section of the store while employees were being let back in. One employee said that alarms should've been triggered when entrance is gained after hours at any of the exterior doors. Additionally, an alarm is supposed to sound after a certain area surrounding the jewelry cases is breached. Some red sheets which appeared to normally cover store jewelry cases after hours could be seen lying on the floor of the store.