Theater
Eye of the Cyclone, First Love, Imagine-Toi
The Loneliness of the Long-Distance Actor
Linda Purl set herself a high bar when she announced plans for the Rubicon International Theatre Festival. The director of the ambitious annual event, which just concluded its inaugural season in Ventura, had more in mind than simply presenting productions from around the world. Rather, she spoke of forging connections, exploring commonalities, and celebrating our shared humanity.
It's delightful to report that Purl, and the dedicated team behind her efforts, succeeded brilliantly. I saw three of the four full-stage productions imported for the small-scale "preview season." One was good; two were great. More importantly, their themes bounced off one another in unexpected ways, reminding us that certain conundrums of the human condition transcend nationality and culture.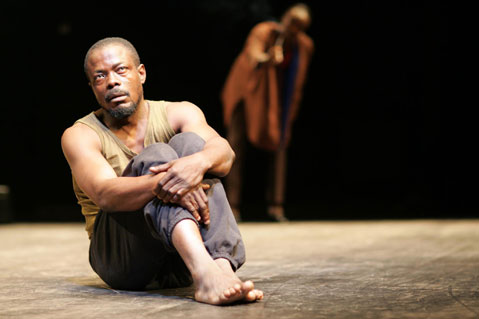 The tone of the shows varied enormously. Eye of the Cyclone, a two-person drama from Ivory Coast, felt intense and urgent. First Love, a Samuel Beckett novella-turned-monologue, was darkly humorous and deeply troubling. Imagine-Toi, a one-person performance by the remarkable French mime Julien Cottereau, epitomized lightness and buoyancy-a souffle on the stage.
And yet they all dealt with the same issues: isolation, and the tenuous nature of human connection.
The theme was expressed most directly in the Beckett work, which was presented by Gare St. Lazare Players Ireland. But the condition of the central character in Luis Marques's Eye of the Cyclone-a prisoner, trapped in solitary confinement, slowly gets his persona stripped away and discovers a terrifying emptiness underneath-is highly Beckettian in its implications. And as for Cottereau, what is a better metaphor for isolation that a single man onstage who uses his body, face, and voice to create imaginary companions?
Although compelling at times, Cyclone, which opened the festival, was the least successful piece. Fargass Assande played the aforementioned prisoner, a man who was captured by rebel soldiers at an early age and rose through the ranks to become a commander.
Captured at last and facing a long jail term, his only interaction is with his attorney (Maimouna N'Diaye), who pleads for him to make a deal and get a lighter sentence. As he tells his story, she learns some difficult truths about herself, and the two end up literally locked in a dance of death. The Ymako Teatri Company production, directed by Vagba Obou de Sales, was performed in English, but the actors (whose are more used to working in French) didn't feel especially comfortable with the language. This may explain the flatness of N'Diaye's performance. Fortunately for Assande, his character spends a considerable amount of time mute, expressing the volcano of emotions he is feeling through eloquent body language. The actor managed simultaneously to embody childlike vulnerability and ferocious, fearsome aggression-no small feat.
First Love-which, in a wonderful coincidence, was performed by Ralph Fiennes at New York's Lincoln Center the same week Conor Lovett was doing it in Ventura-is an early Beckett work, written in 1945. Full of autobiographical elements, it is a first-person narrative about an emotionally crippled man who longs only for solitude. The unnamed character discovers love in the unlikely form of an overweight prostitute. But he ultimately finds it more of a burden than a blessing-something alien, to be analyzed, diagnosed, and, if possible, avoided.
Lovett, under the direction of Judy Hegarty Lovett, was subtly brilliant throughout, fidgeting and fussing and expressing morbid thoughts in a matter-of-fact way that elicited surprised gasps of laughter. The text mentions several songs; the Lovetts might consider adding snippets of them to increase the work's already impressive evocativeness.
Cottereau uses strategically placed pieces of music in Imagine-Toi, but for the bulk of his 80-minute performance, the only thing we hear are sound effects emanating from his mouth. A simple hand gesture and a squeaking sound and we're instantly convinced he is holding a small ball in his hand-so much so that when he throws it into the audience, members eagerly catch it and throw it back.
That sort of bit is pure theatrical magic, and Cottereau has lots of them. He's incredibly inventive: A piece of gum stuck to his shoe (again, seen only in our minds) morphs into a musical instrument. The imaginary world he creates is so real that, when he mimes shooting a whimpering, dying dog, there were cries of horror from the audience. How can he harm that poor animal, now so adorable in our minds' eyes?
Cottereau brought audience members onstage with him at several points of the show, quickly and efficiently turning them into charismatic costars. Of course, he eventually sent them back to their seats and finished the performance solo, by running hard to who knows where, in an image that suggested both joy and terror. Beckett, no doubt, would approve.