Food & Drink
Bucatini
A Review of This Perfect Sidewalk Venue to Graze Through Your Meal in a European Manner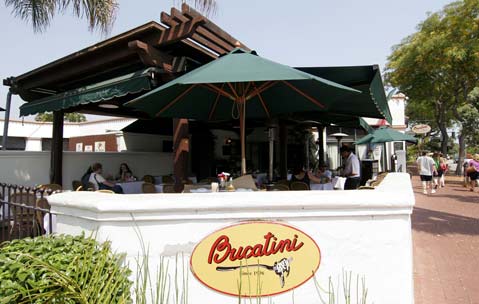 Where: 436 State St., 957-4177, bucatini.com.
What: A rustic Italian lunch and dinner spot serving up traditional recipes and crispy pizzas.
How much? Pizzas from $14.50-$18; Carne e Pesce from $18.50-$26.75.
The dish: Bucatini's spacious heated patio sits comfortably on the corner of State and Haley streets, and the relaxed atmosphere provides the perfect venue to graze through your meal in a European manner. This locals' favorite serves up authentic thin-crust pizzas cooked to perfection in a wood-burning oven, as well as a selection of light salads, fresh antipasti, grilled meat, fish, and their signature Bucatini all'Amatriciana. Choose from more than 25 pizzas (easy to finish a whole one by yourself) that include traditional recipes successfully put together such as the Capriciossa (tomato sauce, mozzarella, mushrooms, artichokes, ham, and black olives), Gamberi & Carciofi (fresh grilled shrimp and artichokes), and Gorgonzola e Speck (Gorgonzola cheese and smoked prosciutto). Pounded chicken breasts are grilled in a variety of ways, and sauteed free-range veal is served with today's selection of sauce. Those who have had the pleasure of sauntering down the maze-like roads of Italian city streets will appreciate Bucatini's commitment to providing Santa Barbara with a spot to enjoy authentic Italian dishes.
4•1•1
This week at independent.com, B is also for: Blenders in the Grass and the Bagel Cafe. And for all of our restaurants, see independent.com/restaurants. Next week, see what C is for :