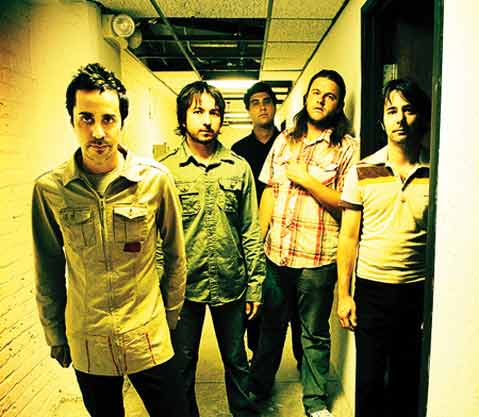 YOUR WEEK IN HISTORY: While I can happily smirk that I, as an S.B. transplant still in her early twenties, can recall seeing Pedro the Lion play the Hard to Find, Yellowcard rock the Living Room, and my dorm mate take a mike to the noggin' one time at the Coach House, I would never go so far as to call myself a Santa Barbara music history buff. It seems that about once a week, here in my little sunless office, I am gifted with at least one tiny piece of the peculiar puzzle that was (and still is) the evolution of our music scene. Lucky for me, I've got the people-and numerically cataloged old newspapers-around me to make sure I know exactly where each piece fits.
Last week, unsurprisingly, was no different. But the teacher of my now highly anticipated history lesson certainly was. The guest lecturer in question: none other than S.B.'s former scene-maker Rob Dalley. You see, back in the late 1990s, Dalley was a bit of a visionary in town. His "business" (something I've gathered to be an amalgamation between booking agent, club owner, event promoter, and party monster) began when he coined the name NYM and began bringing bands into Goleta's still-standing Mercury Lounge (5871 Hollister Ave.). From there, Dalley took over a truly under-the-radar piece of State Street real estate, and opened a tiny showspace-meets-bar (also named NYM) above some now-defunct frat mecca called the Yucatan. He went on to throw a solid smattering of art shows, semi-secret raves, fundraisers, electronica dance parties, and small-scale rock concerts throughout town-and help unite Santa Barbara's affluent art-collecting elders with the music-loving creative minds of the younger generation. He also played host to then up-and-comers Weezer, and one-time mainstays Nerfherder and Toad the Wet Sprocket.
But like all good things, Dalley's Santa Barbara stay had to come to an end. In 2003 the mastermind behind NYM took off in the direction of bigger and better things-Austin, Texas, specifically-to start his own company and spread the love someplace new. Flash-forward to the present day, and you'll find Dalley en route to the place he once called home-but not for long-with ideas in tow. So how might a scene-maker celebrate his short-but-sweet homecoming? With a killer party at the place where it all began, of course.
This Saturday, August 16, Dalley is returning to the Merc for a very special night of acoustic music that he's calling "Friends of NYM." Together with DJs Gryphn and Marko (of Sugarcult fame), Dalley will serve up drinks (he'll be playing bartender) and sets from the Coral Sea, Jesse Rhodes, Shawn Odyssey, Bruce Winter, Rob Taylor, and Matt Straka-all unplugged and nostalgia-driven. Dalley also promises to share some video projections of shows gone by. So whether you're reading this and reminiscing about old times, or you're like me and simply curious to see what it was once all about, I highly suggest a trip up the freeway. Think of it as a night at the museum-except with beer, pool, and some killer entertainment.
FIRST THE BATTLE, THEN THE WAR: While even I could only guess as to the outcome of Round One of The Indy's Road to West Beach Contest come press time, I will say that the voter turnout is giving me a twinge of hope for the future. That said, by now you can head online to independent.com/bands/results and see which 20 of the 192 hopefuls have earned their spot in the regional finals. Live showcases for the top five bands from each region will be held on Thursday, August 21 (San Luis Obispo), Saturday, August 23 (Carpinteria/Ventura; Santa Barbara), and Sunday, August 24 (Isla Vista, Goleta). Stay tuned to independent.com for show times and additional updates as the battle continues to unfold