Visual Arts
Mitch Robles: Colors of the Southwest
At Santa Barbara Art Studios. Shows through September 20.
If you have ever stared at Chumash rock art and wondered with bemusement what the hell it all meant, then the current show at Santa Barbara Art Studios should be particularly revelatory. Artist Mitch Robles claims to have "gotten" the puzzling pictographs the first time he saw them, and he has been using their vocabulary ever since with unabashed glee. The 12-foot-long triptych "Thunder Mountain," the show's centerpiece, is a densely detailed comic dreamscape that rolls and leaps in multiple directions with fanciful abandon. The result is a dynamic viewing experience that continues to fascinate and amuse even after many viewings, like a dream that you wish to return to.

To the head-shaking disapproval of some purists, Robles freely links Chumash images with others lifted directly from Anazazi, Southwestern, Plains, and Polynesian pictograms and petroglyphs. That he manages to do so without trivialization may or may not have to do with Robles's Chumash ancestry, but it will certainly send some viewers to the books to see where particular images came from. Within the warm context of Robles's canvases, these ancient forms take on a new appeal. In other words, you may find yourself becoming a devoted fan of a certain two-fingered figure with horns-or something-sticking out of its head.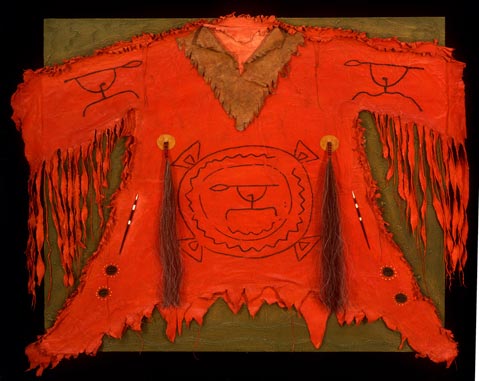 The mixed-media ceremonial war jackets ("Little Turtle" and "Red Mountain") are something else again, humming with violence, from the pair of long, fatally sharp porcupine quills with which they are each equipped to the fabric from which they are cut: treated canvas that in its reverent artificiality suggests skin, death, and ferocity more powerfully than real leather would. The three impastoed threads hanging (or dripping in thin lines) from the red jacket certainly do not detract from this impression.
Included among the dozen pieces in the show are Robles's surfing pseudo-petroglyphs, two pure abstracts, and an abstract view from a cave, called "City Lights," whose colors and original-yet somehow Native American-designs fairly sing with sunlit dazzle. Overall, the show is loaded with surprises and opportunities for speculation that lead again and again to a sense of wonder.