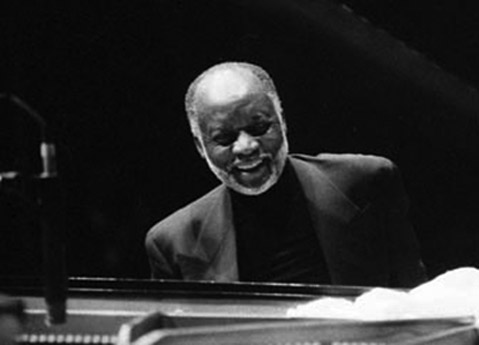 POWERS OF THREE: It's always good news when Ahmad Jamal comes to town, especially in one of his semi-regular visits to the ever-embracing Lobero Theatre. Next Thursday, October 9, Jamal kicks off the new "Jazz at the Lobero" series with just the right blend of attributes, grounded in tradition while suggesting experimentalism in subtle but sure measures. Somehow, Jamal goes at once down the middle and off to the side, having taken a position of his own creation for more than five decades. The same balancing act could be ascribed to another upcoming Lobero jazz concert, Charlie Haden and Carla Bley's compelling Liberation Music Orchestra on November 1. What we have there is an artistically innovative and uniquely political big band, appearing just before a fateful presidential election.
Jamal's place in jazz continues on its paradoxical path, as a fascinating model of solidity and slipperiness. Now 78, the proudly Pittsburgh-born Jamal still works a creative continuum begun with his seminal piano trio work in the 1950s, when he landed the surprise hit "Poinciana" and exerted an oft-noted influence on Miles Davis, especially on Davis's quintet with John Coltrane and Wynton Kelly, and on the classic Davis album Kind of Blue, which celebrates its 50th anniversary this year. Something about the musical values of economy, mystery, and fellow-feeling within the group that characterize the various Miles Davis bands can be traced back to Jamal.
Jamal's own long-standing trio with drummer Idris Muhammad and bassist James Carmack is one of the prime examples in jazz of an ensemble working for the good of the team and the music. As heard on his new album It's Magic (Dreyfuss), and as in most of his work through the years, Jamal is a strong and virtuosic player, sure, but he's more interested in the ebb and flow of musical energy between players than in personal showboating.
We're lucky to have Jamal as a returning, re-conquering hero at the Lobero, a venue he's understandably fond of. With its historic ambience and intimacy, the room is an artistic incubator conducive to the particular magic Jamal stirs up with his allies.
UNCONVENTIONAL CONVENTION: Anybody with even the slightest interest in bluegrass, old-timey and other flavors Americana-not to mention fans of Goleta before the 'burbs-ought to make haste this Sunday to the 37th annual Old-Time Fiddlers' Convention, which takes over the idyllic spread of the Stow House in Goleta for a lazy and happily noisy Sunday. Those who have yet to experience the extravaganza are in for a potential thrill of discovery. Contestants of varying skill levels perform on the main stage, with the Barton Brothers providing lunchtime entertainment, while other acts (including the Stiff Pickle Orchestra, Foggy Dew, and The Old-Time Fiddlers) play on separate stages around the vintage house. Meanwhile, impromptu jam sessions lure pickers and fiddlers into spontaneous sonic swarms all about the property.
Full disclosure and age-bracket divulgence: This columnist played (or played at) flat-pickin' guitar as a teenager, when the Fiddlers' Convention took place at its original site-the UCSB lagoon. It was a great hoot then, and even more now.
WE ARE THE WORLD, THIS WEEK IN SANTA BARBARA: Santa Barbara's fall concert season begins in a dense burst this week, with the double-header of Loudon Wainwright and Leo Kottke (at Campbell Hall tonight), semi-local boy Jackson Browne hitting the Arlington on Friday, and David Byrne bringing his new music from his Brian Eno project to the Arlington on Saturday night.
Among other things, the season also begins in a warm, worldly fashion. The Soweto Gospel Choir returns to town, at Campbell Hall on Sunday, after a visit just last year, but also after an expanding clutch of acclaim for their glorious South African choral sound. And Tuesday's world music spotlight at Campbell Hall goes to Cesaria Evora, the acknowledged queen of the sweet 'n' sad Cape Verdean style of morna. When it rains, it pours, sometimes, and the week's musical forecast looks blissfully torrential.