Best Of
Bells to Whistles
Best of 2008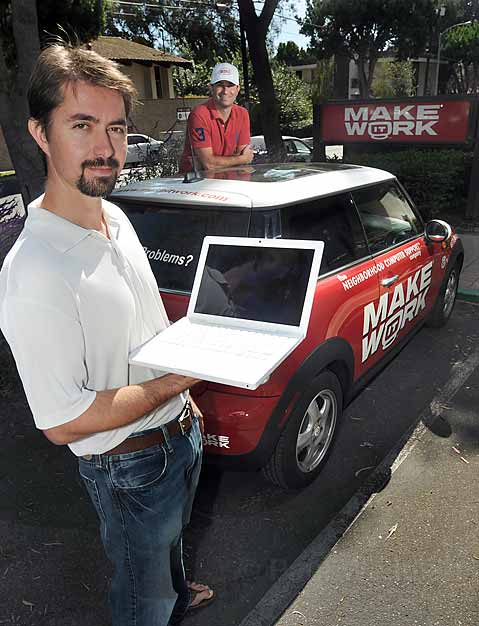 Bookstore
Chaucer's Books 3321 State St., 682-6787
"One hates tooting one's own horn, but it is amazing to me that this November it will be 34 years since I first opened that little bookstore that grew into all of this," laughed Mahri Kerley, the brain-mother of a store that has prospered through every kind of economy from Nixon to Bush and against every rule of point of sales retail business. This is a bookstore, big and sprawling with tons of overstock and if you can't find it already here, the staff can get it into town as fast as any old impersonal Web site. Children's book bonanzas, slews of great author appearances and signings, and, oh yeah, I bet they even have books on how to toot that horn you own.
FINALIST
Borders Books, Music, Movies & Cafe
CD Store
Magazine and Newspaper Selection
Borders Books, Music, Movies & Cafe 900 State St., 899-3668; 7000 Marketplace Dr., Goleta, 968-1370
You could build the case that these are all endangered species. CD sales have dwindled since downloading music became user-friendly, and while magazines still enjoy brisk variety and usefulness on airplanes and dentist offices they are shrinking, and, well, newspapers, just don't get us started. But to its credit, Borders offers ample sales of all three of these allegedly doomed yet thoroughly enjoyable media vestiges and better, the opportunity to browse them while listening to podcasts on a leisurely afternoon.
FINALISTS
CD Store: Just Play Music
Magazine and Newspaper Selection: Read 'n' Post
Video/DVD Rental Selection
Blockbuster Five locations
Another area of our culture that appears threatened, this year brought the number of video stores on the Mesa, from its late 1990s high of four, down to zero as of early October. Blockbuster, a genormous chain, seems best equipped to do battle with the mail-order DVD rental place, and the readers prefer the large collection and frequent deals, not to mention the social possibilities offered browsing in a store with other movie buffs.
FINALIST
Video Schmideo
Gift Shop
Imagine 11 W. Canon Perdido St., 899-3700; 1470 E. Valley Rd., Ste. V, 695-0220
"There are things that are useful, there are things that are just beautiful, and things that are both useful and beautiful," said Imagine worker Vija Hodosy, describing the inventory of the store she loves. "The best capsule description I ever heard was the customer who said, 'I'll take the rubber chicken and the $1,000 earrings.' That sums it up," she laughed.
FINALIST
Lewis & Clark
Party Supply Store
Glenda's Party Cove 3319-A State St., 687-4500
Steve Thomson's proud of his store, which has been making other people party down since 1988. "It's always a party at Glenda's," he said. "And people like us, we've been helping them for a long time, and they enjoy themselves in here," said Thomson, who reminds us that his store also sells gifts and toys. "Mostly it's because people just love balloons."
FINALIST
Pacific Company
Office Supply Store
Staples 7015 Marketplace Dr., Goleta, 961-8093; 410 State St., 965-9577; 615 H St., Lompoc, 740-0192
It's hard to get sexy feelings about buying a three-ring binder or even replacement cartridges for that overused printer. So Staples combats the inherent lack of seductive products by overwhelming us with availability. Let's face it-the store is loose. "Yeah, we've got that" was its mantra for many a year, but what they were really saying was anything you want, baby, you get it here.
FINALIST
OfficeMax
Art Supply Store
Art Essentials 32 E. Victoria St., 965-5456
"Of course we're excited to win," said manager Kurtis Hughes. "But, after all, we are the best art supply store in town, and we've worked very hard to have everything people want, from 18-year-old art students to 75-year-old painters; we want them all to be happy. We have supplies for a whole range of people."
FINALIST
Michaels Arts & Crafts
Used Bookstore
Book Den 15 E. Anapamu St., 962-3321
"I'm always thrilled to win this," said Erik Kelley, owner of the state's oldest used bookstore, "partly because this town changes its population regularly so you have to go out and earn the win every time. But this year I'm particularly happy because I have such a great crew, people who are so knowledgeable about books. And I'm so happy to be doing this because I love books, and love having people come into the store to talk about them."
FINALIST
Paperback Alley Used Books
Musical Instrument Store
Jensen Guitar & Music Co. 1130 E. Clark Ave., Santa Maria, 934-8687; 2830 De la Vina St., 687-4027; 2905 De la Vina St., 563-3200
"It's great to win; thanks to the readers," said Chris Jensen, who first opened this musician magnet in 1974. "I think the reason people like us is because we sell it to them, we teach them how to play it, and we fix it when it breaks," he laughed. "But, really, the best thing about this store is that it's different everyday. I've always been anxious to come to work."
FINALIST
Instrumental Music
Mac Computer Repair
MacMechanic 216 E. Gutierrez St., 965-9722
They'll fix anything from computers to iPods, and they get to work with a lot of different kinds of people. Used often by musicians, graphics experts-read: crazy artists-and educators, the people at MacMechanic are the human interface between you, your unbreakable Apple product that's suddenly not working, and the bliss of getting back to work.
FINALIST
Mac Shac
PC Computer Repair
Make It Work 695-8550
Eric David Greenspan and Jeremy Anticouni started this biz-best known for its techies buzzing around town in red Minis-five years ago, and today it spreads all the way down to San Diego. They brag most about their workers who may be computer geeks, but are never nerds. Good thing, because they come to your house and fix your computer without ever commenting on your odd habit of working in German Lederhosen and yodeling when you boot up. They're that discreet and they're that good. "We're always honored to win this award," said Anticouni.
FINALIST
Channel Data Systems
Camera Shop
Samy's Camera 614 Chapala St., 963-7269
It's more like a department store than a hobby shop; Samy's has departments for everything from accessories to video cameras, and will sell you the camera and develop the shot. Though it's hard to get any respect for a film project, they pride themselves at being there on the cutting edge and do their best to equip the many photography students in this photogenic town.
FINALIST
Russ' Camera