Living
Gabrielle of the Galapagos
Santa Barbara Teacher Gabrielle Johnson Works to Bring Change to the Delicate Island Chain
Santa Barbara science instructor Gabrielle Johnson lives what she teaches; she has embarked on a diplomatic mission to help reform the educational system of Galapagos in a way she hopes will have a long-term, positive effect on the islands' fragile ecosystem and maybe even their equally fragile political situation. She currently serves at the Charles Darwin Research Station, which works with the Galapagos National Park Service to preserve the famed islands.
Johnson first visited Galapagos, a province of Ecuador, in March 2007 as part of a professional development program through Santa Barbara's Laguna Blanca School, where she teaches. She interpreted this trip as an opportunity to bring back to her students a "first-hand account" of the principles of evolutionary theory that they learned in her classroom. She has since returned to the islands five times, including once as a volunteer for the Galapagos National Park's education programs last summer. Her experiences there made her realize she wanted to do even more for the community
"The more time I spent [in Galapagos] and spoke with community members, the more I realized the islands' need for support in education," she told me in an email. "As a result, I requested a leave of absence from my position at Laguna in order to return for an extended period to assist in developing education programs. This timing could not have been more perfect."
Galapagos's growing economy has unfortunately put increased stress on the environment. The islands gained fame as the "living laboratory" that inspired Charles Darwin's Origin of Species, in which he described his theory of evolution through natural selection; as a result, the islands became a destination for tourists eager to see the legendary wildlife, including the giant tortoises and marine iguanas featured in Darwin's text and spreads of National Geographic. In addition, the human population of Galapagos has doubled to 30,000 in the last 10 years.
Overcrowding, an increasing number of undocumented Ecuadorians seeking employment, and ballooning tourism are straining the islands' sustainability, and UNESCO – the educational, scientific, and cultural wing of the United Nations – rebuked Ecuador's government in 2007 for its alleged failure to manage the population flux. UNESCO put the islands on their "in danger" list and threatened to revoke their World Heritage status. The UN designated Galapagos as a World Heritage site in 1978 for its natural and cultural significance and thus gave it special, protected status.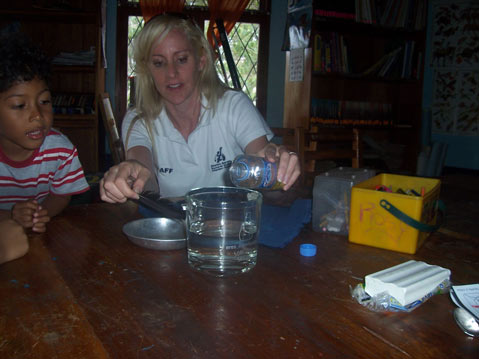 This situation has prompted an attempt to help the province's educational system meet higher standards, and Gabrielle Johnson is doing her part to help the system evolve. Following a meeting between Ecuadorian Minister of Education Raul Vallejo, the Charles Darwin Research Station, and the Board of Education, Johnson and others went into action.
"Since the meeting, I have been involved in designing and writing the education standards across grades K to 9, which cover environmental and sustainability concepts relating to sustainable development in the islands," she said.
Under her curriculum, students will learn such relevant topics as waste management, potable water, management and conservation of biodiversity, and introduced species. Meanwhile, she works directly with Galapagos schoolchildren, teaching them about the island's sensitive ecology and taking them on beach clean-ups and other service projects.
"As they progress through this curriculum, the students that reside in the islands will gain an understanding of the islands and their uniqueness, as well as develop an appreciation for their preservation and conservation," she explained.
Her tenure in Galapagos will be short-term, but she hopes that the work of the Charles Darwin Research Station will spark a gradual but significant change in the way the human population treats the environment in which it lives. She also recognizes that, as a group, the research station can only do so much.
"The preservation and conservation of the islands is in the hands of its nearly 30,000 residents," she said. "Through education, it is hoped that its residents will continue to work toward and implement a plan for sustainable development in the islands that satisfies the protection of the environment, improves the quality of life of its residents, and supports the continuation as a destination of nature's living laboratory to evolution."