Living
UCSB Physicist Receives Einstein Prize
Honored for Achievements Relating to Theory of Relativity
James Hartle has been named a 2009 recipient of the Einstein Prize by the American Physical Society.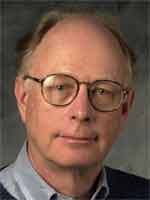 A research professor in UCSB's physics department, Hartle was awarded $10,000 in recognition of his "outstanding accomplishments in the field of gravitational physics." Hartle served as the director of Kavli Institute for Theoretical Physics for several years and was one of four UCSB physicists who came together to create the institute, funded by their success in the National Science Foundation competition.
The theory of general relativity, Einstein's greatest achievement, is Hartle's area of expertise. He has contributed refinements to the theory and cited implications of the theory that no one had before regarding such topics as relativistic stars, quantum fields existing in curved space-time, and studies in quantum cosmology that he did alongside Stephen Hawking.
Hartle has previously held positions at Princeton, Princeton's Institute for Advanced Study, and the University of Chicago. "I am pleased, honored, and surprised," Hartle said of his selection in a press release from UCSB.