Arts & Entertainment
Charlie Haden's Liberation Music Orchestra
Jazz For the Real American Underground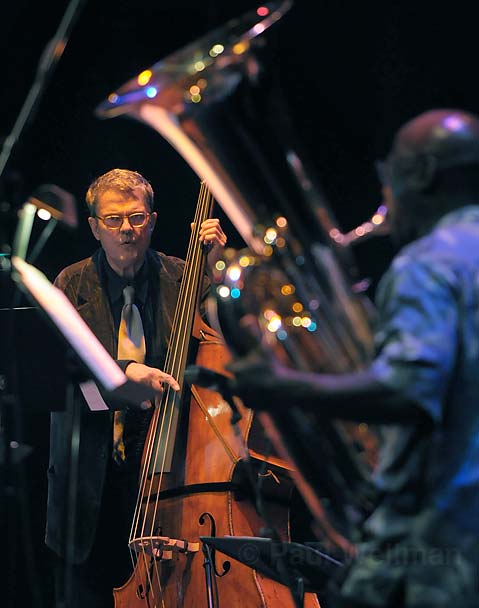 One of the year's most anticipated shows, this concert came at the perfect moment. On the last Saturday before a historic presidential election, Charlie Haden brought the 21st century edition of his Liberation Music Orchestra to the Lobero, and although the 12-piece band was missing composer/arranger Carla Bley at the piano and hard-charging, MacArthur-winning saxophonist Miguel Zen³n, the effect was nevertheless everything it had been built up to be: highly musical, gloriously orchestral, and thoroughly liberating.
Virtually the entire program was taken from the Liberation Music Orchestra's Not In Our Name (2005), the most recent album released by the group and a deliberate blueprint for their current incarnation. Various iterations of the LMO have been making highly spiritualized protest music since 1969, when Haden and Bley first convened a large group for a session on the Impulse! record label that included "We Shall Overcome" and Haden's classic "Song for Che." Now, some 40 years later, the political situation has once again dictated that Haden take another, more considered shot at creating orchestral music that reflects his world view. The work is all by American composers, including the magnificent title track, by Haden, a slinky, defiant reggae by Pat Metheny called "This Is Not America," and complex, long form arrangements of "Amazing Grace" and "America, the Beautiful" that achieve the status of new compositions.
The playing throughout was rewarding, particularly the soloing from the trumpets, Michael Rodriguez and Seneca Black. Chris Cheek used his tenor sax to add the requisite "outside" elements that maintained continuity with Haden's roots in the avant-garde, but most of this concert was devoted to exquisite, expressive lyricism. Alan Broadbent, who subbed for Bley on piano, did an excellent job of giving this difficult and far-reaching music its technical due, and even jumped off his seat to conduct when it was necessary.
Although "Amazing Grace," with its lilting New Orleans second-line strut rhythm, ran close behind, the most unforgettable music in the long single set came during an extended version of "America the Beautiful." Played as a medley with Ornette Coleman's "Skies of America," this epic treatment was also influenced by the brilliant charts written for "America the Beautiful" by the late Gary McFarland, a vibraphonist and arranger who put out an extraordinary, melancholy orchestral suite based on this well-known patriotic song back in 1968. If this is political music, then let's have more of it.