News
New Traffic Signal at Foothill and Cieneguitas
Device Installed to Protect Pedestrians, Cyclists at Busy Intersection
The completion of a new traffic signal at the intersection of Foothill and Cieneguitas roads was celebrated at a press conference on Thursday, December 18. Janet Wolf, 2nd District supervisor, said that the signal provides an added level of safety for bicyclists and pedestrians, including the students at nearby La Colina Junior High school.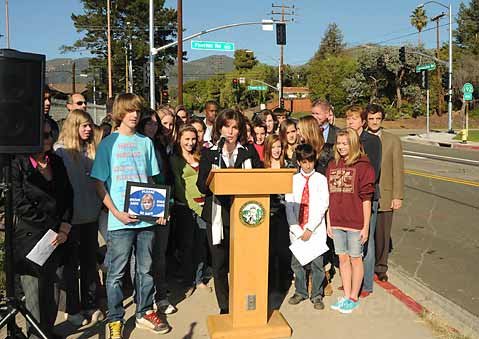 "Slowing down in this area is vital," Wolf said. She added that this has been a troubling area. Irene Wilton, a 90-year-old pedestrian, died in May after she was hit by a car at the intersection. Though the signal has been operational for about a week, Wolf asked motorists traveling through the intersection to be patient, as the timing of the new signal is still being worked out.
Wolf was joined by the principal of La Colina, David Ortiz, and a group of students in the school's leadership class. Ortiz said the signal has already made a difference, and that cars are slowing down near the intersection. He added that the school will "continue [its] effort to provide further safety in our community."
The design and construction of the traffic signal took about a year. Wolf praised the cooperation of state, county, and city governments, along with private developer Bermant Development Co., for getting the project completed quickly. The signal was a condition of approval for the the preserve at San Marcos, a housing development approved in 2006. Also present were City Council members Dale Francisco and Iya Falcone and representatives of Pedro Nava, Caltrans, the California Highway Patrol, and the county's Public Works department.