Big Bad Voodoo Daddy
At the Arlington Theatre, Tuesday, December 16.
The Arlington packed a full house for Ventura's Big Bad Voodoo Daddy (BBVD) on Tuesday night, playing host to an evening of traditional Christmas cheer, as well as a handful of Cab Calloway tributes from the fellas' upcoming record. And while the music was swingin', the band's actual performance seemed shtick-y and overly rehearsed, something that can often come easily after a successful 15-year-long career.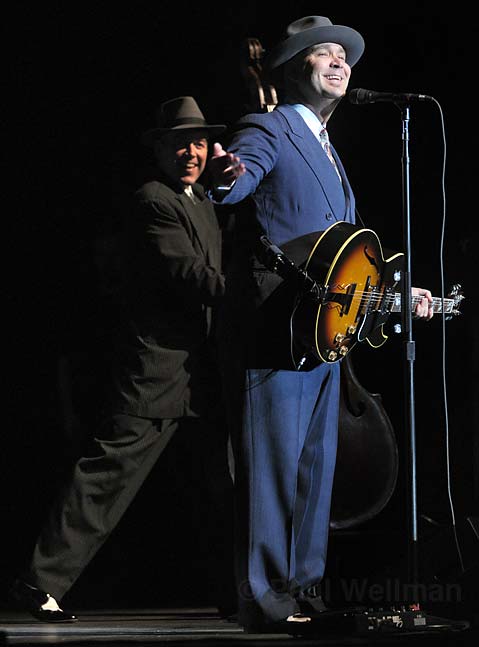 BBVD are a nine-piece swing-style jazz band with a pop approach, and the ensemble does well to replicate the era when their music was birthed and thrived. One of the evening's many highlights came by way of the group's troop of horn players that included one trombone, two trumpets, a clarinet, and a tenor sax. No partridge, unfortunately, but that essential holiday element wasn't required amid their numerous '30s-style bandstand props. The horn players each had several opportunities to showcase their undeniable talent, including a sax solo during their rendition of Calloway's "Reaper Man," and trombone and trumpet solos sprinkled into their performance of "I Wan'na Be Like You." (Yes, the one from The Jungle Book.) Interestingly enough, though, the solo that got the most attention on Tuesday happened to occur very appropriately, during the lone song where the band seemed to loosen up a bit and drop the cheesy spiel. "Jumpin' Jack," which lead singer Scotty Morris introduced as the first song they'd written as a band, was darker than anything they'd played earlier, and during the long trumpet solo, most of the band, save for their drummer, left the stage.
Other than that, BBVD played both of their early '90s hits from the film Swingers, "You and Me and the Bottle Makes Three Tonight (Baby)," which showed up early in the night and was received with plenty of enthusiasm, and "Go Daddy-O" toward the latter half, when braver fans could be caught dancing in the aisles. The night wouldn't have been complete without a cover of Elvis's (not Porky Pig's) "Blue Christmas," a few seasonal mashups, and the boys' original ditty about Santa being a pocket picker, "Christmas Time in Tinsel Town."