Living
Todd Rogers, the Great of 2008
Gold Medal-Winning Volleyballer Is Our Choice for Sportsperson of the Year
Santa Barbara's Sportsperson of the Year, by a unanimous vote in my poll of one, is Todd Rogers, the winner of 15 beach volleyball tournaments in 2008, including the big one: the Beijing Olympic Games. Of course, Rogers could not have succeeded without his teammate, Phil Dalhausser, but neither could Michael Phelps have made history without UCSB grad Jason Lezak's stunning relay finish.
Rogers, known as "The Professor" on the beach tour, is a hometown lad through and through-a star athlete at San Marcos High and volleyball standout at UCSB, where he also was an assistant coach before committing himself to the grueling Olympic qualification process. He resides in Solvang with his wife Melissa and two children, but Santa Barbara's East Beach is the nexus of his partnership with Dalhausser, who grew up-way up, to 6ʹ9Ê°-in Florida and migrated here to train and compete with the best beach players. Rogers recognized that his experience and skill, joined with Dalhausser's beastliness, would be a potent combination. It turned out to be as good as gold.
A couple weeks after the Olympics, Rogers and Dalhausser staged one of the year's great comebacks in the finals of the AVP Santa Barbara Open tournament. Down 14-9 in the third game, they staved off five consecutive match points and pulled out a 20-18 victory over a shell-shocked John Hyden and Brad Keenan.
Rogers, who turned 35 in September, says he's ready to roll in 2009. The biennial FIVB World Championships in Norway will be the summer target of the Olympic champs. Rogers and Dalhausser won the 2007 world title at Gstaad, Switzerland. Rogers says he will decide at the end of the year whether to shoot for the 2012 London Olympics with the 28-year-old Dalhausser.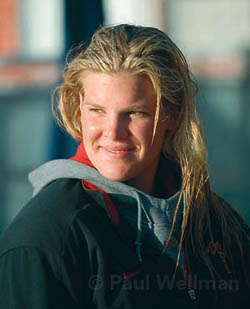 Other hometown athletes at Beijing included Kami Craig, who brought home a silver medal with the U.S. women's water polo team; Mark Warkentin, who competed in the first Olympic open-water swim; and track cyclist Adam Duvendeck.
Closer to home, there were plenty of sports highlights in 2008. There was a sizzling rivalry between Dos Pueblos and Santa Barbara High girls teams, who faced each other in two CIF finals: water polo (DP's Chargers won) and volleyball (the Dons prevailed). It was a year of change at UCSB, where longtime men's volleyball coach Ken Preston (30 years), women's basketball coach Mark French (21 years), and athletics director Gary Cunningham (13 years) went into retirement; their respective successors are Rick McLaughlin, Lindsay Gottlieb, and Mark Massari.
Soccer continued to be a marquee Gaucho sport, as the UCSB men's team made its seventh consecutive appearance in the NCAA tournament and the women made it for the first time in 18 years. SBCC closed its football season with six straight wins, while the Vaquero soccer teams went deep into the state playoffs and the women's golf squad won its second state title in three years. The most heartwarming story was Westmont College's 2-0 upset of Azusa Pacific in the conference soccer championship, four days after Warriors coach Dave Wolf and several players lost their homes in the Tea Fire. The Santa Barbara Foresters were deemed the No. 1 summer-league baseball team in the nation after they won the NBC World Series in Wichita, Kansas, for the second time. The Santa Barbara Breakers capped their second semipro basketball season with a league title.
My own highlight was coaching the Media/Celebrity All-Stars last month in a basketball game sponsored by the Breakers to benefit the Tea Fire relief fund. Our opponent was the Montecito Fire Department. I instructed our players to report to the other bench if they felt a heart attack coming on. The firefighters tied the score at the final buzzer on a sensational putback by Chief Kevin Wallace. It could have ended there, but overtime was ordered, and my celebrity ringers-Olympic volleyball player Dax Holdren, former NFL tight end Ron Heller, and secret weapon Kelly Daugherty, who played soccer for the Gaucho women's team-pulled out a victory.
HONOR ROLL: The Santa Barbara Athletic Round Table's weekly Monday luncheons resumed at Harry's Plaza Cafe after a holiday break. Four athletes were fted for their performances: Manny Rodriguez, a high-scoring Carpinteria basketball player; Zach Belway, a 173-pound San Marcos wrestler whose record is 21-0 with 17 pins; Lauren Pedersen, who's done it all for UCSB's women in their three-game basketball winning streak; and Sami Hill, outstanding goalie for the Dos Pueblos girls water polo team.
GAMES OF THE WEEK: Santa Barbara High's wrestling team visits San Marcos at 7 p.m. today (Thu., Jan. 8). UCSB's men already face crucial league basketball games tonight against UC Irvine and Saturday night against Cal State Fullerton, both at the Thunderdome, while McLaughlin makes his debut as Gaucho volleyball coach in the E-Bar Invitational, Friday and Saturday at the Thunderdome and Rob Gym.