Cover Story
California's Great Olive Oil Flood
Farmers in Santa Barbara and Beyond Tap into an Ancient Tradition
Late each fall, tense times arrive in the olive orchard at Pasolivo near Paso Robles. The annual wine-dark flood has already drenched the rest of the Central Coast and state, where the vineyards are turning to gold, and now Pasolivo's staff must gear up for the olive harvest. The fruit, which set in May, has matured through varying stages of ripeness, and in late November, the final window of opportunity remains cracked for workers to harvest the fruit before the first frost ruins the crop.
The days grow measurably cooler in the early weeks of December as five dozen hired hands comb their way across the property's 9,000 trees. From dawn to dusk, pickers stand in ladders and "milk" the fruit from each springy branch into buckets hanging from their necks. Bucket after bucket of olives must be poured into quarter-ton basins, which go by forklift to the oil mill. From olive to oil, milling takes about an hour, and the Pasolivo centrifugal press runs all day long, processing 30-40 bins of fruit daily and rendering up to 400 gallons of oil by sundown. Bottling, packing, and shipping add to the almost endless duties of harvest time, and, for three weeks, sleep comes easy for the men and women who make olive oil possible.
For all the weary days of freezing dawns and late hours, of aching backs and exhausting labor, Pasolivo's oil-about 4,000 gallons expected this year-constitutes just a drop in the California bucket. In the past decade, armies of trees have taken root in the Central Valley, the northern Bay Area wine country, and the Central Coast hills. California is still just a baby in world production, but has paced itself to enter the ranks of the world's leaders in olive oil milling in the next 15 years.
The state's oil is consumed almost entirely within the country, and demand for high-quality extra virgin olive oil has exploded. Craig Makela, founder of Santa Barbara Olive Company, is among the innovators of the county's modern oil milling scene, having entered the trade as a young entrepreneurial farmer in the early 1980s. He remembers when consumers looked askance at oil that had color, flavor, and character, and he said that to sell bitter, pungent extra virgin olive oil required walking door to door on State Street with cases of the stuff.
"Chefs laughed at us when we tried to tell them the difference between extra virgin olive oil and oil that is refined and heated to where it has no flavor," he remembered. "That was all people used back then."
Even earlier this decade, the public remained wary of fresh, fragrant olive oil. Joeli Yaguda, Pasolivo's manager of marketing and sales, recounts the challenge in selling their first vintage of oil-a throat-rakingly bitter Tuscan blend. "Six years ago it was hard to sell such a bitter oil," said Yaguda. "Chefs even refused to use it. They would call and complain that it was too expensive and too strong; that something was wrong with it. They thought it was rancid and said it was too bitter, but they just didn't know any better."
Sales come much more easily these days as Americans embrace the bucolic poignancies of the Mediterranean diet and willingly spend extra dollars to get it, and the state's producers-some 500 in number-swim in promising prospects for the future. Yet the smaller oil makers face mounting challenges and uncertainties. The land came alive earlier this decade with the olive fruit fly, a nonnative pest that now costs millions to fight each year yet seems only to be strengthening its foothold. Olive oil fraud sees millions of gallons of low-grade or adulterated oil enter the country each year, only to be labeled "extra virgin" and sold side-by-side with boutique blends for one-fifth of the price. And then there's the competition that artisan growers face from the mass-produced-if relatively high-quality-oils from the Central Valley. Though confident growers feel they occupy a secure niche in the marketplace no matter how cheap the competition, others, who barely manage to scrape a profit from each bottle sold, wonder if there is a future at all.
A Pitted History
They stand firmly planted across California, scoffing the meek flow of centuries with their massive twisted limbs and gnarled trunks two feet thick. These relic olive trees, still as fruitful as ever and as old as America, attest plainly to the fact that this industry has thrived before in California-and faded away.
The first trees arrived in the state in the 1700s with the Spaniards, who initially brought them to the New World at the close of the 1400s. But in the humid colonies of Florida, Cuba, the West Indies, and mainland Mexico, olive orchards failed. Only when the Spanish padres trudged into Baja California did they finally find a climate resembling that of the Mediterranean where the olive trees could thrive. At their long line of missions from Baja to Sonoma, the priests grew, harvested, and pressed olives into a relatively low-grade oil that they used for cooking, fuel, soap-making, and ritual ointment.
The mission orchards were abandoned in the 1830s, but the trees lived on, blossoming and fruiting through decades of neglect. Meanwhile, various pioneers in horticulture began to plant fruit orchards throughout the state's prosperous growing zones. Jules Emile Goux arrived in Santa Barbara in 1851 and, amid the established 50-year-old trees at the Presidio, planted his own groves in what would become downtown. The trees still grow and produce fruit today along Olive and De la Guerra streets. Others followed, such as Ellwood Cooper, who planted 8,000 trees on his ranch in Goleta, legendarily making 50,000 bottles of oil in one year.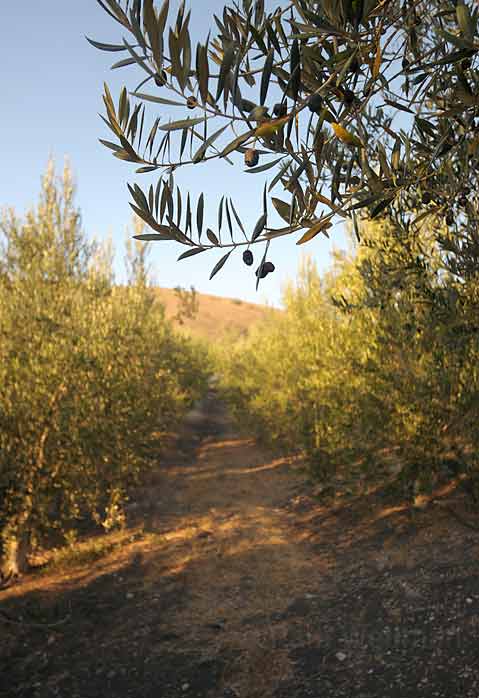 Plantings also occurred in San Diego and Ventura counties, and in the northern Central Valley, too, where old groves still produce today. Communities of Italian immigrants supported many of these regional oil makers in the late 19th century, though mainstream interest in the products remained weak since foreign oil was considered better. By the 1890s, cheap European oil imports-made with a surplus of fruit and low-cost labor-had crippled many California producers. Still, few forces beyond the axe can destroy an olive grove, and the trees were here for good.
The industry idled and puttered for decades. Only when the health benefits of olive oil began to gain repute in the 1980s did the state's acreage start expanding again. In the late 1970s, S.B. Olive Co.'s Craig Makela knew that planting 6,000 trees on the Gaviota Coast in an uncertain marketplace would be a gamble, but his work at fine restaurants gave him a reverence for quality olive oil that he wanted to share. Then, around 1980, Makela realized while doing research that he was a direct descendent of Santa Barbara olive pioneer Jules Emile Goux-his great-great-grandson, to be precise.
"It made it seem like we had turned onto the right path," said Makela. "It was very serendipitous, and we thought, 'Wow, maybe we were meant to do this. Maybe this is in my blood.'" But there was no demand yet, and to stir up some consumer interest in pungent green oil, Makela and his wife, Cindy, campaigned at cooking schools, restaurants, and universities, teaching seminars on why bitter oils-rich in polyphenols and antioxidants-are healthier than smooth, buttery oils.
The Makelas' trees produced their first crop of fruit in 1984. They drove the olives to Porterville, where a mill owner showed the Makelas the process of turning olives into oil: washing the fruit, pouring it into the grinder, turning the mix into a porridge, centrifuging the sludge to separate the oil from the water and waste, and finally racking the oil in barrels to allow sediments to settle out during weeks of idle storage. The first vintages, recalled Makela, who is now 53, were small and difficult to sell.
"Nobody knew what to do with it, especially not chefs. They thought it was too strong and would badly flavor their food." – Craig Makela
"It was really challenging," he said. "Nobody knew what to do with it, especially not chefs. They thought it was too strong and would badly flavor their food." Times have changed, and Makela now produces more than 3,500 gallons of oil yearly, happily selling every drop.
Newer producers in the tri-county region include Clos Pepe Vineyards, Ojai Olive Oil, Olive Hill Farm, Allure Estates, and Figueroa Farms, which have all planted trees in the past decade and are awaiting maturity, a process that can take 15 years. At Pasolivo, for example, the first trees took root in the early 1990s. The first harvest of seven tons arrived in 1999. This year, Yaguda expects perhaps 85 tons and 4,000 gallons. Makela also expects growth, and his production may reach 10,000 gallons in the near future.
Such numbers vividly reflect the explosion now occurring on a mass scale throughout California. All told, 14,000 acres of oil-producing trees grew statewide last year and, in 2008, 7,000 more acres of real estate were assigned to the business. This year California will surpass France in production volume, with nearly a million gallons, and industry eyeballers expect the olive oil flow to escalate by a whopping 30-fold in the next 20 years. In California, clearly, there is no business like the oil business.
Here Comes the Fly
Growth aside, the industry is not without its impediments. Among the greatest challenges faced by growers everywhere is the olive fruit fly, a European native that arrived via LAX in 1998 through an unknown vector. The insect made itself readily at home, and olive growers have paid the price. Though the insect doesn't harm the trees, it feeds on nothing but olives. Worse, the females lay from one to four eggs inside each fruit and may lay 500 more throughout a tree. From the eggs come new life-and much death. In 2004, maggots erupted from nearly every single olive on Makela's estate, eliminating his entire vintage and welcoming him to a new era of olive oil production.
"When you have the fruit fly, you're going to lose your entire crop. It's not partial. The destruction is complete." – Craig Makela
"The fly is everywhere, and when it comes, it's devastation, complete devastation," said Makela. "When you have the fruit fly, you're going to lose your entire crop. It's not partial. The destruction is complete."
A sugarcane-based organic applicant called Spinosad, however, has so far spared the industry. Applied in a sizeable dollop on the bark of the tree, the sticky, poisonous substance attracts the flies and becomes their last meal. The problem for growers is the price, with the substance-which needs to be applied to every tree every week from May until the late-fall harvest-sometimes running more than $100 per gallon. That amounts to about $100 per acre annually. And even ruined crops must be harvested, because leaving infested fruit on the trees or the ground below provides food and habitat for the flies during the winter.
State biologists see no way to eliminate the insect. After it arrived in California, the fly spread north and south and infiltrated every olive-growing region within several years. Baja California has experienced terrible infestation, while the high heat of the Central Valley's summers somewhat subdues the pest. Still, most growers treat their trees to guarantee a clean harvest.
Oil mill operators will not grind olives affected by the flies, and Pasolivo's Yaguda has seen pickers come to the mill after their harvest, unknowingly with ruined crops. She explained, "We've had to turn away people who broke their backs picking their fruit and didn't even notice they were all full of bugs." Tainted olives, she said, threaten to leave impurities and maggot residue on the machinery, spoiling a mill and any oil that runs through it, as it takes just several nasty microbial cells to ruin an entire vintage of barreled oil.
Not the Vestal Virgins
The fly problem can at least be mitigated through vigilance and treatment. Another challenge for growers is almost impossible to control: olive oil fraud.
This gained attention last year when the New Yorker published journalist Tom Mueller's expose on how Mediterranean businesspeople sell hazelnut and other oils as "extra virgin olive oil"-a moral, if not quite legal, violation of international standards. The oil is enticingly cheap, often selling for fewer than $6 per liter, whereas the artisanal stuff can cost more than 10 times that. So despite the increased awareness, the deluge of bunk oil continues, supplying America with much of our 70 million gallons of annual consumption.
But according to producers in California, cheap extra virgin olive oil is an oxymoron. "It's impossible to make inexpensive olive oil," claimed Alex Alexiev, a military intelligence analyst who fled his native Bulgaria in 1970 and now runs the Allure Estates olive orchard in Templeton, which will produce about 250 gallons this year. He uses what free labor he can-his wife, kids, friends-but he also hires a professional picking crew. The job takes just three days, but costs about $1,000 per ton to harvest. Other year-round expenses, from pruning and irrigating to Spinosad application and milling, bring the costs of Alexiev's small operation to about $3,000 per ton of harvested olives per year. Profit per ton runs $5,000-$7,000, but that's before land prices. Those entering the trade today with an initial land purchase may face years of mortgage payments and hard times, no matter how bitter, lovely, and fast-selling their oil.
Makela, who got in the game bright and early, sells his various blends and flavor-infused oils for as few as $18 per liter. Alexiev's Allure Estates' oil goes $30 for a 375-milliliter bottle, a price he plans to drop to align with the slumping economy. Others are still pricier, yet the profit margin in hand-harvested oil production remains frugally narrow and competition from cheap imports is not helping.
To see for himself how some Europeans are making oil, Alexiev traveled to Greece's Kalamata region in summer 2005. He bought a bottle of oil, and he reported that the 2004 vintage bore a heavy "grubby" character. A personal inspection of the orchard revealed that at least 20 percent of its olives were infested with flies, misshapen, and half-eaten, some with wiggling maggots protruding from the interior.
"It's a fact," reported Alexiev, "that the Greeks know about the fly but do nothing about it since they get their EU subsidies regardless. Plus, they sell most of their bulk oil to the Italians who manipulate it and sell it to us."
"It's a fact," reported Alexiev, "that the Greeks know about the fly but do nothing about it since they get their EU subsidies regardless. Plus, they sell most of their bulk oil to the Italians who manipulate it and sell it to us." For example, at a trendy supermarket well-known for its two-dollar wine, Alexiev recently sampled a house-brand "extra virgin" olive oil just for kicks and he swears he tasted maggot.
European olive farmers are also known to lay out tarps in September to catch the olives as they begin to fall. By the time the tarps are rolled up and hauled away with the season's catch, some of the olives are weeks old, soggy, and rotten. The oil that comes from such harvests certainly is high in acidity and peroxide-precluding true extra virgin status-but most of this nasty product escapes inspection, gets falsely labeled, and goes to America as "extra virgin." California regulations, however, are tightening the noose on impostors. On September 30, 2008, the Legislature made it a crime in California to label an oil as "extra virgin" if it doesn't meet the standards laid out by the International Olive Council (IOC), a powerful Madrid-based watchdog group. The bill addresses both imported and domestically made olive oil.
Nonetheless, with so many challenges, Ron Asquith believes the future is not quite as green as it seems. Asquith founded Ojai Olive Oil eight years ago and harvests 17 acres of young trees each fall, plus a small plot of 125-year old relics. Water supply issues and rising rates necessitated that Asquith dig and establish his own well this summer to make ends meet, a job that cost him $60,000. Asquith predicts with dire firmness that many small producers now entering the trade will just as quickly go out of business due to various financial restraints.
"The economies of small production don't make it very profitable," he said. "The crop isn't especially valuable, and hand-picking is extremely expensive."
Harvest of Tomorrow?
Though harvesting olives with loving fingers from the tender branches of ancient trees sparks a marketable sense of romanticism, things are changing in the Central Valley. UC Davis and cooperating growers have created a mechanized system of oil making that eliminates nearly all the costs of labor-and most of the romance.
"Super-high density" farming, as they call it, consists of vast groves planted with 700-1,000 clone-like trees per acre-five times the density of most groves. Pruned, trimmed, and coached into a springy shrub no taller than nine feet at maturity, these hedgerows represent the backbone of more than 90 percent of the state's industry. The oil is considered to be of relatively good quality in a technical sense, but some artisanal oil producers question this mass-production approach to a bucolic tradition that generally thrives on idealistic Euro-rustic roots.
"It's good oil, but it's kind of bland," said Shawn Addison, owner of Figueroa Farms in the Santa Ynez Valley.
"A good Tuscan oil is gripping, ferociously strong, peppery, and bitter. We also look for fruitiness and pungency in the back of the throat. The high-density oil is much milder than that and is a very different product than the artisan oils."
High-density oils can be made from only three olive varieties-Arbosana, Koroneiki, and Arbequina, all trees that can be grown in the required dwarf form. Ojai's Asquith, who makes olive oil from 10 varieties, believes he and other artisans produce unique products that high-density groves can never mimic.
On top of that, Santa Barbara's Makela doubts that this farming method will prove lucrative in the long-term. "All those trees that they're planting right now will mature," he explained, "and eventually they'll have to replace all the groves to keep them in the hedgerow form." And that, Makela believes, could be monumentally expensive.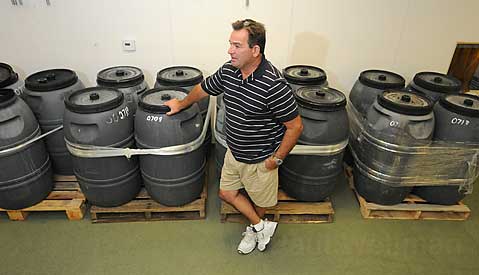 But high-density farming serves a plain purpose: It has made cheap extra virgin olive oil feasible, which is a crucial marketing goal when low-priced European oil continues to dominate retail shelves. In high-density growing, two people in a tractor-like machine can harvest an entire acre in 40 minutes, a rate of a tree every two seconds. By comparison, it takes hand-pickers 15-30 minutes to strip a single tree of its fruit. In mechanized harvest, gone may be the romance integral to hand-picked oils, but nearly all high-density oils in the state are certified as "extra virgin."
As such, these low-priced, high-quality oils serve as a gateway experience for many consumers, explained Wes Hagen, vineyard and orchard manager at Clos Pepe in the Sta. Rita Hills west of Buellton. "High density will bridge the gap between the haves and the have-nots, those who want good oil and can't afford it," he said. "We won't be able to compete on price, but this is going to bring more people to the table."
Yaguda agrees, and foresees prosperity for oil-millers big and small. In fact, as several brands of high-density oils spread across shelves, she believes the attractiveness of isolated boutique bottles like hers will only grow more appealing to shoppers.
Overseeing the Oil
The California Olive Oil Council (COOC)-headquartered in Berkeley and based on Spain's IOC-oversees the state's oil production, tasting, analyzing, and certifying oils as extra virgin for a yearly membership fee. The COOC's presence prevents sneaky or sloppy practices among its members, who receive a "certified extra virgin" stamp on all approved bottles. But even among nonmembers, olive oil fraud reportedly doesn't happen in California, as the community of producers is too small and neighborly for such behavior to occur.
So the best news is that California's olive oil industry is as honest as industries come. Buy a Golden State oil -even a high-density one-and you'll go home with an extra virgin olive oil high in antioxidants, polyphenols, and all the sensory properties that turned off chefs and diners in the '70s and '80s. California olive oil currently comprises less than one percent of American consumption, so there is far from enough to go around, even with the Central Valley's high-density orchards being planted and other states such as Texas starting to harvest olives as well.
And at the end of the day, history tells us that olives won't disappear. Oil making is as old as ink in the Old World, and scattered trees have grown in the Middle East, on Greek islands, and under the Tuscan sun for millennia. The climate of California is just as hospitable, and while the industry scrambles to find its feet, the trees' roots are already set.
4•1•1
For a documentary about olive oil harvesting in Santa Barbara County, see independent.com/multimedia. For more information on the olive oil makers mentioned in this story, see:
Allure Estates: allureestates.com; 237-8063
Clos Pepe Vineyards: clospepe.com; 735-2196
Figueroa Farms: figueroafarms.com; 686-4890
Ojai Olive Oil: ojaioliveoil.com; 646-5964
Olive Hill Farm: olivehilloil.com; 688-3700
Pasolivo: pasolivo.com; 227-0186
Santa Barbara Olive Company: sbolive.com; 562-1456