Food & Drink
Cafe Nordstrom
A Review of this Casual Cafe in a Paseo Nuevo Department Store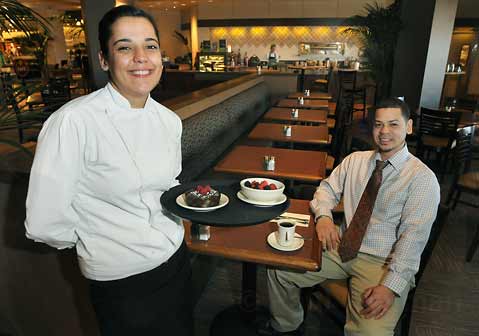 Where: 17 W. Canon Perdido St. (Nordstrom 3rd Floor), 564-8770.
What: Located inside of Nordstrom is this casual cafe with a stand-up order counter, delicious lunchtime specials, and an outdoor patio.
How much: Salads $8.95-$10.25, sandwiches $8.95-$9.95.
The dish: One-stop shopping takes on true meaning at Paseo Nuevo's Nordstrom, where its third-floor cafe provides a comforting lunch, coffee, and snack stop. Shoppers can placate restless companions with the tempting selection of freshly chopped salads, soups, stacked paninis, and decadent pastries. The Kids' Cafe Menu is a hit with the little ones who also receive paper placemats and crayons with which to color. The upper level clothing departments practically spill into the contemporary food marketplace where diners can order at the counter and enjoy Santa Barbara's red-tiled rooftops from the patio. Salads range from zesty lime and cilantro chicken with pumpkin seeds to balsamic chicken artichoke and a classic Cobb. The daily specials list features pastas regularly, and sandwiches are served with a choice of crunchy Kettle Chips or mixed greens.
4•1•1
This week at independent.com, C is also for: Cantwell's Market (independent.com/cantwells). And for all our restaurants, see independent.com/restaurants. Next week, see what D is for :