Cover Story
Hometown Hoosiers
A Round-Up of UCSB, Westmont, and SBCC Men's and Women's Basketball Programs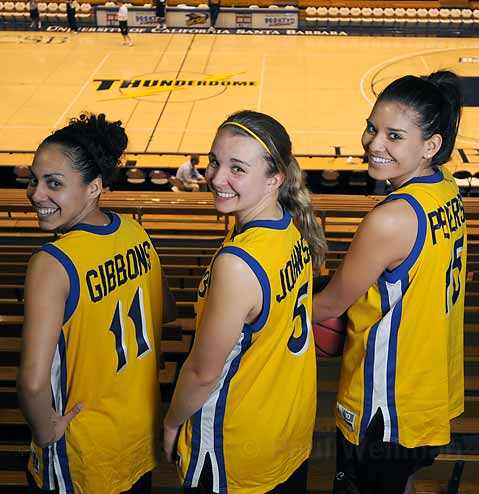 Bob Williams says you don't have to watch the movie Hoosiers to enjoy the eternal fundamentals of basketball. "Go watch Westmont play," said Williams, head coach of the UCSB men's team. He much admires the style of the Warriors-the Gauchos scrimmage them every year to get a taste of it-and he says of Westmont's coach: "John Moore is a treasure."
The Warriors have enacted Hoosiers in another sense: Their games are replete with happy endings. The combined record of Westmont's men and women was 22-5 entering this week, both of them among the leading contenders in the Golden State Athletic Conference, one of the strongest leagues in the NAIA.
Williams needs a new script writer at UCSB. His Gauchos have endured a series of horrifying collapses. They start out great guns-they even hung with North Carolina for 30 minutes-but down the stretch, they fall off a cliff. "I can't figure out what it is with the second half," Williams said after Cal State Fullerton rallied from a 13-point deficit and defeated the Gauchos 62-58 last Saturday.
The Gaucho women have found an answer to scary endings: Buckle down on defense. They held three opponents to 40 points or less in a five-game winning streak that propelled them to the top of the Big West Conference standings.
And in community college action, SBCC is off to a winning start at the Western State Conference.
Here is a look at Santa Barbara's college basketball teams at the midpoint of the 2008-09 season.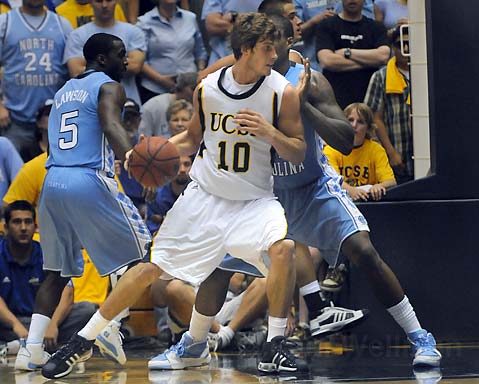 UC Santa Barbara
MEN (7-9 overall, 1-3 Big West): It's worth it to go out to the Thunderdome to see Chris Devine play. The relentless 6ʹ8Ê° senior leads the Gauchos in scoring while fighting double teams in the paint. He can step outside and stroke a mid-range jumper.
Two injuries have dimmed UCSB's outlook. Justin Joyner, who started 60 games at point guard the last two years, is sitting out the season after wrist surgery. And junior forward Jesse Byrd, a banger who took some pressure off Devine, had knee surgery in December. He is expected to return in a month.
UCSB did manage to top its nemesis, UC Irvine, as freshman guard Will Brew Jr. hit six consecutive three-point shots in a 68-61 victory last week. But the shooting of the guards, including junior veteran James Powell, has been streaky. The Gauchos' backcourt went 9-for-36 in their first two conference losses. With the college men's three-point line extended a foot to 20ʹ9Ê° this year, UCSB's shooting percentage from behind the arc has declined from a robust 41 percent last year to 33 percent.
The Big West has a bunch of streaky shooters, one reason the conference's games tend to be wild and unpredictable. Fullerton guard Josh Akognon went off in the second half against UCSB, scoring 20 of his 29 points.
Slow starts are nothing new for the Gauchos, and usually they pick up speed as the season progresses. In the past 10 years, Williams's teams have posted a January record of 40-38, while in February and March they have gone 60-32 in regular-season games. Their ultimate goal-to reach the NCAA tournament-is up for grabs every March when the Big West holds its postseason tournament in Anaheim. The Gauchos won the title and an automatic NCAA berth in 2002.
This team's future is especially bright in the long term. UCSB has been starting three freshmen-Brew, guard James Nunnally, and forward Jaime Serna-and another freshman, 7ʹ2Ê° Greg Somogyi, has terrific potential from his head to his toes and throughout his wide wingspan. They will be joined next year by two of the program's strongest recruits: Chris Brew (brother of Will), a 6ʹ4Ê° guard at St. Mary's in Berkeley who was sought by Pac-10 schools; and 6ʹ9Ê° forward Lucas Denny. UCSB's only seniors are Devine, dexterous defensive guard D.J. Posley, and reserve guard Nick Quick.
Remaining home games (7pm unless noted): January 29 vs. Cal State Northridge (8pm); February 14 vs. Cal Poly; February 18 vs. Pacific; February 21 vs. ESPNU Bracket Buster (opponent and time TBA); February 28 vs. UC Davis; March 5 vs. UC Riverside; March 7 vs. Long Beach State.
WOMEN (8-6, 4-0 Big West): The big question was: How will the Gauchos adjust to an entirely new coaching staff, headed by Lindsay Gottlieb? The season got off to a rocky 3-6 start-including come-from-ahead losses to USC and Harvard-but beginning with a 55-37 victory over Santa Clara last month, UCSB's defensive efforts have been reminiscent of the best put forth by former coach Mark French's teams. He took the Gauchos to the NCAA women's tournament 12 times.
"I'm not six-foot-eight, and I haven't been here 20 years," Gottlieb said, referring to French, "but we are similar."
Senior guard Lauren Pedersen said Gottlieb is "very strategic, not off-the-wall emotional. Coach G is a lot like French, but younger. Both are pretty cerebral, which suits me. I don't like screamers."
Pedersen, a true student of the game, is thriving in her second season as a Gaucho (she transferred from UCLA after her sophomore year). She leads the team in scoring, rebounding, assists, steals-"and smart decisions," said Gottlieb.
In UCSB's 47-40 victory over UC Riverside, the preseason favorite to win the Big West, the 5ʹ10Ê° Pedersen had 21 points, knocking down five of eight three-pointers. The Gauchos made a statement against the Highlanders. "My team doesn't like being picked second," Gottlieb said.
UCSB's resurgence has corresponded with the return of fiery 5ʹ7Ê° senior Sha'Rae Gibbons, who missed the first eight games with a broken pinky. Starting at point guard in her absence was first-year Emilie Johnson, who picked up valuable experience. Sometimes both are on the court with Pedersen, who calls herself "a point guard in a two-guard's body," giving the Gauchos a triangle of playmakers.
There are three other seniors on the team: workhorse defender Whitney Warren and 6ʹ4Ê° post players Jenna Green and Kat Suderman. "She's an absolute beast," Gottlieb said after Green had 10 points and 10 rebounds against Riverside. But she's a fragile beast, as is Suderman-both missed games on the road last week with back problems. Junior Jordan Franey and sophomores Ashlee Brown and Margaret Johnson stepped up for them.
Gottlieb's success in the long run will depend on recruiting. She and her staff have gotten off to a good start in that area. Last fall, UCSB signed three high school seniors: guards Destini Mason (Perris) and Briahna Richardson (Pacific Hills), the daughter of former UCLA star Pooh Richardson; and forward Grovinya "Sweets" Underwood (Compton Centennial). Also, redshirt center Mekia Valentine, a 6ʹ4Ê° transfer from Wake Forest, will be eligible to play as a junior next year. Valentine was ranked as one of the nation's top 25 recruits out of high school.
Remaining home games: January 17 vs. Cal Poly, 2 p.m.; January 22 vs. UC Davis, 7 p.m.; January 24 vs. Pacific, 2 p.m.; February 5 vs. Cal State Fullerton, 7 p.m.; February 7 vs. UC Irvine, 2 p.m.; February 24 vs. Oregon State, 7 p.m.; February 28 vs. Cal State Northridge, 2 p.m.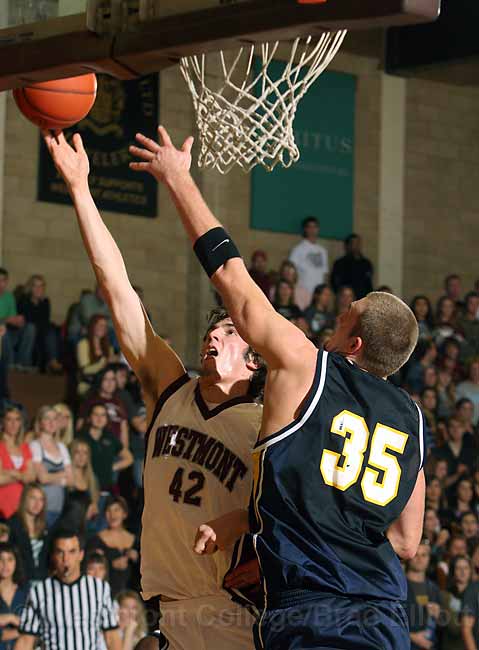 Westmont College
MEN (10-4, 4-1 GSAC): Dan Rasp, a 6ʹ6Ê° sophomore from Camarillo, has been lighting it up for the Warriors. He was MVP of their own Tom Byron Classic, and he scored a career-high 29 points in their 82-67 victory over The Master's in Santa Clarita last Saturday. It was their seventh straight victory. The Warriors are now ranked No. 14 in the NAIA.
Other standouts include senior guard Tyler Dutton, the 34th Warrior to score 1,000 career points; junior guard Andrew Schmalbach, a clutch shooter from Santa Maria; junior guard Matt LeDuc; former Bishop Diego High star Ryan Aijian, a sophomore guard; and this year's only new player, junior guard Christopher "C.J." Jackson.
UCSB's Williams said of the jitterbugging 5ʹ9Ê° Jackson, a transfer from Foothill College: "You can't stay in front of him. No Division I school recruited him. They should have."
Jackson is averaging seven assists a game. "I love having the ball in his hands," Moore said. When Westmont was tied with Cal State San Bernardino in the final seconds, Moore told Jackson-scoreless during the game-to take the final shot if he had the opportunity. He nailed a jumper for a 63-61 victory on the night Westmont dedicated Kammerer Court at Murchison Gym in honor of Moore's predecessor, Chet Kammerer.
WOMEN (12-1, 4-1 GSAC): Westmont was ranked No. 10 on last week's NAIA national poll, one of four GSAC women's teams in the top 20. The Warriors defeated No. 17 Cal Baptist by a 73-56 score last week. Coach Kirsten Moore (no relation to the men's coach) has put together an up-tempo team averaging almost 72 points per game. Making them go is junior point guard Amber Stevens, a graduate of Dos Pueblos High. At 5ʹ8Ê°, she leads the team in rebounds, assists, and steals, and is the third-leading scorer. Junior forward Alisha Heglund and guard Jessica Case lead the balanced scoring. First-year guard Katie Kittle is making 46 percent of her three-point shots (21-for-46).
Westmont's remaining home games (women at 5:30pm, men at 7:30pm): January 17 vs. Point Loma Nazarene; January 20 vs. Fresno Pacific; January 27 vs. Azusa Pacific; February 5 vs. Concordia; February 14 vs. The Master's; February 17 vs. Biola; February 28 vs. Vanguard.
Santa Barbara City College
MEN (10-12, 2-0 WSC North): The Vaqueros began a five-game winning streak after their 92-90 overtime loss to Fresno City, the state's top-ranked team, at the Hancock Tournament. In their next games, they knocked off No. 7 Cuesta 77-72 and beat Butte 80-69 for the consolation title. They began the New Year with a 75-63 triumph over 13th-ranked Reedley, and last week they opened the WSC schedule with wins over Oxnard and Hancock.
David Lane, a 6ʹ1Ê° freshman from Ohio, and Mark Keeten, a 6-footer from Riverside, together are averaging almost 40 points a game. Coach Morris Hodges's men got 16 second-half points from Richard Somdah, a forward from Houston, in a come-from-behind 66-62 win over Oxnard.
"We're clicking as a team," said Lane. "Instead of going one-on-one, we're passing the ball around."
Like Westmont, the Vaqueros play double-headers in their conference. This year, the men play the preliminary (5pm) to the women. "I like it," Lane said. "You're not waiting all day for the game."
Lane added, "We have to win to keep up with the women." After beating Oxnard, the men assembled in the Sports Pavilion stands and cheered on the Vaquero women to their 67-48 victory.
WOMEN (16-8, 2-0 WSC North): Coach Sandrine Krul's prescription for the Vaqueros is MTXE: "Mental Toughness Extra Effort." It took a while for Josie Piercey to grasp the concept. "I was like, 'MEXT?'" Piercey said. "That's coach. It's her philosophy. It works."
It has worked for Piercey. The sophomore from the high desert town of Bishop was "air-balling free throws in practice" last year, Krul says, but a year of running and working out in the gym has turned her into one of SBCC's key players. The team has two veteran starters, Katie Randall and Nikki Graham.
Imelda Bealer, a first-year player from Los Angeles, had 11 steals in two games last week. Full-court pressure has produced a lot of SBCC points. Krul doesn't trust outside shooting. When the Vaqueros went 0-8 from three-point range in the first half of December's game against the College of the Sequoias, the coach said she got "a little nutty." She said she'd bench any player who attempted a trey in the second half. SBCC came from behind and won.
Ventura College, the state's No. 1 team off to a 21-0 start, will visit the Sports Pavilion next week.
SBCC's remaining home games (men at 5pm, women at 7pm): January 17 vs. L.A. Pierce; January 21 vs. Ventura; February 4 vs. Hancock; February 7 vs. Cuesta; February 18 vs. Moorpark.