Food & Drink
Deano's Pizzarama
A Review of This Family-Run and -Friendly Pizza Joint on the Mesa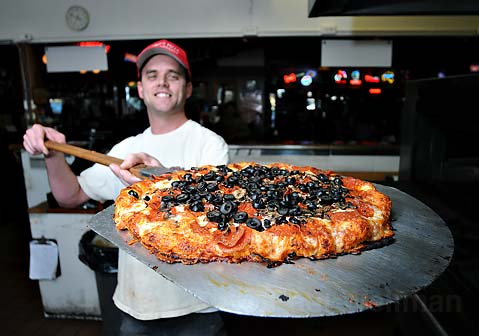 Where: 1950 Cliff Dr.; 965-1077; deanospizzarama.com.
What: Red communal bench tables, arcade games, and the intoxicating aroma of rising dough make Deano's a famous Mesa hangout.
How much: Pizzas range from $10.30 for a 10″ individual cheese to $26.65 for the 16″ Jumbo Deano's Special; oven-baked sandwiches $4.25-$6.50.
The dish: Before Shoreline Drive and Carrillo Hill were even paved as streets leading up to the Mesa community, Deano's Pizzarama was a family-run operation in a very small neighborhood only accessed by the narrow and windy Las Positas Road. One of Santa Barbara's oldest pizzerias opened in 1960 and has long since been a local's favorite. Dough is made fresh daily, producing a crust that has a crackling crispiness to it. Top that off with a family recipe for the red sauce and a dusting of cornmeal on the bottom of the pan, and the results are reminiscent of an old-fashioned pizza stop with all sorts of modern fixings for success. Meat lovers should not miss Deano's Special Pizza (salami, pepperoni, linguica, beef, onion, olives, bell peppers, mushrooms, and anchovy or pineapple on request). Also available are oven-baked sandwiches, spaghetti dinners, a salad bar, a small selection of wine, and beer on tap. The atmosphere has not changed much throughout the years, and arcaders will be delighted to hog the pinball machine.
4•1•1
This week at independent.com, D is also for the Daily Grind (independent.com/daily-grind). And for all of our restaurants, see independent.com/restaurants. Next week, see what E is for :