Living
An Afternoon with Eagles at Lake Cachuma
Wildlife Bonanza Awaits 30 Minutes from Downtown Santa Barbara
The bald eagles have landed at Lake Cachuma. Our national bird is hanging out only a half-hour drive from downtown Santa Barbara, and park officials invite anybody who would like to enjoy a peaceful morning or afternoon on the glassy waters of Lake Cachuma with these birds.
In addition to the abundant forms of other wildlife and the mating pair of bald eagles that call Cachuma home year-round, several immature bald eagles inhabit the area between early November and late February. People come from quite a distance to see the eagles, like Huntington Beach residents Jeff and Natalie Rokos, the passengers who joined this reporter on a recent lake cruise. They came to Lake Cachuma specifically for the eagle cruise. "We've wanted to see them for a while," Jeff explained. "We came for his birthday," added Natalie.
Within 30 minutes of being on the boat, guide Melissa Kelly, whose been a naturalist at Cachuma for two-and-a-half years, had spotted the pair of resident bald eagles roosting in a distant tree on the cliffs towering over the lakeshore.
Our hopes were high to see some of the transitory immature bald eagles, maybe even fighting with osprey over food, which Kelly explained they do often. Unfortunately we had no such luck. Kelly informed us that they had recently completed their annual bald eagle count and determined there were only five immature eagles this season – a pretty small number, in her estimation. "Last winter we had a lot of activity," Kelly said. "There were definitely more migratory bald eagles last year."
When asked why she thought there were less this year, Kelly said she wasn't positive but suggested a warmer winter up north this season might have given the birds less incentive to fly south. She added that it is normal for the number to fluctuate each season and that the decrease in migratory bald eagles could be related to a combination of factors.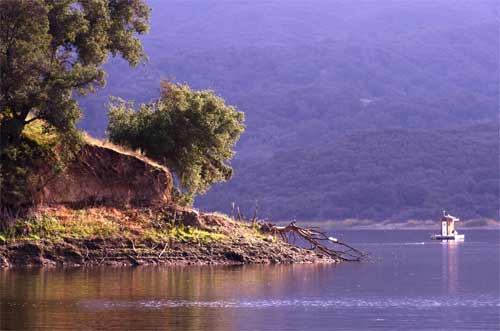 Despite this, there was no shortage of things to see. With Kelly's aid, we spotted a whole host of wildlife including birds of prey, such as ospreys and harrier hawks, dozens of scavenging turkey vultures, flocks of ducks like loons and waxwings, and a family of mule deer. But the stars were the grebes, which pair up and perform a courtship spectacle skipping on the surface of the water in tandem like Olympics synchronized swimmers. Cachuma houses the largest population of grebes in the state according to Kelly. She's also seen mountain lions, black bears, grey foxes, coyotes, and bobcats during her time at the lake.
Kelly's love for the area was clear and so was her excitement to share the peace of paradise with visitors. If you are interested in scouting for some bald eagles or just exploring the lake, go to the Lake Cachuma Web site.