News
Vandenberg Protesters Fined
Military Objectors Consider Sentence a Victory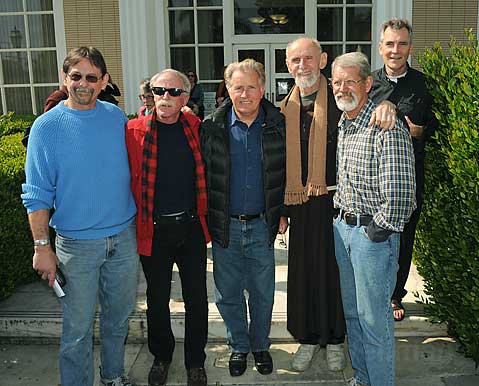 After a lengthy trial process, the four protesters convicted in December of trespassing at the Vandenberg Air Force Base main gate in May 2007 received their sentences on Thursday, March 12.
Dennis Apel, Jeff Dietrich, Father Louis Vitale, and Father Steve Kelly – all members of the social justice group Catholic Worker – were all arrested for crossing the painted green line that the base's commander had designated as the boundary for protesters. Although the government recommended incarceration to deter the men from repeat performances, Judge Rita Coyne-Federman decided that fines would be a more appropriate punishment. All four men stated that they had neither the means nor the intention to pay fines, but Federman said that Vitale was the only one who provided any documentation outlining his financial situation and that she was not in a position to make an evaluation on whether the men would be able to pay.
All four men have vocally opposed the Iraq War since it began in 2003, and have even served jail sentences in conjunction with other protests. Despite the convictions, the outcome of the sentencing hearing was hailed as a victory by the protesters, who had a number of supporters – including actor Martin Sheen – accompany them to court. "Our whole nation and society are nurtured by those who stand up and risk telling the truth and accepting the consequences. They're not here by accident, they're here by choice," said Sheen.
Kate Chatfield – who represented all the defendants but Kelly, who represented himself – went through a laundry list of good works done by each of them, pleading with Federman to consider their service in her sentencing decision. She also said that the crime had no victims and caused no property damage. "The Iraq War violates international law, and the defendants were acting nonviolently to address that," she said. "I suggest that these individuals have a greater respect for the law than [certain] officials of the U.S. government."
Captain Brandon Porter, an attorney with Vandenberg's Judge Advocate General's office, maintained that even though there were no particular victims in the incident being examined, the number of base personnel who were required to deal with protesters disobeying the laws at the main gate weakened security in other areas on base. He said that although he respected the defendants' right to protest, he felt that they intended to break the rules, causing the need for the staffing increases by law enforcement personnel on base. "My understanding of Catholic belief is that you don't break the law to prevent the breaking of other laws," he said. "We're in a courtroom here today, but everyone here is faced with a moral choice."
All of the defendants offered closing statements, with Apel's tearful recount of his 1998 visit to what he described as a squalid, overcrowded Baghdad hospital stirring comment from supporters and prosecutors alike. He said that as he took pictures of rows of hospital beds with two and three patients in each one, a woman with a small child had said to him, "You come here, you take pictures, and you go home, but nothing changes," Apel said. He explained that for him, crossing the green line at Vandenberg in an effort to convince airmen to leave their posts and join the peace movement was his effort to make that woman's voice heard. "There are those who would have looked at the dying children in a Baghdad hospital and said, 'I'll vote for someone else.' I'm not one of them."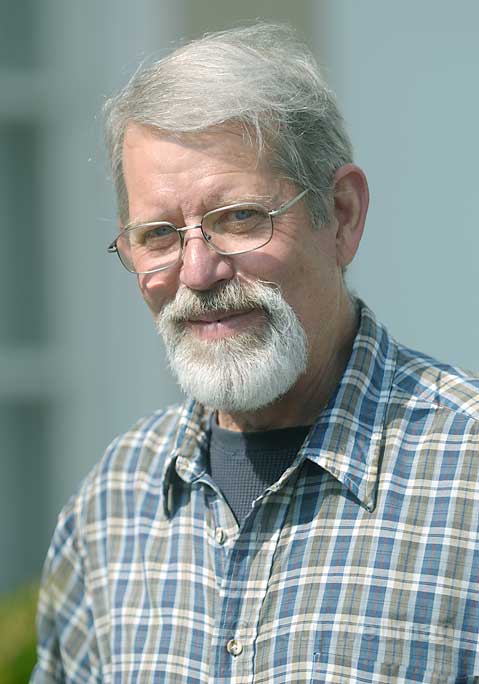 Because he owns real estate, Apel received a fine of $2,500 – the stiffest of all those given. Coyne-Federman said that he had submitted a trust document to show that he did not actually own the property, but it was not registered with the county. She made her decision based upon registered documentation. Vitelli was given the lowest fine of $500 since he was able to show that he received only a monthly Social Security check as income. Kelly and Dietrich were each assessed fines of $1,000. Although ordered to pay their fines by May 12, all of the defendants were clear that they did not intend to pay. "Usually they don't do anything about it, but these are fairly substantial fines," said Vitale, who recently returned from Iran, where he said he participated in a peace delegation.
Sheen, who has been friends with the men for many years and said he has been involved with Catholic Worker since the early 1960s, was also arrested with them during a protest at Vandenberg in 2003. "We shouldn't be too critical of Christianity – it hasn't been tried," he said, quoting Ghandi. "These guys are trying to live as true Christians. They've earned their freedom."