Film & TV
Ventura Film Festival's First Cut
Filmmaker Robert M. Young Headlines This Weekend's Cinematic Celebration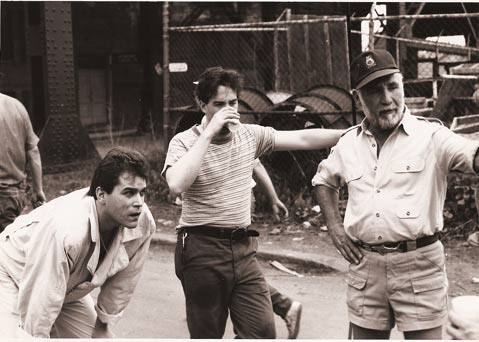 In my decades of covering Hollywood – the rich, the famous, and the famous for the time being – I have a very short list of those who are true originals. The usual suspects include Paul Newman, Rod Steiger, and Elizabeth Taylor, directors Steven Spielberg, John Huston, and Alfred Hitchcock – all of them legends and in a league of their own.
But there is another filmmaker who deserves to join the pantheon of the remarkable: He's Robert M. Young, the director extraordinaire who is being honored at the first Ventura Film Festival, which happens this coming Thursday through Sunday, March 26 to 29, at the Elks Lodge in downtown Ventura.
Young's filmic range is impressive. The versatile and articulate filmmaker – he is a producer, writer, cinematographer, and director – is fast approaching his 85th birthday, but remains a modest man, with a phenomenal record of films that display a positively mind-boggling range. He studiously avoids popcorn movies.
He has directed powerful feature films and award-winning documentaries in a stunning career that has spanned 50 years and more than 30 films. Young refuses to take the easy route, whether for features or documentaries. His films are never safe, but edgy, gritty, and totally unorthodox.
He drew a powerful performance from Farrah Fawcett, best known as the lightweight poster girl and star of the original Charlie's Angels TV series, who played a woman who turns the tables on a would-be rapist in his l986 film Extremities, which was based on William Mastrosimone's hit play.
It was also hard to watch Willem Dafoe as a former Greek Olympic boxer in the 1989 holocaust drama Triumph of the Spirit about a fighter who managed to survive Auschwitcz because of his fisticuff skills.
In his l977 film Short Eyes, the centerpiece of the story is a child molester who faces savage and harrowing justice when fellow inmates discover what crime he has committed. Among his other feature film gems is the much acclaimed Dominic and Eugene in l988.
I first met him in Morocco in the '90s where he had been lured to shoot two very untypical Young movies: Both were biblical epics: Solomon and Sheba with Jimmy Smits and Halle Berry and Slave of Dreams, a new version of the oft-told tale of Joseph, which starred Edward James Olmos in the lead.
But mostly for Young, the mantra seemed to be the more offbeat the better. His l978 movie Alambrista is about the struggles of a Mexican illegal immigrant battling for survival in California. It won top awards at Cannes and San Sebastian film festivals.
And when the New York-born, Southern California-based Young turns to real life it is no quick in and out: His style is to totally immerse himself in the subject. One of his strongest documentaries is Children of Fate: Life and Death in a Sicilian Family (l993) – done with Michael Roemer in l961 – and then updated more than three decades later. There have also been a handful of brilliant National Geographic specials made in the '70s that took him In Search of the Great Apes, the Bushmen of the Kalahari, and The Last Tribes of Mindanao.
He was one of the first filmmakers to go to Angola to capture the horror of the civil war, and he spent years recording the plight of the Eskimos for his l970 film The Eskimo: Fight For Life: The Last Winter Camp of the Polar Eskimos. Over the past few years Young has directed several episodes of the hit TV series Battlestar Galactica.
I caught up with him at his Los Angeles home – shortly before he headed to the Ventura Film Festival.
Does Hollywood still see you as a maverick?
I have never fit into the Hollywood mold. For a long time I thought it was immoral to have an agent. When I make a film it takes my life over. I spent six or seven years making Life in the Sea with the Eskimos. My emphasis is more on the experiential thing.
Why is your path to moviemaking so unorthodox?
My trajectory has always been into other societies. Living with the Eskimos, Native Americans and cannibals in New Guinea : people who seemed different from me. My search has always been to find common humanity : because I want to find the voice of the other person, and then equate it with my own.
How did you get started?
I was discovered by Merian C. Cooper, the producer of movies like King Kong and Mighty Joe Young. He had also produced many of the John Ford movies. I had written a script Children of the Seas in the late '50s and he kind of adopted me. He was my mentor.
How did you happen to make a Holocaust movie?
Doing Triumph I was trying to explore my own background and what was different about me. I am Jewish but I was never a particularly religious person and I have a real problem with any kind of orthodoxy. I was trying to discover who I was. Growing up, I often asked myself, "I'm Jewish – but what the heck does that mean? What's different about me?" The movie gave me the chance to investigate my own heritage.
Did Triumph get good reviews?
They were fantastic. Some critics said the film was going to win an Academy Award. But not many people wanted to go and see it because it was depressing. This was before Spielberg did Schindler's List. And so I thought the movie was a tremendous failure. But I did get a call from Elie Wiesel who said he thought it was the best film ever made about the Holocaust. I never spoke to him personally – but he left that message on my answering machine.
Did the film make any money?
A year after it came and went my lawyer called and said, "You are the most talked about director in Hollywood." Then he said, "I have good news and bad news for you. The good news is you've been awarded royalties of $155,000 in a successful suit filed against the company that made that picture. The bad news is the company has folded. And you'll never see that money."
Then how did you happen to make two Bible movies – one after the other?
I'm no big fan of Bible movies, but out of the blue Dino De Laurentiis, who was a legendary movie producer, offered me both pictures. I tried to talk him out of it – but I needed the money and the work and I thought it would be challenging to go to Morocco and have a lot of great English actors working with me. I did both and had a great time.
How did they turn out?
Joseph: Slave of Dreams is a good movie and had a better script. I loved the shooting and the whole process – for me it was more about wanting to experience the adventure.
What's the history of your documentary Children of Fate, about families in the Sicilian slums?
We first shot the film for NBC television in l961. But it was strong stuff and they got cold feet and decided it was too raw for home viewers. So they buried the film in a vault and it was never aired. Then someone who heard they were going to destroy the film called me. He sneaked into the vault, brought it to me and I made a copy and then gave it back.
Is there new footage in the updated film being screened at the festival?
Yes. Twenty-eight years later a British channel wanted me to go back to Sicily, do a new intro and bring the story up to date. So we used the '60s black and white plus new color footage shot years later. The new version won an award at Sundance and an Oscar nomination.
4*1*1
The inaugural Ventura Film Festival runs this Thursday, March 26, through Sunday, March 29, downtown at the Elks Lodge, 2126 Knoll Dr. The Robert M. Young films being shown include Alambrista, Short Eyes, Caught, The Eskimo: Fight for Life, The Last Winter, Children of Fate: Life and Death in a Sicilian Family, Dominick and Eugene, and Triumph of the Spirit. The filmmaker will be honored and conduct a Q&A each evening. For more information, see VenturaFilmFestival.org or call 641-3845.