Living
Upwardly Mobile Housing Delivers Affordable Luxury
My Manufactured Home
Soon I reluctantly will leave Santa Barbara, but I cannot depart without revealing my secret to buying low-cost luxury housing in this pricey paradise. If any newcomers to our area read this, maybe they won't waste years looking for a habitable home on a middle-class budget as my husband and I did.
We searched in vain for a condo or cottage within our limited price range of less than $500,000. On our bleak tours of cramped condos and fixer-upper bungalows, we saw plenty to make us laugh and cry, but nothing we could call home. Anything affordable needed so much repair that it would be an instant liability. On my husband's Forest Service salary and my teaching pension, we could not afford to sink into that bottomless pit of major home renovation.
Finally, we stumbled into a marginalized pocket of Santa Barbara real estate where $500,000 not only buys a house, but a brand-new one. Not a one-bedroom hovel or a condo with noisy neighbors upstairs, but a three-bed/two-bath single-family house of 1,650 square feet. Not a dump on the wrong side of town, but a graciously appointed home in a safe, quiet neighborhood.
We entered the magic kingdom of modern manufactured housing.
A mobile home park was the last place we dreamed of home buying. My only experience with one was as a small child when we visited Aunt Ida in a trailer court on the outskirts of Seattle. This was no mobile home "park"; it was a muddy field of broken dreams.
The rickety steps shook as we climbed up into Aunt Ida's overstuffed single-wide. We kids were the only ones who could easily navigate the tight hallway and tiny bathroom that looked like a marine head. The kitchen was reminiscent of the toy one in my kindergarten. Even on rare sunny days, Aunt Ida's mobile home was a claustrophobic cave with mildewed avocado carpeting.
How ironic that 50 years later my husband and I find ourselves comfortably ensconced in our own manufactured home, loaded with all the upscale features we desired.
Area realtors agree it is hard to help clients overcome outdated stereotypes like mine. Sarah Wildwood of Prudential Realty claims it is an overlooked niche with many advantages for buyers: "Mobile home values remain impressively stable and provide needed opportunities to buy nice homes in good locations. In terms of size, price per square foot, and amenities, mobile homes have many advantages, especially newer ones with high-quality construction."
We chose to buy into San Vicente Mobile Home Park because we fell in love with its rolling expanses of tree-lined green spaces, as well as its outdoor pool, spa, tennis courts, and clubhouse with a library. The dog-play area was a big hit with our Frisbee-fetching terrier. In addition, all residents here are 55 years or older, which guaranteed us the peace and privacy we yearned for.
Since vacant home sites were not available in our park, we invested in one of the lowest priced mobile homes. This older model was inexpensive enough that we could afford to donate it to a deserving family and replace it with a new one. Rather than buying a ready-made one from a mobile home lot, we ordered a custom home from the manufacturer. Although it was a very time-consuming and sometimes confusing process, it was well worth the extra effort. By studying myriad floor plans and model homes at the factory, we were able to choose all details of our house, from the exterior dimensions to interior finishes.
We were surprised to learn that standard home plans are routinely expanded, contracted, or otherwise modified to suit clients' needs. Instead of paying many thousands of dollars for an architect, we were charged a modest fee to customize our home plan to fit our lot size and lifestyle. What a relief when we discovered that manufactured homes now are finished with dry-walled interiors in contemporary colors-no more of Aunt Ida's fake wood paneling.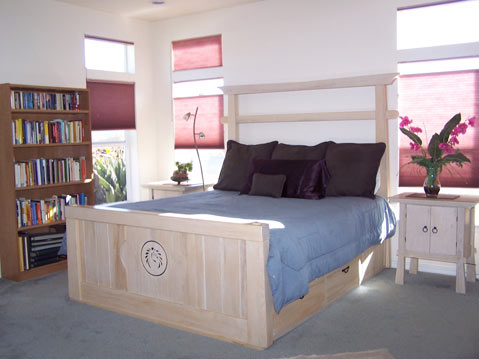 Ordering options abound on today's models. Want higher ceilings and stacked windows to take advantage of the view? No problem. Need to extend the dining room to fit in a large table? Easy. Craving extra cabinets and closets for camping equipment and office supplies? A cinch. Want central air conditioning for those hot summer days? Of course.
After our plan was fine-tuned, we still had a dizzying array of decisions to make. From flooring and fixtures to cabinetry and counters, we had ample choices in styles, colors, and quality. Upgrades that Aunt Ida never dreamed of were added to our order form: a river-rock fireplace, extra windows and solar tubes, stainless steel kitchen appliances and gas range, solid-surface counters, French doors into the study, an oversized master suite with huge Jacuzzi tub and walk-in closet, etc. The only limit on the number of designer features in our manufactured home was that of our checkbook balance.
In just three months, our home was designed, constructed according to strict state standards, transported, and set up onsite. We watched workers maneuver the two massive 60-foot halves into place and painstakingly merge them together into one integrated whole. Once they secured it with heavy-duty supports, the crew finished by adding stone-style skirting, painting trim, and building accessories, which include a Trex deck, carport, and storage shed.
We were delighted with the result-our home has demonstrated quality construction and energy efficiency. Any minor repairs needed in our new home were covered through our warranty service. Our plans resulted in a spacious house filled with light and mountain vistas, a private retreat more chic than many conventionally built homes in Santa Barbara. Yet our costs-including site rental rights, the old unit, and the new manufactured home-totaled less than $450,000, about half the price of the smaller, older houses we had viewed here.
After moving in, we learned another trend in today's "retirement" parks-many newer residents are younger than 60, like us, and still employed. Watch out, seniors-we baby boomers are seeing bargains and infiltrating your ranks! On our block, residents represent a wide range of occupations, including a minister, a realtor, a doctor, a contractor, a lawyer, homemakers, and executives.
Due to a job transfer we now must put our new dream home on the market. Alas, it is too expensive to uproot it and haul it across the country. We will miss both our house and Santa Barbara greatly. But now we know where to seek elegant housing on a budget in our new community-their best mobile home park.
If only Aunt Ida could see us now!