Sports
From Office to Outrigger
Santa Barbara Outrigger Canoe Club's 12th Annual Company Challenge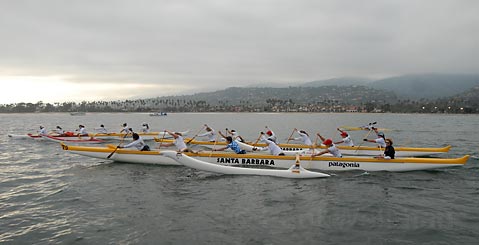 Forget the tie and grab a hula skirt, toss in that keyboard for a paddle, and trade your office cubicle for the sunny shoreline as part of the 12th Annual Company Challenge organized by the Santa Barbara Outrigger Canoe Club (SBOCC). Giving a whole new meaning to the phrase "working hard or hardly working," the club's yearly fundraiser challenges Santa Barbara businesses to compete in an ocean canoe race against each other in hopes of expanding team-building efforts, providing an escape from the workplace, and sparking interest in the Hawaiian ocean sport and Polynesian culture.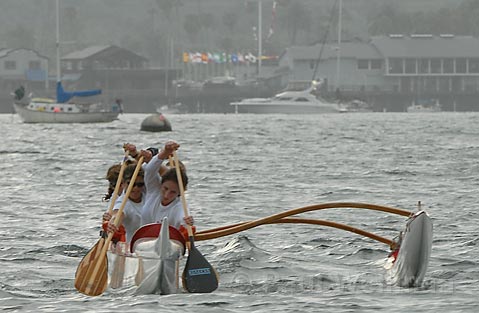 "We tried to make something that gets area businesses involved in the sport," said Stephen Brokaski, vice president of SBOCC. "It's really a sport anyone can do." Businesses will form five-person teams ($125 per team or $25 per person) and race through a selected course around the Santa Barbara Harbor. Before the race, each team will receive proper instruction on how to maneuver the $12,000 canoes. An SBOCC member will also join each team during the race to steer the canoe from the back.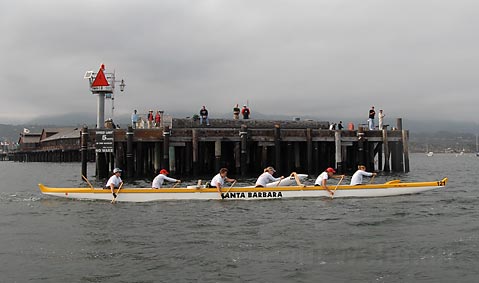 Last year SBOCC hosted seven total teams from Patagonia, VEECO (two teams!), Raytheon, Impulse, UCSB, and Innovative Micro Technology, but it was team Patagonia that paddled their way into first place, with one of VEECO's teams coming in second. So far this year's competitors include members from UCSB, Commission Junction, Impulse, Titan Sports Performance, and Yardi Systems. Brokaski expects an additional 10 teams to sign up as the date of the event approaches.
Although the race dons the title "company challenge," unaffiliated groups of five are encouraged to compete and even individuals can be added to teams. SBOCC will continue to accept registration forms up until the day of the race, but has one request: Teams should contact SBOCC in advance to ensure that each participant receives his or her well-deserved lunch after a day of paddling out in the water. Aside from providing lunch, SBOCC also gives away decorated award tiles to teams that place first through fourth in the four categories offered: men's, women's, coed, and keiki (child) races. "Participants can stick the tiles on their desks and use them as coasters to remind them of the fun they had competing with us," Brokaski said.
The team with the overall first place time receives the perpetual trophy: a one-by-two-foot scale model of a six-person outrigger canoe, which the company holds onto until the next year's challenge. If the trophy happens to float out of reach, each team also has the opportunity of winning the costume contest. Past costumes have ranged from hula skirts to reality show Survivor apparel.
So if you can clear off that shelf in your company's office to make room for a model outrigger canoe, then grab four coworkers or even just yourself and splash Hawaiian-style with SBOCC. The Company Challenge will be held April 18, 10 a.m., in the Santa Barbara Harbor next to the Sea Landing and Condor Express dock. Interested participants should visit the club's Web site sbocc.org or e-mail sbrokaski.sbocc@gmail.com for more information.