Living
News-Press Lays Off 15
Second Year in a Row Workers Let Go on May Day
The Santa Barbara News-Press laid off 15 employees on Friday, announced its parent company Ampersand Publishing LLC. The firings, which include business editor Dale Rim, "were designed to allow the company to respond to changes affecting the economy in general and the newspaper industry in particular," according to the news release which appeared on its Web site.
A year ago to the day, the News-Press axed 10 employees including 25-year veteran sports editor Barry Punzal. Ampersand has also announced that other cost-cutting measures are currently being considered and that such actions are "consistent with actions taken by other newspapers across the country."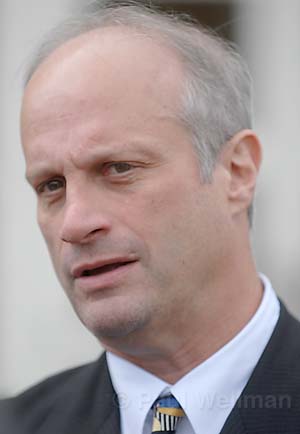 Ira Gottlieb – an attorney for the Teamsters Union, which has represented newsroom employees since a 2006 vote to form a union – wasn't sure whether additional firings on the one-year anniversary of the 2008 layoffs were a coincidence. May 1 is recognized as International Workers' Day, or May Day, a celebration of labor and union movements.
"I don't know if it's an accident or not if they laid off people on labor's most celebrated day. I wouldn't put it past the News-Press to do that," Gottlieb said.
Copublisher Arthur von Wiesenberger said the News-Press layoffs are in the interest of continuing to report local news for the City of Santa Barbara. "We are committed to remaining a viable and effective source of news and information for the community, and these changes will insure that we will be able to do so," Wiesenberger said, in a prepared statement.
The Independent was not able to solicit comments from attorney Barry Capello, who has been representing Ampersand in the unionization controversy, or a spokesperson from the News-Press on the nature of the layoffs as of press time.
Gottlieb said his office is consistently concerned with the state of the News-Press, considering the current climate of the newspaper industry. "We are always concerned about the economic condition of this employer," Gottlieb said. "We haven't seen any explanation in the company's press release, which doesn't really give any reason about why the layoffs and why now."