Courts & Crime
Man Allegedly Kills Brother, Sister-in-Law
Was Facing Lawsuit from the Couple Over Mesa Home Rebuild
Two mesa residents are dead, and a man who is the subject of a lawsuit brought upon him by the slain husband and wife is being charged with killing them.
Goleta resident Corey Lyons, 50, was found around 9 a.m. by Santa Barbara police and brought into the station for questioning about the double murder. Lyons was subsequently arrested. He will be charged with the murders of his brother, Daniel Lyons, and Lyons' wife, Barbara Scharton, who were killed by shotgun blasts early this morning in a bedroom of their large, three-story stucco home at 621 Aurora Ave.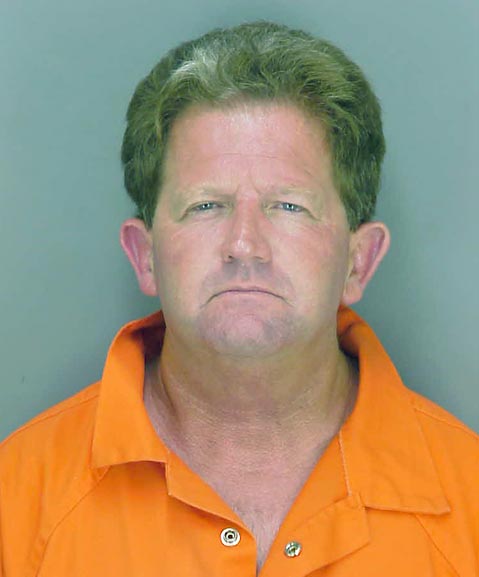 Just after 1:30 a.m., police received calls of five to six gunshots fired and the sound of broken glass. When they arrived at the residence, police noticed a broken window in the second floor of the home. After attempting to call the cell phone numbers of the residents of the home but failing to elicit a response, the SWAT team was brought in. Upon entering, authorities found two victims, both dead from gunshot wounds.
Neighbors-several of whom didn't hear the gunshots early this morning but did hear the SWAT team break into the home through a now-shattered front door just after 6 a.m.-said Corey Lyons, a Goleta resident, had built the home for his brother just a few years ago. At three stories tall, the home is a strange fit for a neighborhood of mostly single-story houses. A sliding door leading from a bedroom, where the bodies were found, to an outdoor patio on the second floor-the main level of the home-had been shattered, and ripped drapes were still blowing in the wind as the sun came up.
The coroner didn't remove the bodies until around 3:15 p.m., after the Department of Justice had been brought in to investigate the shooting. "It's a pretty grim scene inside," said Santa Barbara police Sgt. Mike McGrew.
Daniel Lyons, 55, was a senior partner at the Fresno-based law firm of McCormick Barstow, LLP, and had been running the Santa Barbara office on West Anapamu Street since June 2007, handling cases in Ventura, Santa Barbara and San Luis Obispo counties. Lyons has litigated with the firm since 1980, the same year he passed the bar. He most recently was concentrating in insurance defense litigation in areas ranging from transportation and trucking accidents to crop loss. "He was a pretty passionate guy," said Ron Ballecer of McCormick Barstow. Many knew him as a very tough litigator.
His wife, Scharton, 48, used to work in the Fresno County District Attorney's Office, but hadn't worked there for a few years. She joined the California Bar in 1994 after attending law school San Joaquin College in Fresno. John Skiles, a prosecutor who joined the Fresno DA's office at the same time as Scharton, called her a tenacious prosecutor who nonetheless had a soft heart. "I was always glad she was on my side," Skiles said, adding that she was loyal almost to a fault. Scharton, after retiring, also did some work for the Santa Barbara DA's office as extra help. "I'm a little shell-shocked," Skiles said after hearing word of the murders.
Neighbors knew little about Lyons and Scharton. The couple didn't permanently live in the house but would visit for two to three days at a time. "They kept to themselves," said one neighbor, who saw the couple often riding bikes around the neighborhood. Another said they were very nice people. "We don't know what happened, but it's tragic," she said.
Working on his Santa Barbara home was a new hobby for Lyons, who often traveled the state for work, Ballecer said. And while police aren't suggesting a motive at this time, the very home where the couple were killed is the subject of a lawsuit they filed against Corey Lyons in October 2008. The two alleged that Corey Lyons, who runs Select Construction Service, talked them into letting his company build their home, stringing them along and extorting as much money as possible from him. They also alleged he delayed construction as long as possible for personal profit.
The couple was set to give a contract to Cortan Construction, when Corey Lyons allegedly promised his brother that other companies were attempting to "bend him over," and that only Select would give him a fair deal.
While Cortan submitted a bid of $573,178, according to court documents, Select Construction promised total costs would be under Cortan's bid, with construction taking no longer than a year. In reality, the total cost was $1.2 million, according to the couple, and construction took more than two years to complete. In addition, Select Construction didn't purchase workman's comp insurance for its employees and allegedly charged the couple for medical bills stemming from an on-site injury. According to documents relating to the suit, Corey Lyons also convinced his brother to purchase more than $100,000 in materials himself, in an effort to "save time."
Daniel Lyons and Barbara Scharton believe they were owed in excess of $350,000. The case was scheduled to go to trial in August. The couple bought the property, which had a 1,400-square foot home on it, in 2004. The new home is 2,630 square feet.
Corey Lyon's wife Mildred, who is also named in the lawsuit, declined to comment Monday.