Outdoors
Jesusita Fire Rages "Out of Control"
Afternoon Winds Blow Wildfire Toward Mission Canyon and East; Evac Orders and Warnings Expanded Dramatically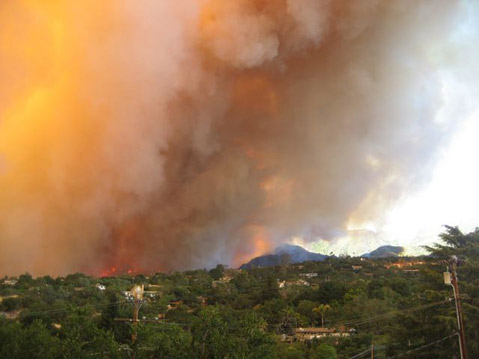 After morning optimism, the afternoon has turned to disaster in the mountains above Santa Barbara, as the Jesusita Fire has reached explosive proportions.
"This thing is way out of control," said city fire spokesperson John Ahlman at about 4:15 p.m. "All we can do now is try to save some homes." It's not far from Mission Canyon, explained Ahlman, and the wind is blowing south-southeast, in that direction, with gusts approaching 60 miles per hour. Spotting of fires, in which flames travel distances and ignite new areas, is occurring rapidly, and eyewitness reports say that homes are already burning, though that has yet to be confirmed. The air attacks have also been cut due to the high winds.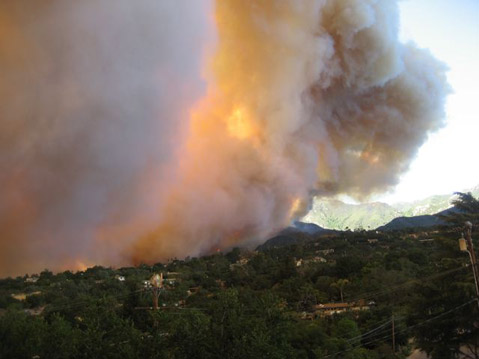 In response to the fanned flames, the mandatory evacuation has been extended dramatically. Authorities are now ordering residents to leave all homes located east of Alamar Avenue, from Foothill Road south to State Street, State Street to Constance Avenue, Constance to Los Olivos Street, Los Olivos to Alameda Padre Serra, APS to Sycamore Canyon Road, north on Sycamore Canyon to Highway 192 at El Cielito. The evacuation warning has been expanded to include La Cumbre Road to State Street, State to De La Vina Street, DLV to Anapamu Street, Anapamu to Anacapa Street, Anacapa to Del La Guerra Street, DLG to Milpas Street, Milpas to Montecito Street, and Montecito Street to APS. Traffic on the streets and highways of Santa Barbara are reportedly deadlocked, so residents are urged to leave as soon as possible, because it may take some time to get to a safe area.
At about 4 p.m., Ray Ford called from his post with firefighters atop Inspiration Peak. He said he was surrounded by fire on all sides, but that he was safe in an already burned area. Ford had seen spotting reach all the way east toward Montecito, and feared that fires may be starting there. Rattlesnake Canyon now seems to also be engulfed in flames.
Another report said that the fire had reached where the asphalt ends at Tunnel Road and the Edison Trail.
Flames were visible from downtown by about 3 p.m., and smoke clouded the skies. The power went out sporadically in various neighborhoods. Temperatures were breaching 95 degrees and humidity was dropping precipitously.
Meanwhile, the mobile home fire – caused by exploding propane and gas tanks – near the intersection of State Street and 101 was properly extinguished, after a thick black cloud of smoke emerged from burning tires. It burned about 20 feet of brush, according to
For more info, see independent.com/jesusita or tune into KCSB 91.9 FM. Readers are encouraged to submit their own stories and photographs to fire@independent.com.