Outdoors
State of Emergency Declared
Governor Makes It Official: Jesusita Fire Equals "Extreme Peril"
At about 6 p.m. on Wednesday, Governor Arnold Schwarzenegger made it official and declared the Jesusita Fire a "state of emergency," meaning that the conditions spell "extreme peril to the safety of persons and property exist due to the wildfire in Santa Barbara County."
The move should ease the way for more resources to battle the blaze, which is currently being battled house-by-house by firefighters and from the air by helicopters and air tankers. Currently, although the humidity is rising and temperature dropping, high winds persist and are pushing the fire toward the City of Santa Barbara, which is largely evacuated. On television, multiple homes are up in flames – unconfirmed reports say the blaze has already overtaken 20 structures and sent at least two firefighters to the hospital.
Near the frontlines for most of the day was Independent correspondent Ray Ford, who was on the top of Inspiration Point for hours with other firefighters, surrounded by flames but safe in an already burned out area. As he was finally hiking out to his vehicle a little after 6 p.m. this evening, Ford explained, "It's been pretty intense up here. It's the windiest I've ever been in, including the Tea Fire – by far." On the radios buzzing around him all afternoon, Ford said they heard that engines were getting overrun and burned (but people were okay), and that some folks were getting trapped in their homes and needed to be saved. "We heard one after another propane tank explode up there," he said, adding that he heard there were pitched battles against the blaze on Palomino Road, which is above Foothill Road in the Cheltenham Road area. An interview with a Santa Barbara city firefighter on television also reported homes burning in the Williams Way and Ben Lomond Road area, in that same neighborhood.
Ford, an expert on wildfires and author of books on Santa Barbara County blazes, said he expects "another couple days of gnarly stuff," and that it will take at least a week to mop up fully. That's because the flames are going to the ridgeline, atop San Roque Canyon, Mission Canyon, and perhaps even Rattlesnake Canyon. With flames getting so high up the mountains, any shift in wind over the next few days could blow them right back down into the populated areas. "It expanded dramatically uphill," he said, "so getting a line around it is going to be very difficult, and time consuming."
Independent reporter Chris Meagher made it up to the Las Canoas Road area around 7 p.m. He reports that the Santa Barbara Botanic Gardens has already sustained damage from the fire, and about five engines are sitting there. There is still active fire on both sides of the road, tons of smoke, and power lines are down about a mile up the road, reports Meagher, but currently no wind and no homeowners in sight. "The fire has already passed through for the most part," he explained.
Meagher was previously at the Santa Barbara Mission, where six engines were stationed out front, "just kind of parked there, waiting." He could not see the flames that had supposedly entered the neighborhood behind the Mission, near the Museum of Natural History. That spot fire has reportedly been extinguished by repeated helicopter drops, but the museum, said another source, was actively moving rare specimens into their fireproof vaults. Meagher did say that plenty of people were milling about, watching the fire from the Mission and Rose Garden area.
He spoke with a couple at Garden and Padre streets, where the wife was watering everything down. When asked if they would be leaving, she replied "yes,' but the man whispered "no." He wasn't worried about the house. "They're not gonna let the Mission burn down – I guarantee it," said the man, who was trying to figure out where to watch the Lakers game.
Nearby, two men on bikes kept riding up into Mission Canyon, loading up backpacks and coming down to unload them. Other people were sitting on the sidewalk watching smoke, and cars only occasionally drove by. The smoke was thinning out there, reported Meagher, who also saw one person walk by and yell "still standing" with two thumbs up.
Authorities are asking people to conserve water as much as possible because they need all they can get from the reservoirs. And they are asking all who evacuate to turn off their water.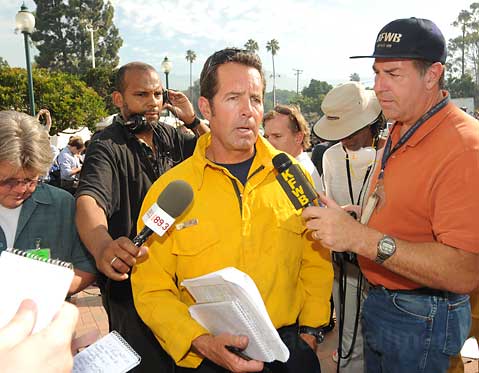 As for the more than 8,000 people evacuated, there are 80 people out at the Dos Pueblos High School shelter, up from 11 last night. The bulk of those 80 came in within the last 45 minutes, said the Red Cross' representative Kristiana Kocis, explaining, "There are a lot of people here who thought this thing was over earlier today." People are gathered around the television, hoping it will get handled soon. The shelter can handle 200 people, she explained, at which point they will open additional shelters in the Goleta area. Currently at the shelter are everyone from nuns to children to puppies to Tea Fire evacuees, she said. "We've got more than a few of those," she said.
For more info, see independent.com/jesusita or tune into KCSB 91.9 FM. Readers are encouraged to submit their own stories and photographs to fire@independent.com.