Outdoors
Jesusita Fire Explodes on the Western Front
Emergency Officials Appear Caught by Surprise; Goleta Residents Forced to Flee
From my perch atop La Cumbre Peak I could see the conditions building all Thursday afternoon. In upper Mission and Rattlesnake Canyons, large Erickson Sky Cranes poured thousands of gallons of water on the surging flames and even larger four engine fixed-wing aircraft dropped load after load of retardant on the hillsides.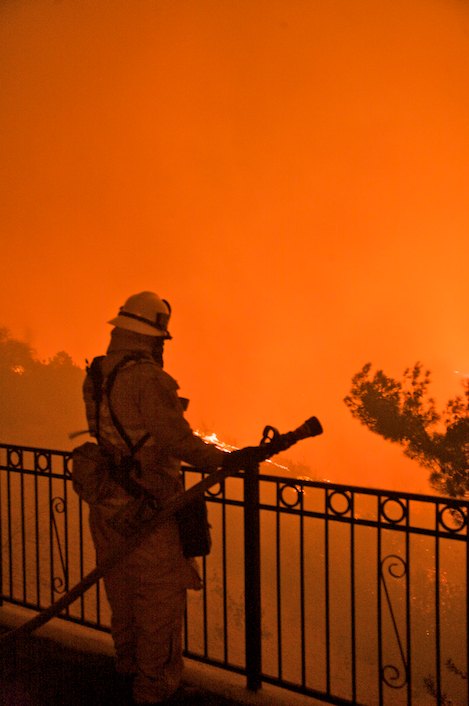 Despite this show of force, the flames continued marching toward the mountain crest up a draw that leads to Mission Falls. There the fire began to split, with one front working its ways uphill just east of Tunnel Trail and the other up steep rock-and-pine filled crags near the popular Rock Garden hiking destination. At one point the advancing flames had pushed to within a half mile of East Camino Cielo.
About 3p.m., firefighters on the road above were bracing themselves for the predicted shift in wind direction that would signal the onset of sundowner conditions, the same sundowner that had caused major damage in Mission Canyon the day before. Instead, the wind died down and rather than advancing uphill, the fire front began to dissipate as the wind speed slowed.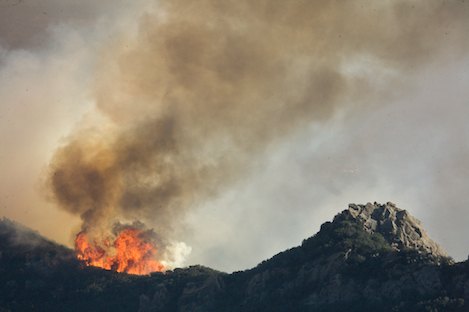 However, on the western edge of the fire, in upper San Roque Canyon, the flames began to move. For most of the morning and early afternoon firefighters had concentrated their efforts in the main canyon just above Moreno Ranch and in the West Fork above San Roque Ranch. At one point flames pushed to the top of Cathedral Peak and 20-foot-high fingers of fire could be seen surrounding the rocky pinnacle.
Fire Takes a Westward Tack: By 6p.m.,just a few hours after fire officials had allowed themselves a brief sigh of relief, another ominous front began pushing west up the flanks of a large knoll, burning through the upper part of the historic Arroyo Burro Trail. The fire was clearly taking a western tack that would carry it into San Antonio Creek. In the west, conditions were becoming increasingly critical.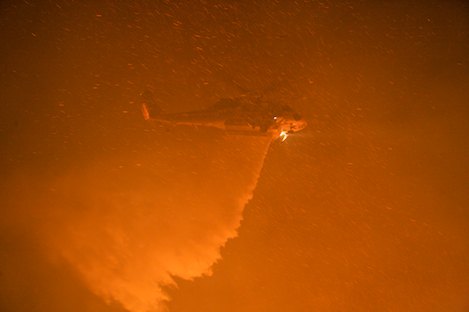 Though not the gale-force winds that had destroyed more than 70 homes on Wednesday, these winds were sufficiently strong to cause spot fires in places across Foothill Road which were beginning to threaten homes near Stevens Park and on the Santa Teresita and Northridge ridge lines. Anticipating such conditions, Incident Command had begun placing engines in these areas as well as along Cocopah, Cienegitas and as far west as San Antonio Creek Roads.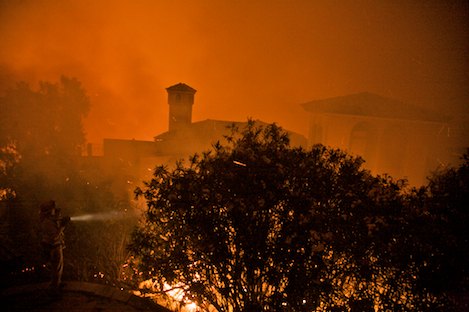 By 8p.m., spot fires, igniting the steep brush-filled canyon between Northridge and Santa Teresita began working their way up canyon. Within minutes 15-to-20 foot flames were threatening homes. From my position at one Northridge house, I watched firefighters struggle to spread enough water on the flames. In the end they were able to save all the homes.
By 10p.m., the fire had exploded westward, racing through the grass and oak covered hills in the San Marcos Foothills Preserve and across Highway 154 almost directly over the San Antonio Creek bridge. The canyon was filledwith fire, when I reached the bridge where three engines were stationed, their hoses pumping thousands of gallons of water in an attempt to prevent the bridge from being damaged.
At this point, the winds had become both erratic and intense, gusting to 40MPH and pushing the fire directly down San Antonio Creek. Above Highway 154, several homes just west of the creek were destroyed within minutes. One at 1601 San Marcos Pass Road was reduced to coals in less than 15 minutes and it appeared that several more on the south side of Highway 154 were in danger as well.
Turning left onto San Antonio Creek Road I was reminded of the 1990 Paint Fire that destroyed dozens of homes in this area. At every house along Via Maria, Creek Lane, Via Saladita and Via Gennita engine crews were stationed. Fortunately, though the fire had pushed down San Antonio Creek to the flood control dam a quarter mile downstream, the only damage I could see was the remains of what looked like a large tree house and swing set. By midnight it was clear that the firefighters would be able to hold San Antonio and keep the fire from advancing across to Old San Marcos Pass Road.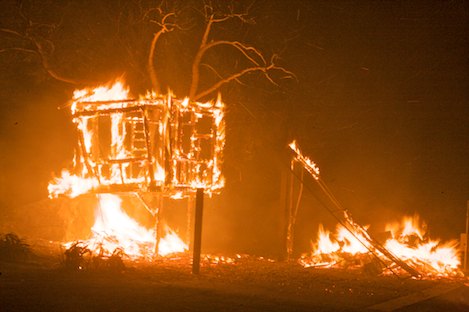 Friday Morning Tour: At 6a.m. I headed toward Turnpike to check the damage. My early morning email was not reassuring: wave after wave of mandatory closures stretching as far west as Patterson Road left me feeling extremely worried. Had we lost parts of Goleta?
In first light as I drove over the La Cumbre overpass, I could see that things were not as bad as I had feared. San Antonio Creek homes were fine; though houses were smoldering at the intersection of Highway 154, firefighters had been able to hold the fire east of 154. Cienegitas and Cocopah were OK as well. While last night's damage had been substantial our community had survived perhaps as well as could be expected.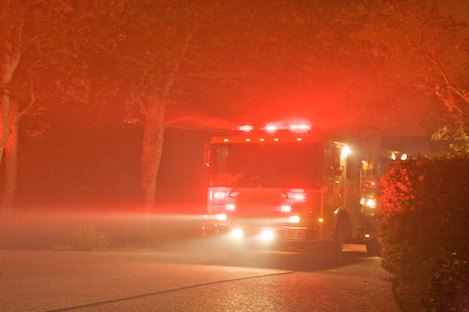 In Store for Today: While it is difficult to know what today's weather will be like, SB County Fire Chief Tom Franklin predicted that Friday's conditions would be similar to yesterday's. What that suggests is that we will have comparatively moderate fire activity through this early afternoon. Then, however, officials expect things to heat up sufficiently. The period from 3p.m. to 6p.m. could be critical in deciding the success of earlier fire operations.
There are three particular issues firefighters will face today: The western front, where the fire is burning actively in the west fork of San Antonio Canyon just east of the Windy Gap Fuel. This morning the plume of smoke from this area had a slight westerly tilt to it, meaning that it could continue to advance in that direction either towards the fuel break or across the upper part of Highway 154.
The eastern flank of the fire is also a concern. Montecito Fire Chief Kevin Wallace told me the flames had crossed Gibraltar Road and were established in Cold Springs Canyon in the vicinity of the West Fork Trail. "It could be nasty down there," Wallace said. "It's too hot to get crews in to assess damage right now."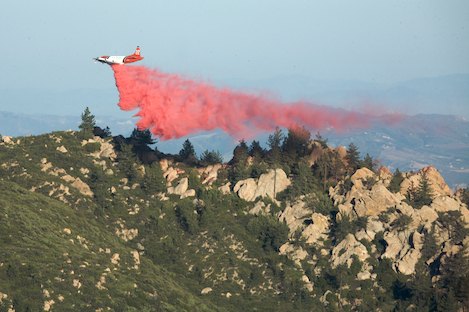 The mountain crest is a concern as well. Between the east and west flanks, firefighters will be monitoring neighborhoods, putting out spot fires and cooling things down. However, in the upper canyons above these neighborhoods there is still the potential for the fire to push up towards the crest in either Mission or Rattlesnake Canyons.
On hand today will be the DC10 super air ship that can drop up to 12,000 gallons of retardant. More-than-likely it will lay it down along the East Camino Cielo crest to slow down the fire should it reach the mountaintop.
Firefighters are cautiously optimistic that the weather will break soon, meaning that today could become the critical day in moving us into a mop up phase of fire operations. What is critical today is that the fire is kept below East Camino Cielo, east of the Windy Gap fuel break and that firefighters contain whatever slopovers are now established in Cold Springs Canyon.
By early evening we should know how successful fire fighters have been.