Living
Historic Homes Tour Explores Mission Ridge
Pearl Chase Society Honors Santa Barbara's History with Annual Event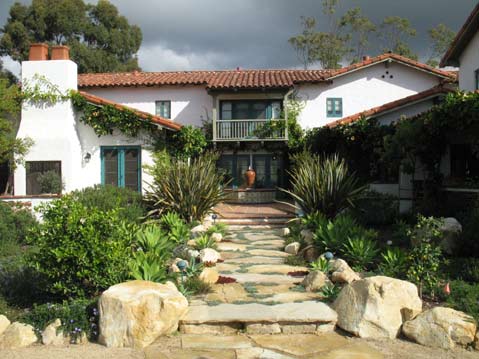 It's news to no one that Santa Barbara possesses some of the most beautiful and diverse architecture in California. Take a drive across the Riviera, or a stroll downtown, and you will find commercial and residential structures built between 1782 (the historic El Presidio de Santa Barbara) and 2009, all in styles ranging from Spanish Colonial Revival and Mediterranean Classical to Mid-Century Modern and ¼ber eco-conscious. The result is a community filled with history, tucked into one picturesque nook of the California coastline and luckily looked after by some very caring individuals.
Since forming in 1995, the Pearl Chase Society-so named for the S.B. conservation pioneer-has dedicated itself to "preserving Santa Barbara's historic architecture, landscapes, and cultural heritage." A nonprofit organization that runs solely on the help of volunteers, the society works year-round to educate, inform, and celebrate the cultural and social heritage around us; even going so far as to lobby (successfully) for the rescue and relocation of Santa Claus Lane's once signature mascot.
This Sunday, May 17, from 11 a.m.-4 p.m., the Pearl Chase Society will hold its 11th Annual Historic Homes Tour and Benefit. A popular event for architectural enthusiasts and novices alike, the tour provides intimate, in-depth looks at five of Santa Barbara's most impressive and valued residences. The event also serves as one of the nonprofit's biggest fundraising events, with this year's proceeds benefiting the society's ongoing Courthouse Legacy Foundation Archway Ceiling Project. For the 2009 event, ticket holders will be able to tour all five of the featured homes and their grounds, as well as being provided with transportation to and from each location. Unlike years past, this go-around is offering up-close looks at a wide variety of architectural styles-a nod to the city's seemingly endless structural diversity.
"This year's Pearl Chase Historic Homes Tour will be extra special because of the wide range of architectural styles of the homes and architects," explained society spokesperson Jennifer Jimmerson. "[The tour] will feature five Mission Ridge Homes on the Riviera, [in the styles of] French Baroque, Mediterranean Classical, Mission Revival, and Spanish Colonial Revival."
The houses all date between 1910 and 1920, with each offering a very different-though equally breathtaking-look at the evolution of the architectural process. While one 1920 Colonial Revival stop boasts "wrought iron gates," "hand-hewn plank ceilings," and "meandering gardens," the tour's 1919 French Baroque promises "plaster garlands, shell motifs, and cartouches" as well as spectacular views and a swimming pool. But perhaps most engaging is a Spanish Colonial Revival spot, lovingly dubbed "Los Olivitos" (The Little Olives). The grand home, which sits on an expansive grassy plot, features S.B.'s signature red-tiled roofs, intricate hand-painted tile work, a bevy of spectacular water fountains, and the feel of a true Mediterranean villa. Based on the pictures alone, these are homes that can transport a visitor to a very different time and place-not to mention thoroughly excite any architecture and design junkie.
As in years past, all tickets are advance reservation only, and interested parties are encouraged to reserve tickets early. For more information, or to purchase tickets, call 961-3938 or visit pearlchasesociety.org.