In years past, KJEE's annual summer kickoff bash has boasted big acts aplenty. In 2005, Jimmy Eat World and Hot Hot Heat shared stage time with Rise Against; in 2006, The Strokes headlined with Franz Ferdinand; and last year, punk pioneers Offspring closed things out with a bang. But for 2009, Santa Barbara's lone mainstream modern rock provider had one mighty trick up its sleeve: Southern rock heavyweights Kings of Leon.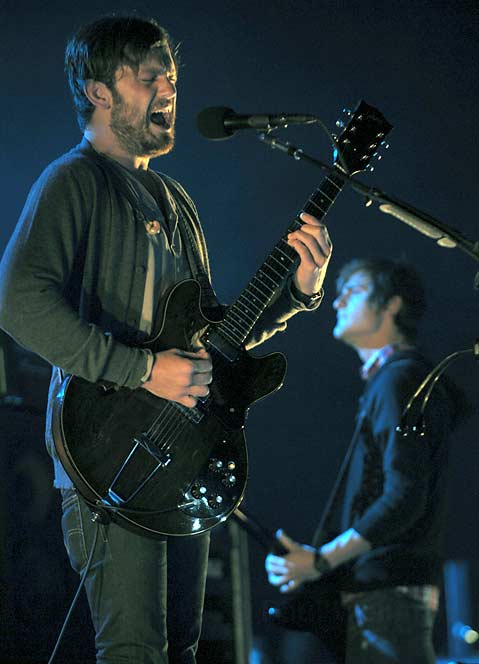 Early in the day, Sacramento's Far played an ear-shattering set of oldies ("Mother Mary," "Bury White") from their 1998 breakthrough, Water & Solutions. Despite a solid showing, the band's hard rock sound seemed lost on the majority until the set's second to last number-the radio-friendly cover of Ginuwine's "Pony." Next up, London's White Lies took the stage to belt out songs off their recent debut, To Lose My Life:. Despite the band's post-punk shtick, which at times reads like a really good Killers rip off, lead singer Harry McVeigh kept things palatable, and songs like "Farewell to the Fairground" and "Unfinished Business" found a delightful balance between dance-y synth rock-outs and affected Joy Division derivatives. L.A.'s The Airborne Toxic Event followed things up with their take on the genre, begging both positive and negative comparisons to The Strokes and Interpol. The highlight of the set: the surf rock-inspired "Gasoline," which found the band ditching the synth for rollicking guitars and some infectiously upbeat drum work.
But seconds into Kings of Leon's set opening "Crawl," all eyes were glued to the Bowl stage. To say the Tennessee-bred four-piece stole Sunday's show would be an understatement, as the band's set packed more punch than the combined force of those who came before them. Anchored by lead singer Caleb Followill's signature warbled vocals, the foursome performed more than an hour of pitch-perfect, arena-ready chords. While songs like "Seventeen" and "Use Somebody" highlighted just how far the band have come, older tunes like "Molly's Chambers," "Fans," and "Milk" worked as impeccably executed examples of what Kings of Leon do best-mixing the rawness of a good bar band with the stage setup and instrumental prowess of world-renowned rockers. The result: a mix of highbrow and dirty South that we're more than happy to meet in the middle.