Theater
Forbidden Broadway Comes to the Granada
Long-Running Satirical Revue Takes No Prisoners
The reception history of Broadway musicals deserves its own substantial chapter in the big book of craziness. At least since we were all invited to "put the blame on Mame," the great Broadway shows have inspired scores of imitators, all the way from kids in their parents' basements singing along to original cast albums to men out of their closets bursting lustily into falsettos in urban piano bars around the world. American Idols do it, stars do it; even gentlemen with handlebar moustaches do it. "Let's do it!" legions of Broadway musical fans shout en masse. "Let's sing along!"
Within these spinning galaxies of counterfeit Annies and raging Gypsies, one constellation shines a little more brightly than all the others: the long and twisted tale known as Forbidden Broadway. Begun way back in 1982 on New York's Upper West Side, this four-person, one-pianist cavalcade of wicked and wickeder Broadway song parodies has been entertaining theater buffs, casual theatergoers, and plenty of tourists for several decades now. Targets throughout the years have ranged from popular shows like Rent, The Phantom of the Opera, Hairspray, and The Lion King to such instantly recognizable Broadway hams as Carol Channing, Kristin Chenoweth, and Bob Fosse. This week, the latest touring version of Forbidden Broadway touches down in an ideal venue for such shenanigans, our own very Broadway-friendly Granada. Recently, I spoke with John Freedson, a longtime producer of the show, and Michael West, one of its stars, about what to expect when New York's most beloved and longest-running satirical revue comes to Santa Barbara.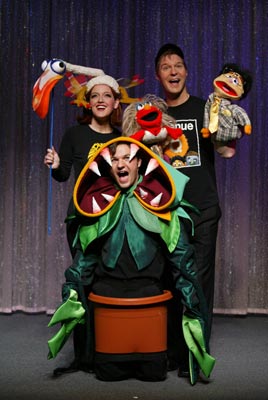 Will this be the same show that just closed in March, Forbidden Broadway Goes to Rehab?
John Freedson: No, this will be more like Forbidden Broadway's Greatest Hits. There will be some numbers spoofing recent shows like In the Heights, but there will also be plenty of more familiar, older material that people will recognize even if they haven't seen any new Broadway shows this year. We always try to fit the material to the audience. The object is to make everybody feel like an insider, so that means that the show can't be all inside jokes. Wherever we put on the show, whether in New York or on the road, we don't want people sitting there, scratching their heads, and trying to figure out what's going on, so we mix it up. Even the newest material will have something about it that lets everyone appreciate the humor.
With television programs like The Daily Show and The Colbert Report doing so well, and even Saturday Night Live enjoying a resurgence during the recent presidential elections, it seems like the public appetite for satire is at an all-time high. Does this help Forbidden Broadway reach more people?
JF: Sure. I will admit that I formed some of my political opinions this fall from Saturday Night Live myself. Forbidden Broadway definitely works alongside this type of humor because, although it was considered very daring when we first started doing it-mocking these theater icons was sacrilege back then-we have always found new ways of doing it and changed with the times. Now, it seems like the times have changed with us. "Irreverent" is big now, and Forbidden Broadway is nothing if not irreverent.
Can you describe the process that you go through to come up with new material?
JF: Gerard [Alessandrini, the originator of Forbidden Broadway and its main writer] goes to see everything [on Broadway], of course. He had no trouble getting tickets because now it is considered an honor if your show winds up in our show. But then it can take a long time to find a hook. Last year, the Tony for Best Play went to August: Osage County, and it wasn't obvious at first what Gerard would do with it. But at a certain point, he hit on the idea of rehab, partly because the Amy Winehouse song had also been big that year, and from there things just kind of took off. Lots of the material gets created in rehearsal. Typically, Gerard comes into rehearsal with only about half of the show, and the rest takes shape as the actors encounter the material and bring their own talent to it.
I also spoke with Michael West
You do some of the greatest impersonations of Broadway stars. Is that something you have always done? How do you get an impersonation together?
Michael West: I first saw Forbidden Broadway when I was very young, before I had moved to New York, and it was like, "This is me." I knew in my heart that I had found a show that would make the most of what I already liked to do. I love impersonations. Typically I begin by doing them from memory. The best impersonations come from having your own take on someone. I will sometimes watch video or see a show again to fine-tune things, but usually the most important part of it, what rings truest, is the point at which the personality of the subject and of the person doing it intersect.
You have a great voice and you are a great dancer. How important is it that the cast of Forbidden Broadway have Broadway-worthy talent?
MW: It's very important. In a show like this, you have to cast only people who the audience could see playing the actual parts. Otherwise it becomes something else, and the satire feels like sour grapes.
4•1•1
Forbidden Broadway will be at the Granada Theatre (1214 State St.) June 4-13. For tickets and information, visit granadasb.org or call 899-2222.