Food & Drink
Burgers on the Roll
Watch Out for the Burger Bus in Your Neighborhood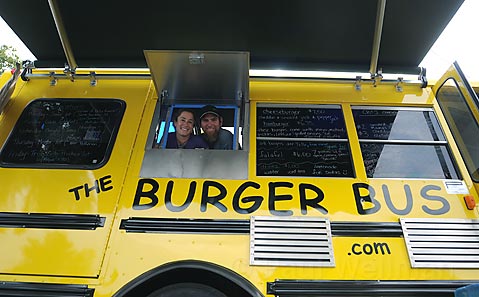 Since school busses tend to take kids to school, they don't always bring up the most pleasant associations for people-unless you're a kitsch lover, the bus is multicolored, and the young Susan Dey or Danny Bonaduce turned you on. That's all about to change if Cheryl and Michael Gardner have their way, however, as they are the proprietors, chefs, and drivers of the Burger Bus, the area's only mobile burger kitchen. Parking at different spots about town, the Burger Bus serves up 100 percent grass-fed, hormone-free beef for your delectation.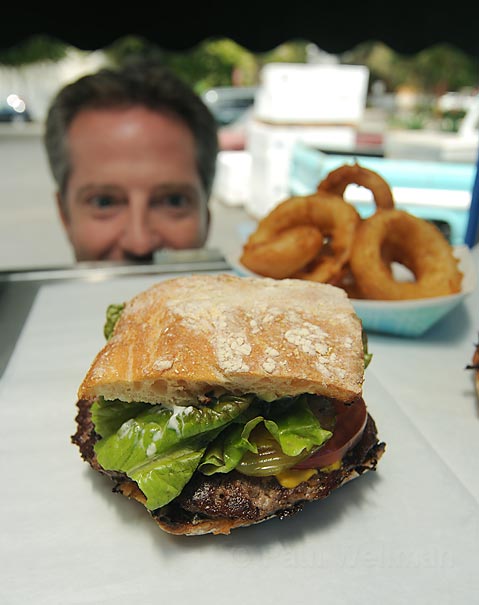 In a recent interview, Michael Gardner admitted their burgeoning business might have just been Burger-on-Wheels, explaining, "Well, to be honest, we were out for a while looking for the right vehicle." The Gardners looked into catering trucks-the new ones were too expensive, the old ones a little too "well used"-and delivery vans didn't have enough space. But then, said Gardner, "One day we were scootering past the STA [Student Transportation of America] and we said, 'What about a school bus?' So we pulled over, went into the office, and asked. The search took us all around Central and Southern California until we arrived in Riverside and purchased bus W57."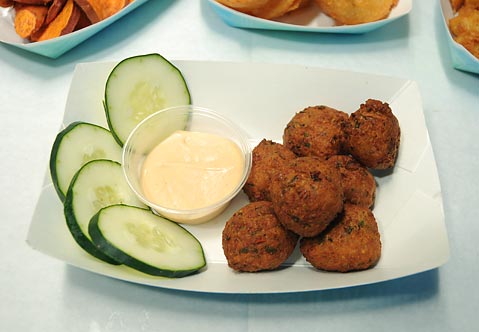 Although the couple scoured much of the state for their mobile kitchen, they've opted to stay close to home for the ingredients with which they make their food. "We are a small, local business. We feel that, as such, we should try to support our local businesses as we hope they will support us," said Gardner. "Santa Barbara has a lot to offer, and by using the best that Santa Barbara has, we can produce the best we can." That means beef from Shalhoob's, ciabatta rolls from Our Daily Bread, and cheeses from Spring Hill Cheese (a Petaluma-based creamery that's a regular at the Santa Barbara Farmers Market).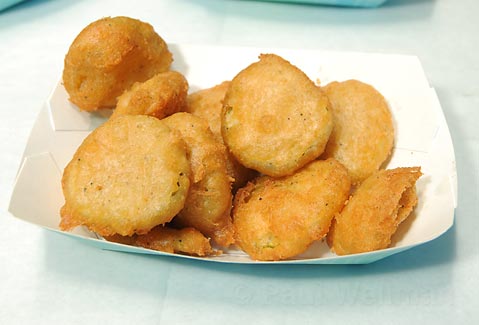 Even their signature twist-and any burger purveyor worth his buns has some unique hallmark-is localized: the "CB&J," or cheese burger and jelly, is slathered in Mama's Preserves in Arroyo Grande, another Farmers Market standby. The jalape±o jelly gives some sweet, some kick to the burger proper. Enjoyed with their yam chips or fried pickle chips (no simple French fries from this yellow kitchen), it's a true taste sensation.
Half the fun, of course, is having a restaurant in your neighborhood for an afternoon a week. At press time, lunch locations (from 11am-2pm) include Tri County Produce, the Goleta City Hall Lot, Oreana Winery at Cellar 205, and the Mentor Corporation parking lot. You can expect more, promised Gardner. "We are trying to spread out our area in the hopes that we can get as close as possible to as many people as possible when we park," Garden explained. "We are inviting people to walk from their places of business so we try to get to them. We have a few new parking possibilities and ask that folks check our Web site for our daily location. As well, we are trying to utilize Twitter each morning as a source for letting people know where we will be parked that day."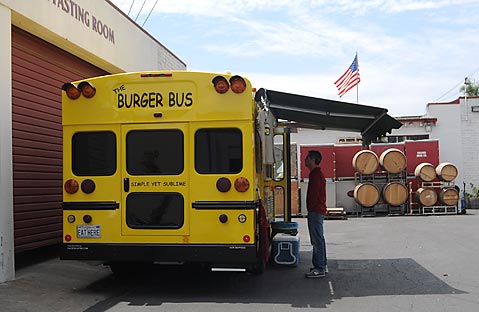 Don't expect to just hail the Burger Bus like a food-slinging cab, however, or to see it parked beside the Bowl as a concert lets out. "We are limited by some city rules and regulations," Gardner said. "Simply put, we are not allowed to park on any city streets. We can park on private property and that is why we are in specific parking lots." As for parking on your private property, the Burger Bus can cater your next burger-loving party. (Oh, there's falafel, too, for vegetarians.)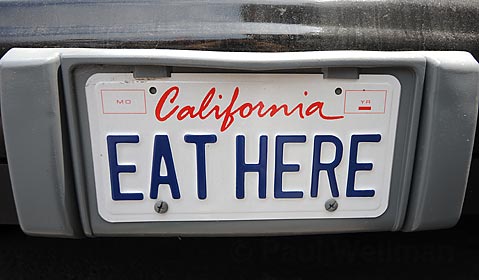 Gardner has been perfecting his burger technique for years, so figured it was time to take the show on the road. He worked at The Oasis in Menlo Park, Alpine Inn in Portola Valley, and the Rose and Crown in Palo Alto. Then, while attending UC-Santa Barbara, he was a grill cook at McBurley's in Isla Vista. Gardner reminisced, "It was known for good burgers and 25-cent beers on Wednesdays." Fittingly, Cheryl taught science at elementary schools the past few years, so the school bus is nothing odd to her.
It won't be to you, either. If you find it, you'll no doubt give the Burger Bus more than a passing grade.
4•1•1
Hunt down the Burger Bus by checking theburgerbus.com, or follow the bus on Twitter at twitter.com/TheBurgerBus.