Bottles & Barrels
Five Tastings Under 10
Affordable Places to Taste Wine in the Santa Ynez Valley
It wasn't long ago that tasting rooms in the Santa Ynez Valley charged $5 for a flight. But in recent years, the prices at most places have doubled. Some tasting rooms, however, are bucking the trend and keeping prices low, or even offering free tastings. For example, Cottonwood Canyon has free tastings in the evening from Thursday through Saturday, and Fess Parker Winery and Sanford Winery are offering free tasting coupons for two. The Santa Ynez Valley Visitor Map for 2009 at the Solvang Visitor's Center is a patchwork of 2-for-1 coupons for 11 wineries and tasting rooms. In addition to these temporary specials, a few places boast consistently low rates, from $4-$8, just like the good old days. Here's a cheat-sheet.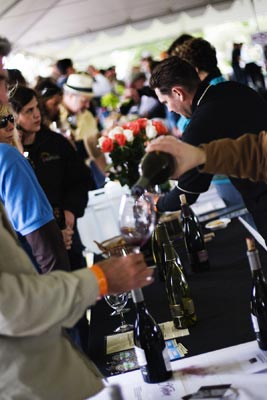 1) Winery Row (1607 Mission Dr., Solvang; 693-0412) offers an "early bird special" where tastings poured before 1 p.m. are only $5 (afterward, the prices jump up to $10). The tasting room manager, Maeapple Chaney, creates a welcoming atmosphere that makes for easy conversation among tasters at the counter. All tasting rooms are set up to be fun, but Winery Row has an added warmth that can only be found where people genuinely enjoy their work and the company of their customers. The wines served are from Addamo Vineyards in Orcutt, and include a tannin-heavy pinot noir, a chocolatey merlot, and a fruit-filled, slightly smoky 2004 Rh'ne-style syrah. Open Wednesday to Monday, 11 a.m.-7 p.m.
2) Visitors to Lucas & Lewellen Vineyards (1645 Copenhagen Dr., Solvang; 686-9336) are spoiled for choice in tasting flights. In addition to the $12 reserve list of pricier reds, there are three $8 lists: traditional, white wines, and fun wines that include sparkling wine and port. As the tasting room hums with gossip, the staff leave you alone to enjoy the wine, but are right there with the next pour as soon as your glass is empty. Take a walk to Mission Santa Ines and look toward the river to see Valley View Vineyard, where the grapes for its fruit-bomb 2004 cabernet sauvignon are grown. Open daily, 11 a.m.-5:30 p.m.
3) If you go to Lucas & Lewellen, consider stopping by its sister winery, Mandolina (1665 Copenhagen Dr., Solvang; 686-5506). Mandolina offers half-off its $8 tastings when you bring a receipt from Lucas & Lewellen. Mandolina specializes in Italian varietals that tend toward the sweeter side, some tasting of jasmine tea, gardenia, and blueberry. There are two $8 lists to choose from, the Lista Tradizionale-which has one white, one Rosato, and three reds-and the Lista del vino bianco, with five white wines. The wine gadgets and wine country-themed decor at Mandolina will make oenophiles feel like kids in a candy store. Open daily, 11 a.m.-5:30 p.m.
4) Royal Oaks Winery (1651 Copenhagen Dr.; Solvang; 693-1740), which shares owners and vineyards with Roblar Winery, picks up right where Roblar leaves off-at the sweet wines. Gew¼rztraminer, Niagara, Concord, and noir blanc are in the Semi Sweet collection, and the Ruby Rhubarb seasonal wine tastes like sour skittles. The merlot rose is surprisingly dry with a cranberry tang. You can choose any five wines to taste from Royal Oaks's list of 11 for $8, and bottles are all priced under $20. Open daily, 10 a.m.-5:30 p.m.
5) As soon as you walk through the door of Epiphany Cellars (2963 Grand Ave., Los Olivos; 686-2424), the people behind the counter will tell you "this is the best deal in town." And it is, with tastings costing only $5 for samples of six to nine different wines. The wines here have muted tannins and are not overly sweet. They include a jam-nosed grenache and a dry grenache rose. Serving dark chocolate with their award-winning 2005 Petite Syrah is a wise strategy that has induced many a customer to whip out the credit card for the $30 bottle. With wine like this, even cheap tastings can lead to splurges. Open daily, 11:30 a.m.-5:30 p.m.