Living
Goleta Temporarily Bans Medical Marijuana
City Council Will Examine Options for Pot Regulation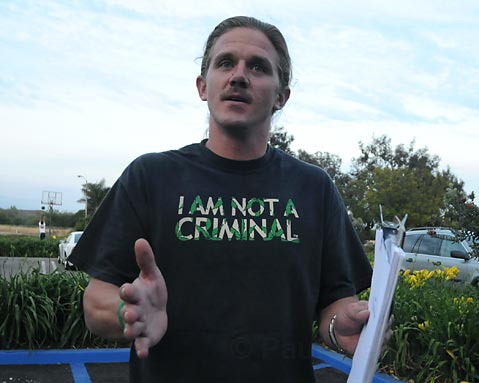 Although they voiced support for medical marijuana patients, Goleta's City Council voted 5-0 in support of an ordinance banning medical marijuana dispensaries within city limits. Citing the need to examine the option of allowing and regulating dispensaries in more detail, the council imposed upon itself an August 30 deadline to come up with something. "Part of the argument against [regulation] is that it's in conflict with federal law," said Councilmember Michael Bennett, who found issue with a document produced by city staff indicating that medical marijuana dispensaries attract crime. "If we were to prohibit businesses that attract crime, we could go on a rampage," he said, pointing to stores selling liquor and firearms as more of a risk.
Several medical marijuana patients showed up at the hearing to offer comment, with one man – who said he was suffering from a painful digestive tract ailment known as Crohn's disease – getting on his knees before the council. The proprietors of Grassroots Research, a medical marijuana collective operated from a private residence in Goleta, were less than happy with the City's ban, saying that their 16 patients will suffer. "We've addressed the City to relocate to a zoned commercial area several times, but they sent us a letter that said they can't give us permits to relocate," said Seamus Ethridge, one of the collective's caregivers, who said that although he was disappointed in the decision that was handed down, he was surprised by the support given by all of the councilmembers.
The Santa Barbara County Sheriff's Department, which is contracted by Goleta to provide law enforcement services, supported the document provided by city staff. "Regulation [of medical marijuana clinics] is difficult from a Sheriff's Department perspective because it's illegal by federal law," said Sergeant Kevin Huddle, adding that prescriptions for conventional painkillers, dispensed by a pharmacy, include an amount for each prescription. "There's no amount [specified] for medical marijuana." He also said that in his experience, the mostly cash-based dispensary businesses attract criminals who can break in, steal cash and marijuana, and sell the marijuana on the street. Most members of the city council, however, disagreed with the Sheriff Department's appraisal of the situation. "I have not heard a compelling argument about crime or other negative impacts," said Councilmember Eric Onnen.
For their part, the proprietors of Grassroots Research said that they have been very thorough with their paperwork, and in ensuring that they are in compliance with state law. The collective's founder, Mark Russell – also known for his role in establishing Santa Barbara medical marijuana clinic Hortipharm, which he left in 2007 – indicated that Goleta recognized Grassroots as legitimate before the city's medical marijuana dispensary moratorium was put in place just under two years ago. "The city has had two years to work on regulations and they waited until the last two months of the moratorium to pass an ordinance," he said, noting that the council's decision puts his patients at a disadvantage, as they have to pay much higher prices in Santa Barbara, or drive all the way to Los Angeles or Santa Cruz. Still undeterred, the small collective is trying to double the number of patients it serves, and is plans to apply for non profit status.
Regardless of the council's decision this week, councilmembers recognized the need to take action before the moratorium expires on August 30. The consensus amongst the council was that although they support compassionate use of marijuana, as supported by state proposition 215, they do not want dispensaries to start popping up without some kind of regulatory framework in place. "I don't think it should be sold out of homes. It should be in a commercial location," said Mayor Roger Aceves, positing that because of the current conflict with federal law, the possibility of federal law enforcement raids on residential properties made having dispensaries in those neighborhoods a safety liability for the surrounding community.
With the ban now in place, the issue will appear on the city council's agenda again on June 16 for fine tuning and further discussion.