Film & TV
The Limits of Control
Isaach de Bankole, John Hurt, and Bill Murray Star in a Film Written and Directed by Jim Jarmusch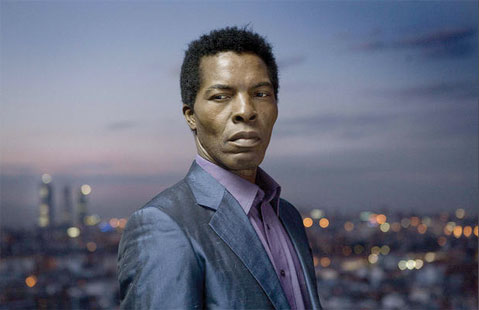 Leave it to semi-visionary American auteur Jim Jarmusch to create an assassin movie as imagined by Michelangelo Antonioni. The Limits of Control, a highly controlled but poetic and slowly evolving tale of a hitman's gig, will strike some viewers as possibly pretentious and frustrating in its refusal to play by the rules of engagement for a thriller. Here, the meditative, hypnotically repetitious, and ravishingly visualized film mostly is about release and rumination, with tensions saved up and delivered only in small increments.
For Jarmusch fans-you know who you are, the ones who even loved Coffee and Cigarettes-the cult continues. Isaach De Bankole, who has appeared in earlier Jarmusch films, is very much the well-dressed, eerily composed epicenter of this film, which is also lined with cameos by John Hurt, Gael Garc-a Bernal, and Tilda Swinton. Paz de la Huerta fills the dryly funny, beguilingly mysterious role of the "nude," at one point bathing in Schubert with our fully dressed, tight-lipped hero.
In the liquid narrative, we follow the measured, yet meandering path around Spain of a character identified only as "lone man." His travels are dotted with dream-like recurrences-the switching of matchboxes, overhead shots of twin espressos, and cryptic copters. Zen koan-like phrases ripple through the spare script, i.e. "reality is arbitrary," "the universe has no center and no edges," and "he who thinks he's bigger than the rest must go to the cemetery," finding their apogee in a song lyric that plays in a flamenco club after hours.
Although the film is enriched with fresh ideas and new landscapes, signature Jarmusch touches and echoes abound. His elegant and charismatic criminal element/hero who keeps his mental-spiritual cool with tai chi reminds us of Forest Whitaker in Ghost Dog. And the modular road-movie structure of the film, with a succession of varied characters and scenery entering into the picture, is pure Jarmusch.
In the suspense-thriller genre, keeping and carefully revealing plots secrets is part of the game, but with The Limits of Control, Jarmusch takes the game of control and surprise a few steps further-or sideways, into the realm of art.