Living
Two New Venues Classy Up Downtown Club Scene
Eos Lounge and Blush Unveil the New Hotspots
Blush is one of downtown Santa Barbara's newest and most daring undertakings. Combining aspects of an upscale family, California-fusion restaurant, a sleek, swanky lounge atmosphere, and a gourmet late-night eats destination, Blush offers a truly unique experience at all times of day-and night.
Where: Located at 630 State Street, Blush is two doors down from its ultra-popular sister nightclub, Tonic. Tonic's owners created Blush as a sort of "counter-program" to Tonic, appealing to Santa Barbara's late-night gourmet food crowd.
When: While Blush technically opened its doors to the public roughly one month ago, the final, polished product won't celebrate its official grand opening until sometime around July 4. It serves food and cocktails from 5 p.m.-1:30 a.m. (depending on the crowd) every day except for Mondays, and it boasts a fabulous 12:30 p.m. brunch on Saturdays and Sundays on its 3,000-square-foot patio area.
What: In addition to its incredible 440-person seating capacity, Blush has a stylish, contemporary vibe and decor that belies its inclusiveness. One would feel equally comfortable going for a five-star dinner of pan-seared rib eye, or stopping in for some late-night lobster mac 'n' cheese and a Heineken.
Who: The staff is dressed in black-on-black attire, which provides a smart-looking contrast to the ubiquitous hanging "bocce ball" lighting throughout the black-and-silver interior. The clientele is certainly a bit more cosmopolitan than your average late-night food crowd, but partners Mark Lawrence and Asaf Dimant haven't forgotten their Santa Barbara roots. "We know we're Santa Barbara," noted Dimant. "We're not trying to be L.A. We just want to try and bring something fun and unique to State Street : aspects that most restaurants in Santa Barbara just don't have."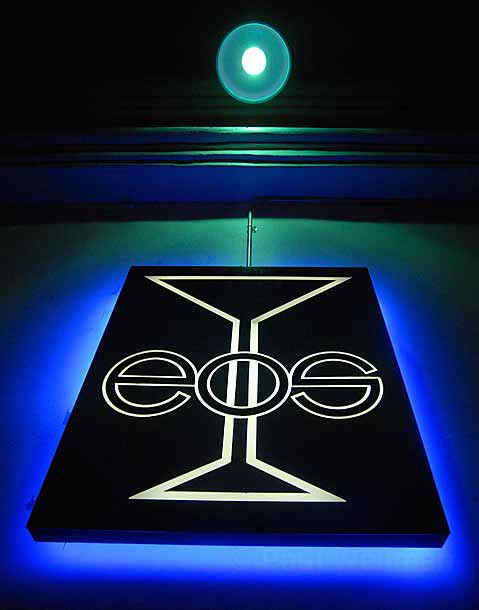 Eos Lounge
Eos is the Greek Goddess of Dawn who rides her chariot across the sky to mark the beginning of each new day. A very apropos name for a nightclub that just finished reinventing itself as a casually elegant hangout for grownups, and hopefully ushers in a new dawn for Santa Barbara's nightlife.
Where: Eos is located at 500 Anacapa Street, just a block from State Street, on the corner of Haley. It offers an alternative to the bluster of downtown, while being well within walking distance.
When: The revamped hot spot just had its grand reopening a couple weeks ago, and has since been thriving. Friday and Saturday nights are the hottest times to go to have some signature "infused vodka" cocktails, while listening to an eclectic mix of house and dance music. Hours: closed on Sundays, Mondays, and Wednesdays; Tuesdays: 9 p.m.-2 a.m.; Thursdays and Fridays: 5 p.m.-2 a.m.; Saturdays: 8 p.m.-2 a.m.
What: With a total of 5,000 square feet, including 200 new square feet of dance space, and a capacity of 421, Eos has more than enough room to accommodate as many patrons as most any Santa Barbara club, but quantity is not the main focus for owner Jeff Clark. A mellow, classy, lounge environment, accentuated by a decor of cool blues and whites, gives this Mediterranean-style club a mature, worldly feel.
Who: Security guards in black blazers, and a good-looking bar staff dressed in deep blues and blacks round out this club's latent sex appeal. The clientele naturally follow suit, adding to the overall sophisticated ambiance. As Clark put it, "Our goal is to be somewhere between the ¼ber-club in LA and your favorite neighborhood cantina."