Opinion
Michael Jackson, 1958-2009
The King of Pop
One of the brightest stars in pop culture's constellation faded away forever today, when Michael Jackson suddenly died from cardiac arrest in Los Angeles. He was 50 years old.
A singer since early childhood with the Jackson 5 and later one of the most successful recording artists of all time, Jackson became better known in his later years for living a quirky lifestyle and allegedly molesting young, usually sick children. Most notoriously, Jackson – whose Neverland Ranch sits beneath Figueroa Mountain in the Santa Ynez Valley – was charged by Santa Barbara County authorities with child molestation and endured an unimaginably long trial in 2005 with the whole world watching. A jury of his "peers" from the Santa Maria area eventually found him not guilty on all counts, yet he never really returned to the public sphere, choosing to spend his time in far-off lands and hiding from cameras.
After personally watching the man's bizarre life paraded in front of everyone, I can't blame the King of Pop for retreating from his throne. As the reporter who covered his trial for both The Independent and Time Magazine, my life became strangely intertwined with his, stretching back from his January 2004 arraignment – when he triumphantly stood atop a car in front of thousands of fans in the middle of a Santa Maria street – to beyond his judgment in the summer of 2005, when I spent weeks after the trial working on a proposal for a never-to-be-published book about the previous six months of madness.
Though I'd managed to stay more objective than most of the hysterically he's-guilty-as-sin media masses during the whole ordeal – for the record, I thought he was innocent until I saw the videotape of the allegedly abused kid's initial accusation – I could not deny that my career success and future wealth as a best-selling author hinged on his demise. As a young journalist idealistically committed to the Truth, the situation was peculiarly blinding, but one thing remained vividly clear: Guilty or innocent of the horrendous charges, Michael Jackson was a victim, too, a survivor of physical and mental abuse, the prey of a perilously probing public eye, a complete casualty of fame. Occasionally disheveled – remember "pajama day?" – usually distant, and always frail, Michael Jackson could have dropped dead during the trial, and no one would have been surprised.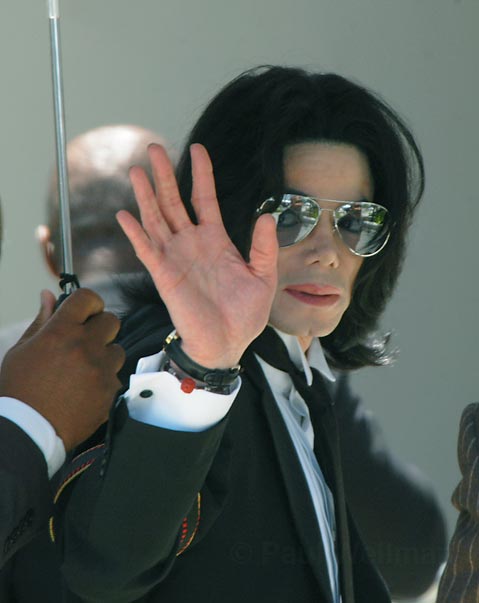 Like most everyone born in 1977 or thereabouts, my connection to Michael Jackson went back all the way to my childhood, when the singer's life in the limelight taught me about celebrity, skin color, serious music-making, and how to get down. He showed me how to moonwalk, of course, and why Bad – my first cassette tape at age 10 – means "good," but he also clued me in to the fact that my Grandma Barbara was to be a most trusted ally in life: She rented me the video for Thriller when my mom wouldn't, an early step toward a wonderful relationship that continues to guide my life, even though she passed on nearly a decade ago.
To this day, Michael Jackson's music makes my generation move with carefree glee – throw on any 1980s Michael Jackson song at a house party and watch the mouths start to move and bodies begin to shake. It's a fun, oddly guilty joy to groove to MJ, much like dancing was in my Catholic junior high. It's a proud feeling though, too, and I'm quick to admit that when I finally broke down and entered the cell phone world in 2004, "Billie Jean" was my first ringtone, more than 20 years after its release on the 1982 album Thriller, which sold more than 100 million copies worldwide and is considered the best-selling album ever. Some are saying that June 25, 2009, is "the day that pop music died," but that's just a silly sound bite. The King of Pop died, but long live the King of Pop's music.
In the long run, it just might be better this way. Though Michael Jackson was planning a comeback with a series of concerts in London starting this summer – financed, in part, by Santa Ynez Valley rancher Tom Barrack, who also bailed out Neverland Ranch – the kickoff had already been delayed, and signs were pointing to failure. To have gone out on a flop tour wouldn't have been fitting for royalty.
It's hard to deny that the recorded and packaged Michael Jackson will always be more universally enjoyable than the real deal, especially since he dove so deeply into oddity in his later years. Although already one of the world's most recognizable faces, Jackson started sucking the fame of those before and after him like a pop vampire, marrying, albeit briefly, the daughter of Elvis, buying up the rights to most of the Beatles catalog, cozying up to the next generation of stars like Macaulay Culkin. He made babies with untraditional names – Prince Michael, Paris, and Prince Michael II, aka Blanket – and, well, let's not even get into his shifting skin tones and morphing facial structure. While he publicly denied a taste for pornography and drug and alcohol abuse – realities that were officially admitted during the trial – Jackson never shied away from showing off his assembled zoo animals, talking about his oxygen tanks, chimpanzees, and spending sprees, waving his babies from hotel balconies, and embracing the only people weirder than he, his fans.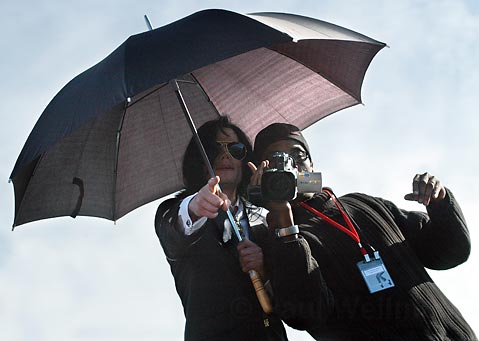 But in the shadow of his death, I'm pretty sure that those who publicly proclaim themselves Michael Jackson fans will be many millions strong, including both the fringe folk and those like myself who would otherwise pass for "normal." Michael Jackson lived a tremendous and troubled life, and I hope he finds peace in whatever comes next.
After his January 2004 arraignment, I came back to the office so overwhelmed by the experience that we decided to run the resulting article as The Santa Barbara Independent's cover story that following week. My conclusion seems as appropriate now as it was then. "The businesslike mood of the courtroom – where I sat unfazed and unmoved just a few feet from Jackson, the man who introduced my generation to music – had evaporated. All of a sudden, I had chills – my professional demeanor was instantly blown. In the previous 24 hours, I'd laughed at fanatical fans, cursed the overblown media coverage, and questioned the motives of both the accusers and the accused. But it was with sincerity that I smiled as Jackson thanked his fans from atop his car last Friday, recognizing the genuinely heartfelt connection between the ¼ber celebrity and his dedicated followers. Maybe he's guilty, maybe he's innocent – but it was clear to me last Friday he will always be the King of Pop."
May he moonwalk in peace.