Living
Elderly Mesa Woman Missing
Rescue Crews, Search Dogs Unsuccessful After Weekend Effort to Locate Her
On Saturday, 89-year-old Metta Thomsen, who suffers from Alzheimer's and dementia, went missing from her residence at 3354 Cliff Drive. After six Santa Barbara Police Department officers were unable to find her, they labeled her as an at-risk missing person due to her age, illnesses, and possible exposure to nighttime conditions. Santa Barbara Search and Rescue, Sheriff's Department, and Harbor Patrol assisted in a search of the entire Mesa area. After a tip that a woman matching her description had been seen near the intersection of Roble Drive and Llano Avenue in Hope Ranch around 5:30 p.m., police requested a bloodhound K-9, which arrived from Los Angeles around 2 a.m. to assist detectives in the search.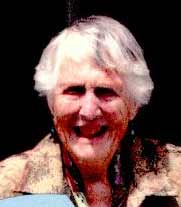 The Search and Rescue team, with the help of four search dogs and Santa Barbara police personnel, continued the search of Hope Ranch without success. Two of the K-9 units tracked Thomsen's scent to the west side of Hope Ranch Lake and the Sheriff's Department dive team responded with an underwater search of the area. After hundreds of reverse 911 calls to residents were made and all possible leads from the K-9 units were exhausted, the formal search was concluded at 5:40 p.m.
Detectives are still actively working on the case. Metta Thomsen is described as 5'7″ tall with a medium build and collar-length grey hair. She was last seen wearing blue denim pants, a blue shirt, white tennis shoes and a tan coat. Anyone with information about her whereabouts is urged to contact police at 897-2335.