Living
Throwdown at the Showgrounds
Mixed Martial Arts Fighting Comes to S.B.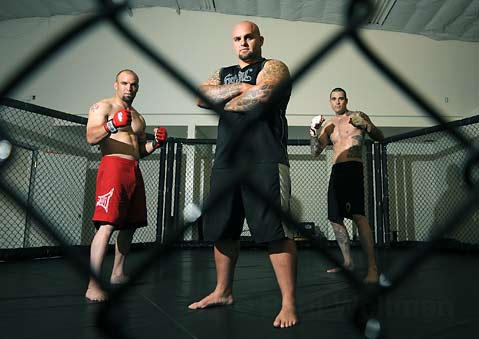 During the last decade, mixed martial arts (MMA) fighting has emerged as the hottest sport, captivating audiences with its combination of physical and mental toughness. Best described as a full-contact combat sport of kickboxing mixed with wrestling, MMA fights can be seen most every night on cable-there is a reality television show about the sport, pay-per-view specials are major moneymakers, and the Ultimate Fighting Championship has replaced boxing as the pugilistic spectator sport of choice.
However, behind the glitz and the glam, the video games, and the million-dollar payouts the pros receive, there are thousands of amateur fighters looking for their chance to prove themselves, which is difficult when to get onto the fight circuit you have to already be somebody or know somebody. Unlike many other sports, there is no "minor league" for amateurs in MMA. The only way to get legitimate matches is by going pro, which means the disparity of experience between fighters on the circuit can be ridiculously huge. But now, two homegrown boys are trying to change that by hosting fights right here in Santa Barbara.
"We want to give the new generation of local fighters an opportunity to fight," Arria said.
Jeff Restivo and Anthony Arria, former high school football teammates at Bishop Diego High, are bringing "Throwdown at the Showgrounds," a fight card of mixed martial arts, to Santa Barbara, Friday, July 3, at Earl Warren Showgrounds. Because of the limited fight opportunities for newbies, the duo wanted to give up-and-comers a chance to show their stuff. "We want to give the new generation of local fighters an opportunity to fight," Arria said. But the athletes filling up the card of 10 or so fights won't just be from the area. People have been calling from all over the country, looking for an opportunity to get a real fight under their belts, as opposed to just sparring in the gym. "They've got to be able to build a record at smaller shows and work their way up," Restivo explained.
Anyone who has seen an MMA fight should quickly gain an appreciation for the mental and physical strength needed to participate in the sport. MMA gloves are not boxing gloves-they are fingerless with slight padding over the knuckles-and matches aren't over until an opponent gives up, the ref ends the fight, or the clock runs out. In other words, there ain't many rougher competitions out there.
Of course, Santa Barbara isn't a total stranger to MMA. Chuck Liddell, an Ultimate Fighting Champion legend who is largely credited with helping to bring mixed martial arts into the mainstream, attended San Marcos High and is storied to have walked the streets of Isla Vista, kicking ass and taking names. Another MMA superstar, Uriah Faber, who fights in the WEC (World Extreme Cagefighting), was born in Isla Vista, though he currently fights out of Sacramento.
Recently the S.B. area has seen an upsurge in the sport. Arria himself runs a training program, teaching the younger generation about MMA. He admitted that he would get into a lot of fights when he was younger, and it was only after he met Liddell, through a friend, that he realized he had other options. "You don't have to [fight] on the streets, you can get paid for [it]," Liddell told him.
Arria started training himself in MMA, and recently opened up his own gym, Valhalla Training Center on Upper State Street. The gym provides an opportunity for kids to step in, get in shape, learn some lessons, and stay out of trouble. "Worst-case scenario is these kids become disciplined and can go out and teach it," said Arria, who, after his first MMA fight, never got into another street fight. He and Restivo have been in the sport for about five years, with both participating in competitive fights along the way.
When the sport was just beginning to take off, fighters were more one-dimensional, i.e., mastering only one discipline, such as wrestling. But as MMA grows, fighters are developing all-around talent, training at gyms like Arria's. That diversity of methods allows for people from different athletic backgrounds to compete, and it will be on display when locals Critter Mooney, Corby Poulis, and Jesse Wallace hit the mat at the Throwdown.
4•1•1
Throwdown at the Showgrounds takes place Saturday, July 3, at Earl Warren Showgrounds. For ticket info, visit cafightsyndicate.com or call 845-6604.