Food & Drink
Epicurean Explosion
Live Culture Fosters Food, Wine, Music, and Art amid Paseo Nuevo Crowds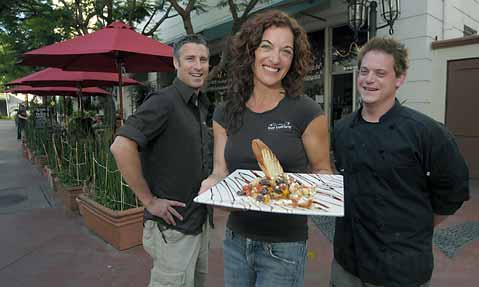 Fresh food and fine wine, fro-yo treats and coffee drinks, live music and walls of art. It's certainly too much to handle in one sitting, which is why Live Culture requires repeated visits to digest fully. Probably Santa Barbara's only lunch-and-dinner restaurant/coffee bar/late-night diner/seven-day-a-week music venue/art gallery/wine tasting room/beer pub/frozen yogurt shoppe, the tucked-away cafe-located on the first floor of the Balboa Building amid the buzz of Paseo Nuevo shopping-is growing "handshake-by-handshake" every day, said co-owner Darin Fiechter, who explained, "What we've created is what people wanted, and people didn't even know they wanted it."
The collective, rather spontaneous vision of Fiechter and his friends/co-owners Sierra Falso and Rebecca Klarich, Live Culture evolved out of a pre-dinner conversation in March 2008, when Klarich declared a love for frozen yogurt a few months before the recent fro-yo craze inundated State Street. The trio meanwhile noticed the preponderance of For Lease signs, in particular the one where the Pierre Lafond Cafe used to be, across from the Paseo Nuevo movie theater. Within days, Falso, who works in commercial real estate, arranged a meeting with the building's owners. They, too, happened to love fro-yo, but also asked what else would be included, so the trio started spitting out off-the-cuff ideas: coffee bar, tasting room, music venue, etc. The building's owners were convinced and, after seeing a quickly invented business, offered them the lease soon after. The multifaceted, first-of-its-kind establishment had gone from dinnertime notion to contracted reality in two weeks.
Of course, there were many more hurdles to go, from getting loans-which proved rather easy, thanks to a rep from Business First Bank, who supported the idea-to remodeling the interior, which took nearly five months of straight work starting in August 2008. "We ripped every single thing out," said Fiechter, a medical supply salesman who grew up in Solvang and has some previous experience in architecture. "Even the floor drains had to be moved."
And then there was the name. The trio had chosen Spoon Me, but soon found that the name was taken by a place in Utah. "I was devastated," said Fiechter, but he kept thinking. While pondering a yogurt label, he saw the words "live culture" and "got chills," knowing that such a name would be a nod to yogurt, but also to the "not stagnant, always changing" nature of Santa Barbara's many cultures, from food to wine to music to art. Assuming it also had been taken already, the trio trademarked the name, and were not contested. Live Culture it was.
The restaurant opened for business on March 2, although it was an admittedly bare-bones operation at first, with meager food options. "A tuna fish sandwich-that was all we had," said Klarich, an Orcutt native and police dispatcher by day, who added with a telltale roll of her eyes, "I was cooking." Then came a culinary angel in the form of Daniel Bohl, a young but experienced chef who'd been watching Live Culture develop as he rode by on his skateboard. Working in kitchens since he was 15, Bohl, originally from Bakersfield, calls Santa Barbara "such a rich town" and "the ideal environment to work in." He soon was handed the reins of the kitchen, where he says his staff repeatedly brings him new dishes and drinks to try. "Everyone is super eager to learn," explained Bohl, whose revamped menu was just released last month. "Every day we're getting better and going by leaps and bounds," he said. "Not only the business we're doing, but how well we do what we do."
What they do also includes more than 60 wines by the glass and live music every day of the week, with volunteer but talented musicians taking their place on the lofted stage, overlooking the restaurant and playing their hearts out. It's become an experimental hub for emerging musicians who can't book a live show at the limited venues in town, and for some folks who've never played in public before. And the music hasn't stopped, not even during the Jesusita Fire. "Everywhere in town was dead, but we were busy," said Fiechter, explaining that Live Culture became a meeting place for the evacuated.
"You really know you have something unique when your employees stay after work to hang out," said Falso, who says they get anywhere from five to 10 applications per day for the already filled 15 jobs. Not that they couldn't use some time off themselves, though, for all three co-owners haven't had a single day off in four months, which isn't surprising considering Live Culture is open from late breakfast until midnight most days of the week. "We're all personally invested very heavily, financially and emotionally," explained Falso, who said that her projections have been "pretty much on target" and does not believe that the recession is hurting business much.
Indeed, on an otherwise nondescript Wednesday night, there was a steady stream of patrons all evening, eating, drinking, and desserting, as a guitarist, saxophonist, and backup singer entertained, with passersby repeatedly popping in their heads for a look. But the owners claimed it was a slow night, and cited a recent Tuesday that was standing room only. Nonetheless, they were more than pleased when a customer left the building, and turned to them as if on cue to say, "Nicely done. I think you've got a winner."
After Fiechter gave the man a handshake and chitchatted, he returned to the table, leaned back in his chair, and said, "This is something that Santa Barbara can really call its own now."
Wine 'Learning'
With more than 60 wines available for purchase by the glass-and all of them able to be tasted for free by the sip-Live Culture is one of the few true wine bars in downtown Santa Barbara, a place where patrons can sample brands from around the world, compare the same grapes grown in different places, and learn the backstory of the winemakers and wineries behind the label. The wine program's visionary is co-owner Darin Fiechter, who personally takes his customers on tasting tours of his favorite wines.
On a recent evening, Fiechter was doing a comparative pouring that pitted the Old World versus the New. He began with a lesson in sangiovese, in which the easy-to-drink, food-friendly La Moto Riserva Chianti served as the by-the-book entry from Italy, where anything calling itself "chianti" must contain at least 75 percent sangiovese. He put that up against Bonny Doon's Ca' del Solo sangiovese, which was grown from grapes in Monterey County and, not surprisingly, proved fruitier than its Old World cousin.
Fiechter then turned his attention to merlot, but used the Old World to show off some new techniques. That came in the form of Sicily's Cusumano, whose young winemakers prefer glass stoppers to corks and ferment their merlot in a stainless steel barrel. With no oak influence, the merlot proved distinct and much more interesting than the sometimes flat varietal. For a New World look, Fiechter brought out Rancho Sisquoc, one of Santa Barbara County's longtime producers and one that, in Fiechter's estimation, "has not sold out." Their merlot was a much more familiar experience, with hints of coffee dancing around with cherry.
Fiechter has found that everyone appreciates the variety and information Live Culture offers with its ever-expanding wine list. "All we're doing is giving people a choice," he explained. "I call it 'wine learning.'"
What to Eat?
Live Culture's official grand opening has begun, and coincides with a revamped menu, developed by Chef Daniel Bohl. The menu can entertain your taste buds for days, but here are some highlights:
Watermelon Salad ($10): Cubed watermelon is served with Greek feta and shaved red onions, topped with a blackberry coulis. The sweetness of the fruit is balanced perfectly with the saltiness of the cheese, and the onions give a tangy twist. All washed down best by a Municipal Winemaker's cinsault-based rose.
Caprese Tower ($11): One of the more impressive presentations, this teetering tower includes sliced yellow and red tomatoes, a garlic crostini, buffalo mozzarella, and basil, drizzled with olive oil and 25-year-old balsamic vinegar.
Mortadella Panini ($8.50): Toasted in the traditional style-which means it might be a bit tinier than you've come to expect from American paninis-this is one of five paninis offered, and features mortadella, parmigiano reggiano, and garlic-infused oil. Comes with a salad and chips, too.
Turkey Prosciutto Wrapped Asparagus Sandwich ($13.50): Taking a favorite appetizer and slipping it into a grilled sandwich, this also features provolone cheese and pesto aioli. Try with the Paige 23 Tinto Tarantula red wine.
Roast Beef Dip ($13): This always hearty option is extra filling with provolone cheese, but is worth the extra stomach effort thanks to the grilled onions, horseradish aioli, and simmering au jus. Served usually with the tempranillo-dominated Vaza Crianza from Rioja, Spain.
Darin's Real Beer Float ($3.50, plus cost of chosen beer): The most adventurous dessert in town is this frozen yogurt offering doused in either a smoky-sweet oatmeal stout or the tangy-fruity lambic framboise. Even those who don't usually love beer have fallen in love with this concoction.
Strawberry Banana Brownie Sunday ($10.50): Worth sharing with the entire table, this uses country vanilla fro-yo as a means to deliver sliced bananas, strawberries, and cubed brownies, topped with hot fudge, whipped cream, and nuts. And Live Culture's yogurt, it's worth noting, has an average of 100 million live cultures per gram, 10 times the National Yogurt Association's mandated minimum.
4•1•1
Live Culture is located at 11 West De la Guerra Street and open Sunday to Wednesday, 11 a.m.-10:30 p.m. (or later if a crowd) and Thursday to Saturday, 11 a.m.-midnight. Call 845-8800 or see liveculturelounge.com.