Living
Governor's Line-Item Veto Hurts AIDS Nonprofit
Pacific Pride Forced to Lay Off Nearly Half Its Staff
Governor Arnold Schwarzenegger's July 28 line-item veto eliminating $52 million from the state's funding for AIDS and HIV programs harmed programs throughout California, and those based in Santa Barbara did not escape the pain: Pacific Pride – the county nonprofit focusing both on AIDS- and HIV-related issues as well as gay and lesbian issues – is now out an estimated $600,000 and consequently had to lay off 11 of its 24 staff members. Though a portion of Pacific Pride's contracts are with Santa Barbara County, the majority come through Sacramento.
The loss of nearly half its employees affects Pacific Pride's efforts in a multitude of ways, though perhaps the one that should cause county residents the most concern is that four of those lay-offs were AIDS case managers, leaving only two to manage the 590 residents countywide who use such services. Additional casualties include an anonymous AIDS/HIV testing program and a pantry program, the latter of which offers food to those stricken with AIDS; both will be limping along with diminished oversight.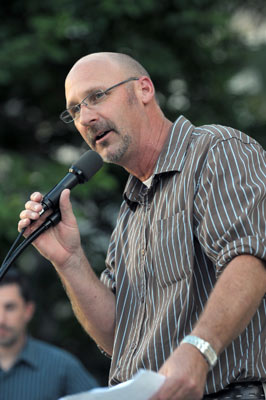 "We're fighting like hell right now," said David Selberg, Pacific Pride's executive director, naming specific positions that were eliminated, some previously occupied by longtime employees of the nonprofit. Among those now looking for employment, for example, is the former volunteer coordinator who arranged for rides for people who could not otherwise benefit from AIDS and HIV services.
The drastic loss in funds, which followed a $30 million AIDS funding cut in mid-July, has left Pacific Pride and other organizations throughout the state with three strategies, Selberg said.
First, Pacific Pride is attempting to form a coalition with similar groups to pool resources and reorganize in a way that can make the most of so little. Selberg conjectured that communities such as Santa Barbara were most jeopardized by state funding cuts. "Whatever money is left will go to the major metropolitan communities like San Francisco or Los Angeles or to the small, rural communities, like, [for example], Butte County," he said. In his estimation, mid-sized communities such as Santa Barbara, Ventura, and San Luis Obispo would likely be left to fend for themselves.
Secondly, Selberg is encouraging supporters to help out with a letter-writing campaign targeting higher-ups at the State Department of Health and Human Services, to draw their attention to Santa Barbara's plight.
Thirdly, a suit may be filed claiming that the elimination of this funding was illegal. Selberg said that forming a coalition of mid-sized communities will be the quickest way to bring about any positive change in this situation. Both the letter-writing campaign and legal action would be long-term solutions.
Pacific Pride is holding a town hall-style meeting to discuss Santa Barbara County's lack of funding for HIV and AIDS services on Wednesday, August 26, 6 p.m. at the Louise Lowry Davis Community Center at 1232 De La Vina Street. In a message sent to Pacific Pride supporters, Selberg also asked that people sign their names on a letter to the State Department of Health.