Capitol Letters
The Front-Runner
Ex-eBay CEO Meg Whitman Brings GOP Bid for Governor to S.B.
Preaching to the choir, Meg Whitman dazzled an audience of Santa Barbara Republicans this week, promising that if elected governor she would "run state government more like a business."
Over fruit salad and muffins at the University Club, an enthusiastic, mostly conservative crowd of about 120 applauded the GOP front-runner's reliable red meat lines ("it is inspired individuals who create wealth in America – it is not government") oohed and ahhed at her list of endorsers (John McCain, Mitt Romney, and ex-governor Pete Wilson), and laughed loudly at most of her jokes.
"As I'm walking in," she said in her opening, "a number of people said to me, 'Why would anyone want this job?'"
In early polls, the 53-year-old former CEO of online auction giant eBay is leading party rivals Tom Campbell and Insurance Commissioner Steve Poizner in the race for the 2010 nomination, with most voters still undecided. As she seeks the state's top political job in her rookie race, Whitman is tapping her personal fortune, estimated at $1 billion, wielding pro-business, government-bashing economic rhetoric and low-balling her pro-choice views on abortion, in a party primary often dominated by social conservatives.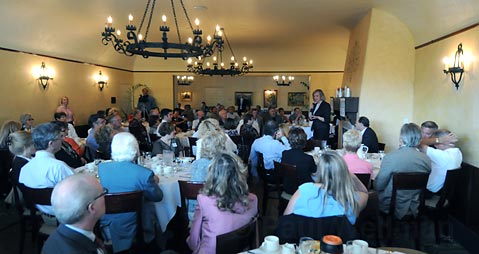 "California doesn't have a revenue problem, we have a spending problem," she said at Tuesday's breakfast, during a smooth 40-minute monologue and audience Q&A, which ended with many in the crowd echoing the sentiments of GOP Assembly hopeful Mike Stoker, who organized the event.
"There's one person who is capable of sending this state in the right direction," said Stoker, not known for understatement. "Two terms of Meg Whitman and California is going to be a whole lot more golden."
Although her hothouse flower performance was impressive, Whitman faces some tough challenges before facing the task of measuring drapes in the governor's office. For starters, there's the historical fact that Californians have long proven immune to the charms of wealthy private business types who claim to be ideally suited to start at the top of the political ladder: Not once in modern political history has a largely self-financed candidate captured a top-of-ticket party nomination and gone on to be elected governor or U.S. Senator in the state. Just ask Governors Al Checchi or Senator Michael Huffington, two of many examples of big bucks candidates who tried and failed.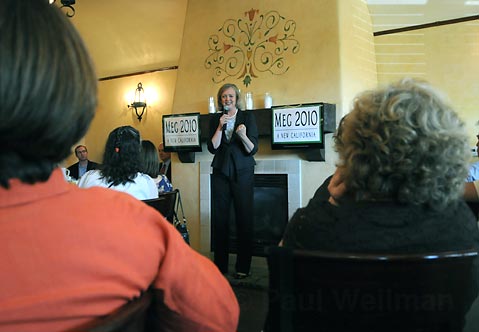 Beyond that, voters in the past have looked askance at the spectacle of a wealthy candidate – most notably Checchi – choosing the governorship as an entry level job after failing to perform the most basic duty of citizenship, and Whitman has acknowledged a spotty voting record: She failed to register to vote until 2002, missed over half the elections since (including the 2003 recall), and didn't sign up as a Republican until 2007.
Checchi, who spent millions of his own fortune in a failed bid for the Democratic nomination in 1998, also showed how past business practices and decisions can ensnare a corporate executive candidate. In Whitman's case, to name one example, she hailed as a great coup eBay's acquisition of the online calling service Skype, which she engineered. Today, that deal is considered "one of the worst technology transactions of the decade," according to the New York Times, which reported this week that eBay was selling the company at a substantial loss – circumstances which invite the press and Whitman rivals to ask if this is the kind of financial expertise she'll bring to Sacramento.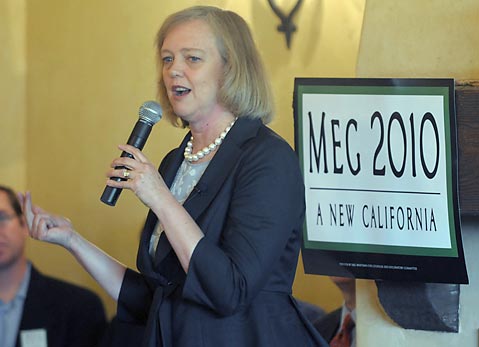 Whitman has also been attacked, by the media and her opponents, for ducking a series of debates, while sticking to safer venues like her Santa Barbara appearance. "We will certainly find time to debate between now and the primary, trust me," she told reporters in a brief exchange after the breakfast, the kind of safe, low-key event she much prefers as she works to gain her sea legs as a candidate.
"What I'm really doing now is spending the vast majority of my time doing meetings like this, being out:with grassroots organizations," she said. "For me, that's the most important thing I can do, is meet people in all parts of the state, understand their issues, and explain to them why I want to be governor."
Speaking of understanding regional issues, Whitman said in Santa Barbara that she supports the controversial Tranquillon Ridge drilling project off the coast from Vandenberg, and believes the state should explore other offshore oil options: "When I started this process, I was against offshore oil drilling," she said, "and then I began to understand deeply the new technology that is available to extract oil from existing wells."