Living
CrossFit Offers Intensive, Rewarding Workout
International Fitness Program Opens Santa Barbara Location
The sun was shining, the birds were chirping, and the day seemed just perfect. So why was Nick – the intern working on opening his own CrossFit gym in Goleta – so despondent?
One word. One name, actually: "Murph."
An approachable name, its amiable abbreviation suggests familiarity, even friendliness. Why, then, was Nick so sad?
A brief visit to the website of CrossFit Pacific Coast would explain that on that specific day trainers Eric Malzone and Traver Boehm would be expecting from their students the following exercises, in this order: a one-mile jog, 100 pull-ups, 200 push-ups, 300 squats, followed by a final one-mile jog. Together, these exercises comprise the glorious and horrendous "Murph."
CrossFit, started by Olympic gymnast Greg Glassman in Santa Cruz, is a fitness program that is "broad, general, and inclusive," offers scalable workouts, and boasts its reputation as a training program for militaries, firemen, policemen, martial artists, and fitness gurus worldwide. CrossFit has no "typical" workout – one of its mantras targets routine as the enemy – and aims to train and distinguish "the fittest athletes in the world" from the typical muscle-obsessed or stairmaster-bound gymrats. At CrossFit Pacific Coast, members Miguel and Su have pinned their membership cards for a local athletic club along with a record of their cancelled memberships to the wall as a testament to their faith in CrossFit. Nick Conn, a CrossFit intern who plans to open another CrossFit gym in Goleta soon, admitted that he was skeptical at first. Said Conn, "When I first heard about this program I thought it was the stupidest thing in the world." This is obviously no longer the case.
Still, it's easy to underestimate the powerful and captivating quality of the program. "I thought I'd just come in here twice a week, going to [a area athletic club] in between," said fellow CrossFit member Kjersti. "Now I've become addicted."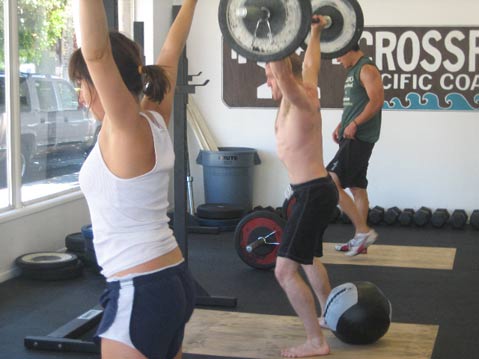 Another way that CrossFit differentiates itself is through its time-effective workouts. As Boehm once said after a particularly grueling workout, "Time is relative." Although each class is typically an hour long, the majority of this hour is usually spent warming up, stretching, and preparing for the Workout of the Day (WOD), which can last anywhere from ten minutes to over an hour. While it may be easy to spend an hour at a typical gym without exerting much energy, it is impossible to leave CrossFit feeling underworked.
While many members choose to engage the CrossFit program from home by following the website's WODs, much of the program's benefits come from the community that is formed in a gym setting. Members learn different forms and techniques as a group, and critique and motivate each other throughout the exercises. After completing the WOD, members cheer on those who have not finished the workout yet, oftentimes while lying in a fetal position on the ground in a pool of sweat.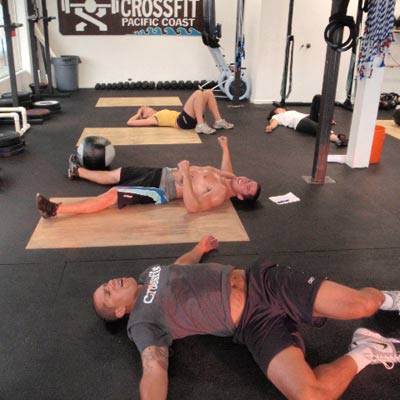 On my first day as a CrossFit member, I experienced the most grueling workout of my life – but that was then; I have now experienced the beautiful exhaustions of "Fran" and "Murph."
Even as a seasoned member of various area athletic clubs, I felt violently intimidated by the challenges posed by CrossFit, especially after researching the program and watching various CrossFit videos online. However, my first day surprised me in numerous ways.
First surprise: The trainers and members are extremely friendly and non-exclusive; I never felt unwelcome or out of place for struggling more than other members. As Malzone said of the CrossFit community, "Not until now have I found such a supportive, empowered and connected group of people."
Second surprise: I didn't completely fail the exercise. The WOD was a two-person team challenge and I was partnered with Fielding, a powerhouse of energy, which may explain why our team won the challenge. The challenge was to earn as many points as possible in twenty minutes, with one member working for two minutes while the other rested, then alternating. Points were earned based on the type of exercises completed; a squat was worth one point, a push-up was worth two points, and a burpee – drop down, kick legs back into a push-up, then jump up and raise hands after the completion of a push-up was worth three points.
Third surprise: I was absolutely exhausted after the exercise. I felt more exhausted after the twenty-minute challenge than I had after hour-long spin classes in the past. And it felt amazing.
Following my introduction, I was given a Success Journal to document times and weights achieved, to shape and record meals – the journal also outlines the comprehensive meal plan for those whom are so inclined and to keep track of the overall effect of CrossFit.
Although I only experienced four weeks of the program, I have noticed changes in my technique and form, I have discovered workouts that I had never before fathomed, and I have realized the potential for physically demanding exercise that small amounts of time offer. The less-than-ten-minute cocktail of shoulder presses, push presses, and push jerks – don't worry, I didn't know what these were before CrossFit either – that I experienced left me wondering how I ever spent hours in the gym without breaking a sweat. And this was just day two.
Malzone and Boehm invite anyone interested in the program to come into their gym for a free hour-long introduction to CrossFit. Who knows, you might even meet Pukey, the cheerfully orange bucket designated for exactly what you think.
Learn more about CrossFit's Santa Barbara location at crossfitpacificcoast.com. The gym is located at 209 Anacapa Street.