Books
Firing Up for Big Read
Reading Fest Aims to Convert Young Men
A large bucket of flames outside the Santa Barbara Public Library would draw out the warrior in any bookworm. But in light of this year's Big Read theme, it only seemed fitting.
The Santa Barbara Public Library kicked off its 8th annual Big Read last Friday evening, September 25, with dancing, speeches by the mayor and very important people, snacks, and a fire-awareness demonstration to promote Ray Bradbury's Fahrenheit 451.
This year marks the first time Santa Barbara has received funding from the National Endowment of Arts for its Big Read, though it has participated in the 10-year-old national reading fest for eight years running. And though some 20 adults and kids learned how to extinguish a lit pail of water and propane, while about 30 danced with instructor Derrick Curtis, Program Director Chris Gallery said getting things going took more than rubbing two sticks together. "I was worried at first that only a handful of people would come," said Gallery.
Friday night's event was the first of several that will span through the end of October. Gallery said she and other coordinators "really had to scramble" to develop the programs, and have been burning the candle at both ends since May, when they learned that they had won the grant.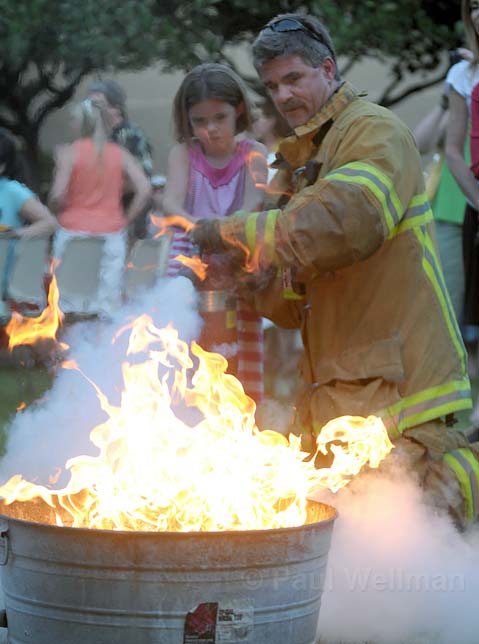 In the past, said Gallery, the Santa Barbara Read festivals in Santa Barbara had been strictly an "adult service program." But because of grant requirements-and the librarians' overarching desire to improve today's intellectual capacity-the county decided to extend the read to its youth, particularly males. "There's a big problem in this country with young men not reading," said Gallery. "We want people to start reading again."
On top of donating 1,500 copies of Fahrenheit 451 to freshmen in various high schools throughout Santa Barbara, as well as to SBCC and the Santa Barbara Juvenile Probation center, the events to come for this month's Big Read are of no small note. Gallery said she hopes that the extensive list of outreach programs-including an appearance by Bradbury himself, and another by graphic artist Tim Hamilton; a student art show, screenings, discussions-will leave a mark on the city's youth.
Meredith McMinn, who is directing a dramatic reading of Bradbury's Fahrenheit 451 script, said the Big Read concerns itself not only with the minds of young men and women, but "everybody at all ages" who is bound by technology today. "It's about thinking and the substance of books and what happens when we start avoiding anything that makes us think," said McMinn. "We want people to be stimulated mentally and not just watch the TV wall."
Those interested in learning more about the Big Read and the schedule of events are encouraged to visit www.sbplibrary.org/sbreads or call (805) 564-5604.