Books
Poets Calling It Like They See It
New Mission Poetry Series Aims for Popularity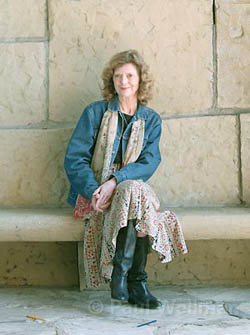 The first event of the Mission Poetry Series, called September Voices: Three Santa Barbara Poets, was held at the Santa Barbara Mission's Renewal Center on September 26 with readings by Lois Klein, Peg Quinn, and Perie Longo. The event was well attended and organizers Paul Fericano and Susan Blomstad aim to make the readings a regular series. "This is the first poetry reading at the Mission and we plan on having more. We have some very talented poets lined up," said Fericano. Longo, a Santa Barbara Poet Laureate emerita, added that it's important for poetry to gain more exposure. "It is the art least paid attention to," said Longo. Klein agreed. There is an idea in popular culture that poetry is too difficult for the average person, she said, and readings like these serve to dispel that notion. "Poetry was the first form of oral art," said Klein. "Then it became very formalized, but that's changed. Contemporary poetry is much more accessible."
This is clearly true from listening to the works of the three poets. The ability to compress so much meaning into a few simple lines is immediately evident in Klein's work. The title of her book is A Soldier's Daughter–and with the small piece of information that imparts, the listener understands that "I pretend each wisp is a body on its way to heaven-a way to keep believing people do not simply disappear" is much more than just an eloquent description of a sunbeam.
The other poets showed similar talents, with Quinn's often focusing on the small moments in life, as she ruminates on the significance of eating a mango, or drives past the site of a traffic accident involving people she doesn't know, "to pound my fists on the newly hallowed ground, screaming no so loud the distant mountains rumble. But the young man is gone and I drive on." While it wasn't so evident at the reading, Quinn's book incorporates illustrations, including sketches of her neighborhood, making for an interesting blend of verbal and visual art.
Perie Longo brought to the table a level of humor not normally associated with poetry, in a work about lying at her first confession, though her range was clearly demonstrated by the somber "Without Memory" and the touching "Summer Star." The latter conjured the majesty implied in her grandchild's simple learning of the word star: "we continue, each one of us no less than star-iron, magnesium, oxygen in our bones-dancing not for trophy or prize but answered prayer to make the change we need."
Perie Longo's Nothing but the Sky is published by Artamo Press and available at Amazon and Borders. Lois Klein's A Soldier's Daughter is published by Turning Point Books and available at Amazon and at Barnes and Noble. Peg Quinn's A Rectangular Garden is published by peggysiouxxpress and is available at Chaucer's.