Food & Drink
Holy Food!
Santa Barbara and an Indy Reporter Encounter Whole Foods for the First Time
There I stood, in Santa Barbara but also in the doorway to Whole Foods, that grocery store chain beloved by foodies and yuppies, moneymakers and tastemakers.
For readers who prefer, say, "small batch" bread loaves made with organic sunflower, poppy, and pumpkin seeds over a bag of Wonderbread, the arrival of Whole Foods in Santa Barbara is big news. It adds a list of new options for those seeking high-end wares. For some, getting a Whole Foods – the only one between Thousand Oaks and Monterey, in fact – helps put Santa Barbara on the map. And even residents most opposed to the arrival of a new chain store in a city fighting to preserve some semblance of commercial uniqueness may find themselves being won over by the promise of impeccably arranged aisles, a prevailing sense of groovy greenness, and neighbors' protestations of "But it's Whole Foods!"
It may shock some to know that I, as a result of growing up in between the chunks of Northern and Southern California that Whole Foods has conquered so far, had never set foot in a one of these stores before the Santa Barbara location's October 6 sneak preview. (Really, my closest encounters with the store were those stampede scenes from Top Chef, in which frenzied contestants of the show dump handfuls of ingredients into baskets. I felt compelled not to recreate these scenes on my first visit.) However, this newbie must admit that the reputation that precedes Whole Foods isn't entirely deserved. For one, it's not necessarily the bank-breaker that gave rise to those "whole paycheck" jokes. Yes, a hungry person with cash to burn could easily rack up hundreds of dollars in food and household items. And many of us in Santa Barbara probably know someone who will do just that. The rest of us, however, have what the store has dubbed its 365 Everyday Value line. The snootier may sneer and call it "Partial Foods," but an extensive line of products priced comparably with those from mid-level grocery stores will appeal to the throngs of curious shoppers who, like me, will be perusing Whole Foods aisles for the first time.
Secondly, Whole Foods is just a grocery store – one with kombucha on tap at its juice and coffee bar, sure, but just a store nonetheless. The heavens didn't part and angels didn't descend bearing antioxidant-enriched, double-hyphenated superfoods heretofore unknown to Santa Barbara. Just like Trader Joe's, Gelson's, Ralphs, Vons, and every other chain store in the county, Whole Foods sells items grouped onto logically arranged aisles. You push a shopping cart and take what you want, perhaps selecting the modestly prices things over their fancier counterparts. The Whole Foods selection is exceptional in that certain items exist in greater abundance and variety than they might at mid-level markets: Those who cannot or would rather not eat gluten have plentiful options, for example, while those seeking organic food can not only find it but also often learn the specific history of that food item – who made it, where it was made, what healthy stuff went into it, and what hormones and pesticides didn't.
In fact, would-be customers have a chance to talk to the people who supply the store with locally grown food today, October 7, as representatives of these food-producing people and companies will be there, happy to answer questions. (Santa Barbara institutions scheduled to attend include Our Daily Bread, Debbie's Delights, the SB Roasting Company, Petrini's Salad Dressing, Santa Barbara Olives, and McConnell's Ice Cream.)
It's worth noting that Whole Foods uses the word "local" to mean variously "from Santa Barbara," "from the tri-counties area," or "from the state of California." Products are marked to differentiate which ones comprise the 25 percent grown in SB or the tri-counties from the 50 percent grown elsewhere in the state. In other words, the foods may not be grown precisely in your own backyard, but the store still prides itself on bringing quality products in from a reasonable distance away, ideally delivering fresh fare whose trip to Santa Barbara creates fewer emissions than if it came from across the country.
Our new Whole Foods isn't without its "what the hell?" items, however. I confess I did not know what Pink Himalayan Salt was until the helpful staff explained it. Now I want to try it. Funny how that works. And you will come across items whose names seem like short sentences. The best example I could find was "antioxidant shea butter infused with Fair Trade rooibos, green tea, and Yirgacheffe coffe". (It's for body-smearing, not eating.)
It remains to be seen exactly how Whole Foods will fit into Santa Barbara's retail landscape, but I feel secure in predicting that even those wary of the chain or chains in general will come to enjoy a long list of amenities that includes the usual ones – a bakery case, a pizza oven, fresh coffee while you shop – and some attention grabbers – made-to-order sushi, the gelato bar, or the option to have any seafood purchased marinated and seasoned while you're shopping.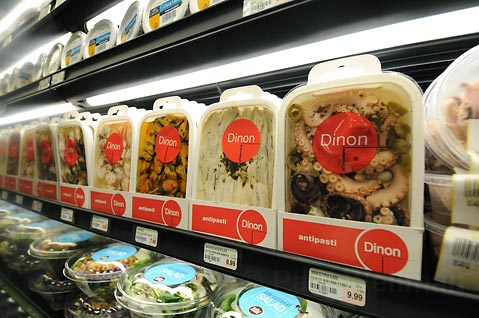 The Whole Foods staff is doing whatever it can to lure you in during the opening week. The first 200 customers today receive a grocery tote. On Thursday, the first 200 receive gift cards varying in value from $5 to $100. And on Friday, the first 200 receive a tumbler and free coffee. Sunday shoppers showing up between 11 a.m. and 3 p.m. can get a free tour of the place, with the intention being that newcomers can learn buy food while saving money. And trips to the salad bar, normally $7.99, will initially be priced at $5.99.
4•1•1
Whole Foods is located at 3761 State Street. Hours of operation are from 7 a.m. to 10 p.m. If you're for some reason inclined to follow the store on Twitter, do so at twitter.com/wfmsantabarbara.